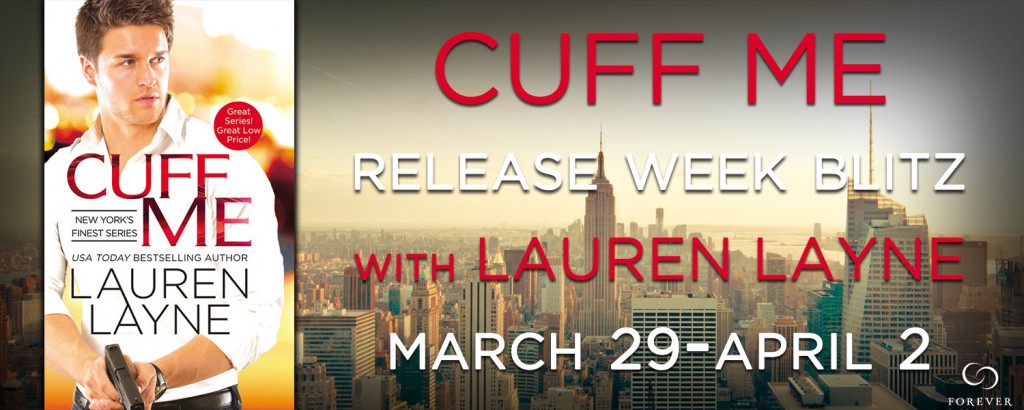 This post is part of a virtual book tour organized by the publisher to celebrate the release of Lauren Layne's
Cuff Me
, which was released yesterday. Welcome Lauren as she stops by to answer a few of our questions and be sure to enter the Rafflecopter at the end of the post for a chance to win a copy of
Cuff Me
.
How long did it take to get this book from idea to being published?
Oh gosh, I'm trying to think! It's a little tricky with a series because you have to come up with the idea for all the books in the series when you first submit the proposal. In other words, I know the idea for book 3 the same time you do for book 1! I'd say this was about a year and a half between conception and publication? The other thing I'll say about Vincent's book is that it changed quite a bit from initial plan to the actual story. I always knew that Jill was the heroine, but my original plan was to have them go undercover as a married couple for a case they were working. I still love that idea for a story, but it wasn't quite right for these two, nor for the logistics of the NYPD homicide department.
What was the most grueling process?
Getting the first draft done is always the most grueling, no matter what the story. I fast-draft, which means I basically just try to get as many words on paper as I can, knowing that I'll be able to make it sparkle later. The middle of the book is definitely the worst. It just plain feels like hard work!
What was one of the most surprising things you learned while writing Cuff Me?
You know, because this was the third book in a series, I don't think I was all that surprised by any of it! I had plenty of time to figure out these two characters as I was writing the earlier books in the series. Plus, I'm an outliner. I don't tend to get surprised.
Do you have any interesting writing quirks?
Oh gosh. I don't think so? I'm pretty boring. I will say that I'm obsessed with getting the right "hook" at the end of each chapter. Most of the time I'm fine making my first draft "messy," but I always need to have the perfect "last line" before I can move forward to the next chapter.
When did you write your first book and how old were you?
I started and finished my first book when I was 25. I still love that story, but it was a little short on plot, so I had to "shove it under the bed" so to speak. The second one I wrote, I was 27, and that's the one that got me published (Only With You).
What is your favorite movie based on a book, where you preferred the movie?
I'm not much of a movie buff, so I had to think about this one for awhile, but I think I'd say Harry Potter and the Order of the Phoenix. I'm a huge fan of the HP series, but Order of the Phoenix wasn't my favorite of the books, and I was pleasantly surprised with what they did with the movie.
Laptop, desktop or notebook and pen for writing?
Laptop! I am absolutely not the poster child for ergonomic writing.
Vincent Moretti is one of the NYPD's top homicide detectives-and one of the most eligible bachelors in town. His family, however, thinks he should date his longtime partner, Jill-a sassy, sexy, smart-mouthed blonde who drives him absolutely crazy.

Behind the quiet authority, tough-guy demeanor, and dark aviator glasses lies a man with a big soul-and a hard body that can soften any girl's heart. After years as his coworker, Jill Henley has given up hope that anything could happen between her and Vin. Besides, loving him would break all the rules. But seeing Jill with someone else triggers feelings in Vincent he never knew he had. Now he'll have to stop playing good cop/bad cop-and find a way to convince her to be his partner for life. . .
About the Author: A long-time romance reader, Lauren Layne thinks the only thing better than reading about happy endings is writing them. She now pursues a full-time career in Happily Ever After, a job she's naturally suited for after marrying her high school sweetheart. A bit of a nomad, Lauren's lived everywhere from Orange County to Manhattan. Her hobbies include coffee by day, wine by night, and lots of writing in between. She's also a total website nerd and insists you check out LaurenLayne.com!
Website | Twitter | Facebook
Buy the book at Amazon, Barnes and Noble, iBooks, Kobo, or Google Play.