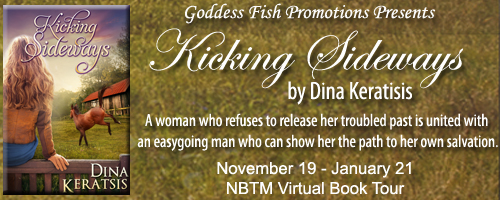 This post is part of a virtual book tour organized by
Goddess Fish Promotions
. Dina will be awarding $15 Amazon or B/N GC to a randomly drawn winner via rafflecopter during the tour. Click on the tour banner to see the other stops on the tour.
Crushing on Mike
Like a whole bunch of you, I fall in love with fictional heroes. Literary crushes come and go. For example, Kisten from Dead Witch Walking. Hareton Earnshaw from Wuthering Heights and my constant lover, Sirius Black. And although I know them as roommates at this point, I crush on my own creations. Rune from Cake, A Fairy Tale still makes me swoon and I blush when I think about Jabe from Charlesgate. If you write romance, you do fall a little in love with your characters. Yet my crush on Michael Sullivan, a minor character from Charlesgate, took me by surprise.
Mike is quiet. He waits, arms crossed, leaning against a wall, hidden in shadows, those blue eyes taking everything in. At the end of Charlegate, Mike didn't know what he wanted but he was quite sure that I was not going on to the next book without him. He did not want to be forgotten.
And who could forget him, really? Quiet, certainly, but not shy, Mike is gorgeous, intelligent, has a great sense of humor, and is ready for anything. So he packs his Harley and heads off to Santa Cruz, mainly because his vessel to the great white page – ahem, me – could not get enough of that old Boardwalk. So we have a character and a setting but no story.
About the same time that Mike became a tenant in my mind, a catchy bluegrass song kept two-stepping through my noggin. Over and over and over again.
"Blue Lightning" is a great song. My husband and I used it for our wedding dance and it's all the more special to me because our friend Bow Thayer wrote it. As our marriage neared, I was listening to the song so much that "Blue Lightning" became a muse for Kicking Sideways.
The song, my interpretation of it anyway, is a condensed romance novel about a man who travels all around the country only to wind up right back from where he started–right back into his girl's arms. There's a great metaphor of a mule running up and down, kicking sideways at nothing. Or at fate. Or maybe even at a ghost. Who knows? The point is the mule gets nowhere, but the man luckily finds happiness by the end of the song.
In Kicking Sideways, Bow's mule turned into a human character, the heroine, Lucretia Cabot. Cree is a stubborn, capable, brave woman who tries to fix the world so she doesn't have to face her own depression. She has a mule, too. His name is Crumble. And although Mike will try to help her, like the hero in the song, Lucretia will have to figure out how to save herself, even while she falls in love with Mike.
I hope you love him as much as Cree and I do.
Lucretia "Cree" Cabot spends her time saving everybody else to avoid facing her own haunted life. Between raising her younger brother and trying to open a women's shelter, Cree has built an impenetrable wall around her heart. But when a tenant for Cliff Cottage appears at her door, he cracks her vigilantly controlled world, forcing her to look within to confront the emptiness inside.

Mike Sullivan, famous superhero artist, is searching for a peaceful summer break and a new perspective on life. A farm in sunny Santa Cruz seems like just the place. Looking to escape from his usual routine, he doesn't count on falling for a woman who is as stubborn as the mule that lives in her barn. Yet beneath Cree's prickly exterior, he finds a woman in pain—a woman with an immense capacity for love. Mike knows she is the only one for him, but will Cree find the courage to truly live and love before the best thing to walk into her life leaves her behind?
Enjoy an excerpt:
Cree looked at him blankly, her eyes a dull blade. "I just want it to be perfect for them. I want their bedrooms to be fresh and bright, not musty farmhouse wallpaper and someone else's memories," she despaired. "I want them to feel like they have a place to belong and start over."
His heart tugged for her and fell just a little bit more in love with this practical woman who had enough poetry to want to save the world. He reached across the table and took her hand, tightened as she resisted, and was surprised when she succumbed.
"It'll get done," he whispered, giving her hand a little squeeze. "I promise." Her hand melted in his and the burden dissolved from her face. She smiled tiredly before pulling her hand away to pick up a dish.
"Go hang out with your girlfriends for a couple of days."
She looked down at the plate and walked to the sink.
"You do have some of those, don't you?" he asked, suspicious.
"Not really," she replied. "All my college friends moved away a few years ago and I haven't met too many people around town." Shrugging, she added, "I don't mind when it comes down to it."
"Cree likes to be alone," Seth said. "She's weird."
"I'm one for haunting graveyards by myself as well. Nothing wrong with liking your own company, kid," he said as an arm shot out and his hand caught Cree's arm as she passed with another plate for the sink. "Nope," he commanded. "Go sex wax your board or whatever you surfers do to prepare for a day with the sharks." He took the plate from her as he released her wrist. "You're taking tomorrow off."
About the Author Dina Keratsis is an award-winning author of romance fiction in which all roads lead to illumination and magic is found in the mundane. A New England girl, she has a penchant for punk rock, Scottish tea rooms and a mad crush on Sirius Black. She lives in Massachusetts with her husband and two children.
Website | Facebook | Twitter | Pinterest | Amazon Author Page
Buy the book at Amazon or Barnes and Noble.