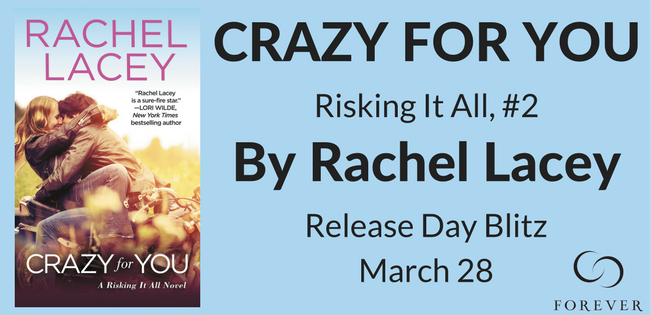 Long and Short Reviews welcomes Rachel Lacey as she celebrates the release of her newest book
Crazy for You
, the second book in her
Risking It All
series. Enter the Rafflecopter at the end of the post for a chance to win a copy of the book.
The second book in Rachel Lacey's irresistible contemporary romance series about three foster brothers who return to their hometown to open an extreme sports business, perfect for fans of Kristan Higgins, Rachel Gibson, and Jill Shalvis!

SHE'S TAKING A WALK ON HIS WILD SIDE

Emma Rush can't remember a time when she didn't have a thing for Ryan Blake. Haven's resident bad boy is just so freakin' hot-with tattoos, a motorcycle, and enough rough-around-the-edges sexiness to melt all her self-control. Now that Emma's over being a "good girl," she needs a little help being naughty . . . and she knows just where to start.

Before Emma's brother enlisted in the military, he made Ryan promise that he would protect her from everything–including himself. When her brother doesn't come home, Ryan needs to turn his screwed-up life around to honor his pledge. But he knows he's still not the right kind of guy for someone as sweet as Emma. Only he can't stop wanting to be with her. Wanting her. Falling in love with a good girl may be the craziest risk this bad boy can take . . .
Enjoy an Excerpt
Ryan Blake held a bottle of Maker's 46 in his right hand, a tumbler in his left. With a flick of his wrist, he tossed the bottle. It flipped once before landing back in his grip, top down, ready to pour. He filled the tumbler, set a napkin on
the bar, and placed it in front of the brunette on the other side. "Bourbon, neat."
"You're good." She picked up the glass and tipped it in his direction. "Not what I was expecting in this little bar in the middle of nowhere."
"I try," he said with the friendly, semi-flirtatious smile he always used on single ladies seated at his bar. She wasn't wrong. The usual clientele at The Drunken Bear had little use for fancy liquor or bartending tricks, but the trio in front of him were tourists looking for a good time, and he'd see that they had one.
"You were just about to tell me about this tattoo." She placed her hand on his biceps, fingering the eagle he'd had inked there after he flew this coop ten years ago.
"That's right." He shifted backward so that her hand slipped to the countertop. He encouraged flirting—it led to better tips and made the night more interesting—but this chick was getting a bit too friendly, considering the diamond band on her left ring finger. "This one was for spreading my wings. Thought I'd fly far away, and yet, here I am back in Haven."
"You're from here then?" one of the other women asked, shamelessly ogling the tattoos on his arms while giving him an eyeful of cleavage.
"Born and raised. Moved around a lot, but I can't seem to shake this place. It's in my blood." Once upon a time, he'd been hell bent on getting as far away from this sleepy North Carolina mountain town as possible. Spent the better part of a decade drifting from place to place, taking with him only what he could carry on his bike. Funny how things came full circle. He picked up an empty pilsner glass another patron had left behind.
"Ryan?"
He turned at the familiar voice to find Emma Rush standing there, one hip propped against the bar, and he damn near dropped the glass. Emma's trademark ponytail and jogging pants were nowhere in sight. Tonight, her blond hair cascaded over her shoulders in shiny waves, her blue eyes sparkled at him from behind a tasteful—yet sexy—amount of makeup, and her red top was tucked into a pair of jeans that fit her like a glove. He swallowed past the sudden dryness in his throat. "Hey, Em. What brings you out tonight?"
"Girls' night," she said with a smile, gesturing to her friend Mandy, who stood by the door talking on her cell phone. Emma slid onto an empty barstool. "I wasn't expecting to see you."
"I'm still here a few nights a week." His new business venture—Off-the-Grid Adventures, an extreme outdoor sporting facility he'd opened with his good buddies Ethan Hunter and Mark Dalton six months ago—was finally bringing in enough income that he soon wouldn't need to bartend to pay his rent. "What can I get you?"
"Untapped amber ale, please." She watched while he filled a frosted mug. "Thanks."
"My pleasure."
She lifted the mug to her lips and took a long drink. "Damn, that's good," she said with a happy sigh, setting it on the bar.
"Always been more of a pilsner guy myself." He tried not to stare as she licked froth from her upper lip.
"Hi, Ryan." Mandy stepped up to the bar beside Emma. He leaned back, tearing his gaze from Emma's lips. "Hi."
Emma turned to her friend with a smile. "Ready to get a table?"
"Yep," Mandy said.
"Have fun, ladies."
"We will." With a wave, Emma walked off after her friend, and damn, those jeans cupped her ass like perfection. No doubt about it, Emma looked hot tonight. And his thoughts were way out of line. He'd promised Derek he'd look out for his little sister, not drool all over her.
"Your girlfriend?" the brunette at the bar asked, eyebrows raised as she sipped her bourbon.
Ryan cleared his throat and dragged his eyes away from Emma. "Just a friend."
"Mm-hmm." The brunette gave him a look that said she didn't believe him.
About the Author: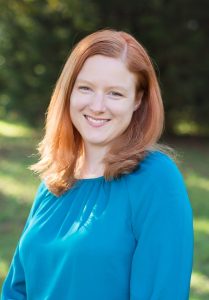 Rachel Lacey is a contemporary romance author and semi-reformed travel junkie. She's been climbed by a monkey on a mountain in Japan, gone scuba diving on the Great Barrier Reef, and camped out overnight in New York City for a chance to be an extra in a movie. These days, the majority of her adventures take place on the pages of the books she writes. She lives in warm and sunny North Carolina with her husband, son, and a variety of rescue pets.
Website | Facebook | Twitter | Pinterest | Goodreads
Buy the book at Amazon, Barnes & Noble, Books-A-Million, Google Play, iBooks, Kobo, Target, or Walmart.