This post is part of a virtual book tour organized by the publisher to celebrate the release of Alice Archer's debut novel,
Everyday History
.
Cracking the Writing Code
I write fiction under a pen name, but in my other life I work for a publishing firm as a non-fiction editor and writing coach. I've had a lot of conversations with a lot of authors going through the process of writing a book. They all don't know how to do it at the beginning. They all freak out at some point. And they all figure it out by trying different things until they land on what works for them.
What worked for me when I sat down to write a first draft of my first novel – a het romance thriller that never made it past that first draft – was my promise to treat myself to the full set of extended-play Lord of the Rings DVDs if it did it. I didn't have money for that kind of thing back then, but I really, really wanted those DVDs, so I worked my butt off to finish that draft. Finished it. Rejoiced (even though the plotline was a ridiculous tangle). Bought my DVDs.
The unexpected thing that happened after I collected my loot was that I referred to that draft, in my mind, as "my first novel," which meant I'd proven to myself that I could write a novel. I felt free to move on to other big goals, like learning how to write a better novel, one I'd be willing to share.
Because I most enjoy reading novel-length stories that are deep and include a fair amount of complexity, that's what I tend to try to write. But, geez, take a look at all those moving parts. Character trajectories and backstories. Scenes that serve multiple purposes. Recurring themes. Emotional triggers. Escalating anticipation. Sex scenes. A story climax that, hopefully, leaves the reader satisfied on multiple levels. The potential for dreadful writing seems off the charts.
As I tried to write something I'd want to share – a novel I'd want to read, all the many story elements kept flopping around and going wonky whenever I changed any one of them, because they were all interrelated. Everyday History is, therefore, the result of many process trials and errors. I know a heck of a lot more about how I write a novel, now that it's finished, than I did when I started it, but I'm still in the stage of figuring out what works for me, how I can write a better novel. I suspect it's less a stage and more a state of being, one that will likely go on as long as I do.
You might think that after decades of reading books about how to write, writing about writing, advising authors, and reading mountains of books I would be able to deliver a great tip for you right about now – some cool and riveting nugget of advice about how you could more easily write a novel; advice that's more snazzy than what I do have to offer, which is, "I don't know." Or, more accurately, "I can't know." But you can.
When it comes to successful writing, experimentation is key. If the system you're using doesn't work, it's not your fault, it's the system's. So chuck it and move on. Or tweak it and try again. You know that your system for writing is working when you're more focused on the story you're telling than on what you're doing to get it out.
What works for me includes, among other things, using Word's table of contents function to manage an ever-shifting story outline, ordering scenes using sticky notes on a wall, creating collages to explore the main characters and their relationship, and listening to music with lyrics as I write. The process is always evolving, because so am I.
In the following excerpt from Everyday History, which takes place fairly early in the story, Ruben tries to persuade Henry to help him do some experimenting.
Ruben rubs the back of his neck but recognizes the nervous gesture and decides to be direct. He lifts his head, straightens his shoulders, and looks Henry in the eye. "I want to know what it's like to be with a man."

"I'm sure you've had plenty of chances over the past six weeks."

"Yeah. I explored a little, but I want to… cross the frontiers… with you."

"Why?"

Ruben shrugs. "Because of the excruciating foreplay. Because I can. Because I like you."

Henry nods and bends down to untie his boots.

"And you?" asks Ruben. "Why did you invite me?"

"You mean after not hearing from you for so long?"

"Yes."

"Because of the way you look at me. Because I can. Because I need a vacation."

"And?"

"That's it," Henry says.

"That's it? I always assumed you'd want more."

Henry kicks off his boots and straightens up. He steps closer, his expression inscrutable, and Ruben takes his hands out of his pockets. They stand a few inches apart. Henry's breath is slow and easy against Ruben's closed mouth.

Without permission Ruben's lips part slightly. He swallows. "I mean, more than sex," he whispers.

"I do. I want a lot more."

"Like what?"

Henry's expression shifts. He places the tip of a finger on Ruben's chest and says, "Commitment. Responsibility. Monogamy." With each want, Henry pulses his finger against Ruben's heart. "I want a family. With someone. Do you want that anytime soon?"

"You want someone mature. Like a real grown-up."

"Yes."

They stare at one another.
Headstrong Ruben Harper has yet to meet an obstacle he can't convert to a speed bump. He's used to getting what he wants from girls, but when he develops a fascination for a man, his wooing skills require an upgrade. After months of persuasion, he scores a dinner date with Henry Normand that morphs into an intense weekend. The unexpected depth of their connection scares Ruben into fleeing.

Shy, cautious Henry, Ruben's former high school history teacher, suspects he needs a wake-up call, and Ruben appears to be his siren. But when Ruben bolts, Henry is left struggling to find closure. Inspired by his conversations with Ruben, Henry begins to write articles about the memories stored in everyday objects. The articles seduce Ruben with details from their weekend together and trigger feelings too strong to avoid. As Henry's snowballing fame takes him out of town and further out of touch, Ruben stretches to close the gaps that separate them.
About the Author: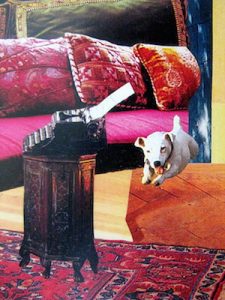 Alice Archer has messed about with words professionally for many years as an editor and writing coach. After living in more than eighty places and cobbling together a portable lifestyle, she has lots of story material to sort through. It has reassured her to discover that even though culture and beliefs can get people into a peck of trouble when they're falling in love, the human heart beats the same in any language. She currently lives near Nashville. Maybe this move will stick.
Website | Facebook
Pre-order the book from
Dreamspinner Press eBook
,
Dreamspinner Press paperback
,
Amazon
,
ARe
,
Barnes & Noble
, or 
iTunes
.
Check out the other stops on the tour:
Jun 22 – MM Good Book Reviews
Jun 27 – Open Skye Book Reviews
Jun 29 – Prism Book Alliance
Jun 30 – Dreamspinner Press Blog
Jul 1 – My Fiction Nook
Jul 2 – Love Bytes