Leave a comment for a chance to win a copy of Against the Mark (paperback, Nook, or Kindle–winner's choice).
COVERS–CURSE OR BLESSING
The cover of a novel is the single most important factor in the success or failure of a book. It's not something authors want to believe and it's not always true.
If the book is special enough and it gets loads of word-of-mouth, even a bad cover can't stop the book from being a success. Also, if the author's name is well enough known–and I'm speaking here of New York Times bestsellers with very large print runs–a bad cover can't stop the novel from being a hit. Books like Di Vinci Code, where a bad cover wouldn't matter.
However most of us fall in the category where the cover of the book can be the difference between strong sales and failure.
For the past eight of my AGAINST books, starting with AGAINST THE WIND, I've had phenomenal covers. Gorgeous men on the front, interesting backgrounds that hint at the story line.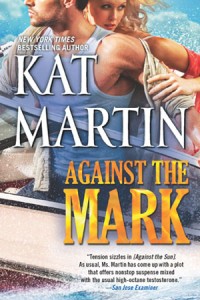 With my new book, AGAINST THE MARK, the publisher decided to make a change. It's an interesting cover, but a little too comic book for me. The book is out the end of August, Tyler Brodie and Haley Warren's story. It'll be interesting to see what readers think.
Ty Brodie first appeared in AGAINST THE NIGHT, working with Johnnie Riggs. He also made an appearance in AGAINST THE EDGE with Ben Slocum. It was past time for Ty's own story. In AGAINST THE MARK, he meets Haley Warren, a sexy blonde from Chicago who hires him to help her uncover the truth about her father's death.
Was the explosion that killed him an accident? Or was it murder, as her stepmother believes?
Fighting a fierce attraction neither of them wants to feel, they follow a trail of clues that takes them into the art world, where old master paintings sell for tens of millions of dollars–plenty of motive for murder.
Over the years, I've had good covers and bad. One of the prettiest covers I ever had was on an historical called MIDNIGHT RIDER–just released as an ebook. The problem was the cover was completely white. The lovely embossed bird on the front didn't show up until the reader picked up the book. Not many did!
A cover is always a risk. I'd love to know what you all think of the cover on AGAINST THE MARK. I hope you enjoy Ty and Haley's story, the ninth book in the series. And that next year, you'll look for Ty's cousins, the Brodie brothers, starting with sexy, ruggedly handsome Dylan Brodie, in AGAINST THE WILD.
Tell me the types of covers you like? Feel free to name the book!
Till then happy reading and have a great summer. Kat
P.S. Visit my website www.katmartin.com. Or join my Facebook page.
About the Author: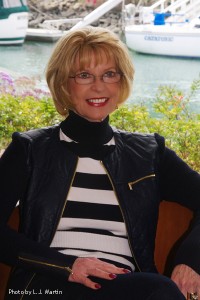 New York Times bestselling author Kat Martin is a graduate of the University of California at Santa Barbara where she majored in Anthropology and also studied History. Before she started writing in 1985, Kat was a real estate broker. During that time she met her husband, L.J. Martin, author of thirty western, non-fiction, historical, and suspense novels. A resident of Missoula, Montana, Kat and her husband spend their winters in Ventura, California. She is a currently writing her next Romantic Suspense.
With fifty five novels to her credit and more than fifteen million copies of her books in print, Ms. Martin has been published in twenty-one foreign countries including France, Japan, Greece, Argentina, Russia, Sweden, Turkey, China, and Spain.
The perfect murder is a work of art …

In one catastrophic instant, Haley Warren's estranged father was taken from her. She never got the chance to reconnect with him, so now she's doing it the only way she's got left: by proving the explosion that killed him was no accident.

When Tyler Brodie, the provocative and handsome P.I. hired by Haley, discovers that her father was investigating a suspected art theft, he knows his death is no coincidence. After all, tens of millions of dollars worth of stolen art could motivate a thief to go to any lengths including getting rid of anyone poking around where they don't belong.

As Haley and Ty get closer to the truth, the truth gets ugly: Did Haley's dad know too much …or was he in on the take? And although Ty's a consummate professional, he's having trouble focusing on the facts of the case, and not the figure of his gorgeous client. The two are determined to get to the bottom of the case, even if it means they die trying.