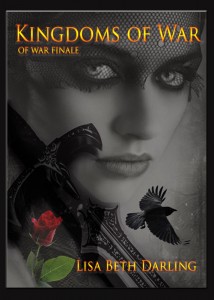 KINGDOMS OF WAR
BOOK #5 OF WAR SERIES
LISA BETH DARLING
With nearly four billion souls lost to the ravages of anarchy and the dreaded disease Major Falls, Ares and Raven journey the Mortal World vainly reaching for a sliver of what was only to discover what will be. Unleashed by Apollo, Major Falls—a weaponized version of the flu and rabies– has wiped out every person of watery Mortal Blood.

From the fiery wreckage a new world is slowly arising one where the descendants of Olympians, Celts, Dark Fae, and all manner of Magickal Being will rule. For the last millennium the Dark Kingdom has sent small legions of its Daughters in search of its Lost Queen. Among their number is Lenora, a sharp tongued Dark Fae who joins up with ARES hoping to get close to its leader, Raven. And she does.
The Wolf inside the God of War contracts Major Falls. As Ares and Athena wander the world hoping to curtail further damage by obliterating weapons of mass destruction he slowly succumbs to the sickness taking over his fevered rabid mind. Ares may not live to see the glory of Olympus restored nor fight to keep his Wife. If he does, how high will be the price for Ares' life? How long will Alena have to keep paying Apollo?
Enjoy the following excerpt:
From this vantage point, safe at the bottom of the hill, the crowd watched the battle play out, they watched the fort explode and held their breath hoping a savior had finally arrived to lift them out of this hell and break the hold of Snake's tyranny.
Athena laid her hand gently on Raven's shoulder as she looked up to the burning fort on top of the hill with the joyful sounds of the people behind her. "Better than causing Anarchy, isn't it?"
"It was supposed to be a controlled anarchy," Raven mused as he mind wandered back to those almost altruistic plans that had gone up in smoke and died in the streets of Major Falls. Up there on the hill, inside the burning courtyard, the flag pole still stood over the flames. In their orange glow the ARES flag waved high with the American Flag right above it. "Oh say, can you see?" Raven whispered.
"Can you?"
With eyes heavy with tears, Raven glanced down at his Aunt and then back to the rejoicing crowd. "Yeah, I can." The swelling feeling inside of him began to abate. "There's more of 'em, you know? More like us. More like him," he pointed up to the fort where Snake's reign began and ended. "Major Falls did it, Apollo did it. He had to know. He had to. It can't be a coincidence."
Athena nodded as she eased her hand along his bare shoulder. She knew it was no coincidence that in the short time they'd been apart, Raven managed to find his Sister, Dionysus' Son and the Fae. Even she sensed the abnormally strong presence of weak Olympian Ichor flowing through the veins of the excited crowd behind them. "Yes, I believe your eyes have been opened, Nephew."
Enjoy the book video:
About the Author: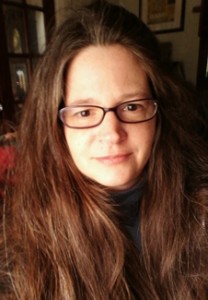 In the 4th grade I discovered that I was a writer when we were given our first creative writing assignment. We were to write stories about a baby bird's flight and read them to the class. I put pencil to paper and was instantly whisked away by a force I couldn't explain. I knew that I had found my calling. Everyone read their happy stories to the class. I got up and told of how the baby bird flew too high, hit a plane, crashed to the ground and died. I told of how the mama bird and daddy bird cried of how even God was upset sending the rains pouring from the sky. The class was speechless when I finished they were all just staring at me. The teacher kept me after class told me my story was very good but it was different from the others. She asked me if I'd ever heard of Icarus and did I base my story on him. But I had yet to encounter Greek Mythology or hear a whisper of Icarus. As she let me leave class she again told me how good the story was but suggested I might want to write something happier next time. I asked her why and she had no answer. 40+ years, 16 novels, and some 30 short stories later and I still haven't taken her advice.
Website ~ Facebook ~ Blog
Buy the book at Amazon, Barnes and Noble, or iBooks.