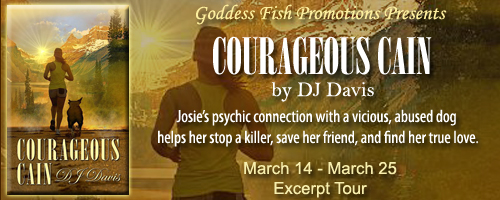 This post is part of a virtual book tour organized by
Goddess Fish Promotions
. The author will be awarding a $25 Amazon or B/N GC to a randomly drawn winner via rafflecopter during the tour. Click on the tour banner to see the other stops on the tour.
Josie Shepherd loves running free, with no one and nothing to tie her down—until a new job at a kennel introduces her to both an unexpected friend and a vicious, abused dog named Cain.

When Josie stumbles upon the body of a murdered woman, she runs to Deputy Gordon Wolfe, a disfigured man hiding behind his badge. His shy smile and affection for dogs make her reconsider what she's running from.

Now she's on the run from a serial killer and her own heart. But when her friend is abducted and Cain appears to be the murder weapon, Josie's attempt to save them both lands her in the killer's lair. Josie's strength and Cain's loyalty are tested to the limit as they fight for their lives. Facing a killer is one thing, but facing her love for Gordon is Josie's greatest challenge.
Enjoy an exclusive excerpt:
When I was growing up, a dog was my best friend and companion, my confidant and sidekick. That had not changed in the years since. No human relationship came close to what I shared with Fletcher. With him there was no pressure to be something I wasn't. There were no failed expectations. No lies or scheming or cheating. Human love almost always comes with strings. The I'll love you ifs. I'll love you if you marry me, support me, give me children, give me money, screw me three times a week and twice on Saturday.
Dogs, on the other hand, love us regardless of our looks, our failures, our faults, or our moods. Their willingness to forgive the worst in us says more about the humanity of dogs than it does about our own.
I had no parents or siblings. What I did have was a bitter grandmother who resented my very existence, and a brain-damaged, wheelchair-bound grandfather who didn't know his own name half the time, not to mention mine. Christmas at our house was about as jolly as reindeer shit in your stocking.
By the time I was eighteen both grandparents were dead and it was just me and Fletcher, bouncing around the great state of Colorado. I favored the small communities over the cities that spread down the Front Range like a rash. I went from one mountain town to the next, reveling in the grandeur of the Rockies, but unable to find a place that felt like home. I loved the history, the setting, and the sense of community in these small towns. Each one drew me in, charmed me, and then fell flat. As delightful as they were, I was little more than a tourist.
I was waiting tables in Estes Park, when one day in late April my boyfriend proposed—again. He had asked me to marry him every weekend for the last six months. Over time, his proposals had degraded from over-the-top romantic fluff to near wheedling pleas that sapped all the manhood out of him. I countered with my usual I'm not ready to get married spiel. He insisted I live with him. I said they'd be serving peach ice cream in Hell before I'd live in Denver. He wanted to move in with me. I needed my space and my independence. He got weepy and I got mad. I politely suggested if spending the weekends in my bed was no longer enough for him, well, there's the fucking door. So much for Bradley Swanson. He dropped me like yesterday's newspaper. It wasn't that I didn't love him. I tried to, I really did. I couldn't love him. Because love was a trap. Still, the breakup hurt. Fletcher got me through it.
A good dog will never break your heart like a man will. Stick that in a greeting card and mail it to your sister.
About the Author: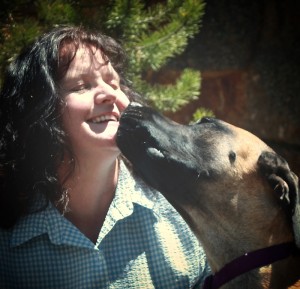 DJ Davis is a Colorado native and the rugged high country sets the scene for her stories. When she's not writing, she can be found hiking with her dogs, photographing the wildlife, or camping with her husband. A Great Dane runs her life.
A portion of each sale of her novel "Courageous Cain" will be donated to Big Bones Canine Rescue in Windsor, Colorado. Help us help big dogs in need.
Goodreads | Twitter | Facebook | Amazon Author Page
Buy the book at
Amazon
or
Barnes and Noble
.