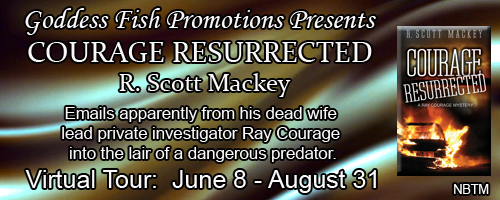 This post is part of a virtual book tour organized by Goddess Fish Promotions. R. Scott Mackey will be awarding a $50 Amazon or B/N GC to a randomly drawn winner via rafflecopter during the tour. Click on the tour banner to see the other stops on the tour. Also, read our review of this book here.
I've never heard of you. Why should I invest my money and time reading your books?
You couldn't have asked a better question. It's the question most asked of independent authors like me. There tend to be five reasons readers are skeptical about buying Indie books. All of these reasons are predicated on some recurring myths:
Myth #1 – If you were a "real author" you'd have a traditional publisher.
I've had books published by traditional publishers. I could have had the Ray Courage Mystery books published by a "real" publishing house as well. I chose not to go that route because I wanted more control of the overall product, including pricing, editing, cover design, distribution, and marketing. Many other authors feel the same way and have gone completely down the independent path, or combined publishing some books independently and some books using traditional publishing houses.
Myth #2 – Independent authors are just vanity publishers.
That's true in some cases. Some writers just want to "have something published" and the quality can vary because of it. However, there are top-notch writers who are independently publishing their books for the reasons I described above. These writers know publishing is a very competitive business and to be successful they have to treat their job as a business not a hobby.
Myth #3 – The writing in Indie books isn't as good as traditionally published books.
Some Indie books are poorly written. So are some traditionally published books. Writing quality is not a function of who is publishing the book. Sure, there are some assurances when a traditional publisher releases a book that it's been vetted by an agent, acquisitions editor, editor, and so on. On the other side of the equation, the best Indie writers also have their books vetted. I use beta readers to provide criticism before I turn a book over to my editor. Beta readers provide feedback on every aspect of the book, from it's overall concept and structure down to whether a given sentence makes sense or not. I assert that the writing by top independent authors is as good or better than that of most traditional authors.
Myth #4 – The overall production quality of Indie books isn't as good as traditional books.
Again, this is where a writer's professionalism comes into play. For my books for example, I hire a professional book formatter, cover designer, editor, and a proofreader. I invest a great deal in making sure the overall quality of the product—whether it's an e-book or a printed book—is as good as anything else out on the market. Anything less than that is a disservice to me and to the reader.
Myth #5 – It's a gamble buying a book from an Independent author.
No it isn't. There's never been a better time for readers to learn about a book and its author before making a purchase. Online ratings and reviews from professional critics and everyday readers are posted on a book's sales page. On Amazon, the book description, author bio, and "Look Inside" feature provides more than enough information for readers to decide if a book is right for them. In my case, I'm giving away one of my books on my website—www.rscottmackey.com—so there's no risk at all for my readers. I'm confident that once they sample this first book that they'll want to buy more.
In short, don't let who the publisher is determine your decision whether to buy a book or not. If a book or author sounds interesting to you, check into it, and if you like what you see, buy the book.
Ray Courage's wife Pam died thirteen years before in a car accident. Or did she? Ray's world is turned upside down when he receives a series of e-mails from someone claiming to be his dead wife, accusing him of attempting to kill her and vowing revenge. Ray sets out to find the identity of the e-mailer only to discover the circumstances of his wife's apparent death appear to be all but accidental.

Soon Police Detective Carla Thurber comes to suspect Ray of killing his wife, and of a subsequent murder of Pam's confidant. Meanwhile, a murderous predator who does not want the facts of Pam's death to surface aims to stop Ray. In the greatest challenge of his life, Ray must outrun the police and elude those who are out to kill him as he seeks the truth about his wife's death.
Enjoy an excerpt:
After she left I took out my phone and opened the email from Pam1111, fully intending to delete it after a quick glance. Instead of some offer for an erection booster or the chance to aid a Nigerian princess, the message gave me an immediate chill:
Ray,
How could you have done that to me 13 years ago? Me, the person you said you loved? Well, it didn't work. I'm not dead and I am going to make you pay after all these years. Better look over your shoulder.
Pam
About the Author:
Scott Mackey lives in Northern California, where he writes both fiction and non-fiction. His first book, Barbary Baseball, achieved critical acclaim from baseball historians for its quality research and writing. He followed that with two young adult novels. His popular Ray Courage Mystery Series includes Courage Begins, Courage Matters, and Courage Resurrected. The fourth book in the series, Courage Lies Beneath, is scheduled for release later in 2015.
Scott's career arc has included stints as a corporate communications manager, college professor, copywriter, bartender, and youth sports coach. In addition to obsessing over punctuation and grammar, he cares about his family (including his dog and cat), the San Francisco Giants, and his rather sad golf game.
Twitter ~ Facebook ~ Goodreads
Buy the book at Amazon or Barnes and Noble.
The first book of the series, Courage Begins is FREE from Amazon or Barnes and Noble.