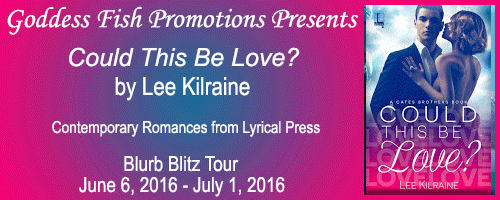 This post is part of a virtual book tour organized by Goddess Fish Promotions. The authors will be awarding digital copies of all books on the tour to a randomly drawn winner via rafflecopter during the tour. Click on the tour banner to see the other stops on the tour. Today, we are featuring one of the four contemporary from Lyrical Press, Could This Be Love?.
Everyone in Climax, North Carolina, knows the Cates brothers. But Sijan Cates is famous far beyond his quaint hometown–and when he comes back, he brings trouble with him. . .

Avery Danford urgently needs to get back in touch with her estranged family. If only she could get her picture in the papers, maybe they'd track her down. . .and what better way to accomplish that than to squeeze into the world's tightest dress and cozy up to the world's hottest actor, Sijan Cates? It's a crazy idea, but it just might work. And though the former actress has sworn off Hollywood hunks, she's got to admit this desperate measure might be a pleasure. . .

Scandal-plagued Sijan has come home for some peace and quiet–and to stay out of the tabloids. Then a woman claiming to be his number-one fan plants a hot kiss on him–in front of a pack of paparazzi. There's only one way to protect his reputation: tell the world they're engaged. It's all just a show, as they use each other to get what they need. But in this sleepy Southern town, love stories have a way of coming true. . .
Enjoy an excerpt:
"All right, let me see if I have the latest scandal straight." Sijan Cates sat with his older brother in Dave's Diner, a former passenger train car turned restaurant. There were two main entrances, one at each end of the car. Booths snaked around the front of the diner next to the front windows while a sit-down counter sat in front of a cramped but ruthlessly clean kitchen. Dave, the owner and cook, was known for his biscuits and homemade blackberry jam, and his burgers. That's it. Ordering anything else on the menu was like playing Russian roulette with your stomach. But if you wanted biscuits and jam, a burger, or all the most up-to-date gossip, the diner was the place to eat.
"Hell, Ty, I came home to get a break from it." He frowned across at his brother, but of course, it had no effect.
"It says here in The Tattler you got a sweet young thing pregnant and then dumped her."
"I did not get a sweet young thing pregnant. I've never even met that sweet young thing. Hell, if I slept with even half the women the tabloids claim I do, I wouldn't have time to get out of bed, let alone make movies."
"According to them you've got a revolving door on your bedroom with a 'Now Serving' ticket machine attached to the wall next to it."
Sijan leaned back as their waitress, Renee, slid steaming mugs of coffee in front of them both. "Renee, run away with me and save me from all this."
"Sijan, if I weren't having hot flashes, I'd be just another crazy woman trying to get a piece of you." Renee tucked her serving tray under her arm and wagged a finger at him. "Now, your latest scandal's got the Grapevine stirred up. I don't think the Simon sisters can take the excitement."
"Those ladies can handle anything. Besides, they've seen this before. Remember four years ago when an ex-girlfriend tried the same thing?"
"Thank goodness for DNA tests and poor math skills." Tynan grinned. "She sure didn't account for your six months of filming in Prague. You do attract the crazy."
"It's Hollywood." Sijan's muscles tensed at the memory. "Too many people can make money off you. I'm just an 'opportunity.' An opportunity to get a script read, a part in a movie, or free publicity." "Or generous child support payments for the next twenty years."
"Hey, I've dated some nice, normal women. Once I learned to steer clear of actresses."
Tynan nodded. "That would explain all those models, politician's daughters, and savvy career women."
He'd be the first to admit he'd enjoyed the benefits of his moviestar status over the years, but he'd always shied away from serious commitment like it was a box of rattlesnakes. Lately though, the serial dating felt . . . empty. Especially after coming home and seeing how happy his brother Quinn and his fiancée Delaney were. "I need a hiatus from women."
"Bite your tongue. Life is a smorgasbord and you are too young to go on a diet. Seriously, Si, I joke, but this"—he rattled the tabloid before tossing it down in disgust—"just pisses me off."
"Every job has its downside, right?" Sijan shrugged tense shoulders. He leaned back against the booth, consciously willing his muscles to relax. "I've decided I'm just going to lay low and focus on my work while the studio's lawyers deal with that."
"You decided?"
"Yup. About five seconds after the president of Majestic Studios called me into his office three days ago and explained loudly and in a few choice phrases that my next two films need to exceed box office predictions." Or else.
"One year ago, this same man couldn't wine and dine you fast enough after your Oscar nomination." Tynan sat back, muttering a graphic although physically impossible suggestion for the president of Majestic Studios. "Fame sure is fickle."
About the Author: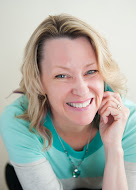 A former Air Force spouse, Lee Kilraine moved seven times over eighteen years before finally settling with her husband in the pine woods of North Carolina. She has worked as a physical therapy aide, a cashier, a waitress, an English tutor, a ballet teacher and a stay-at-home mom. Holding tight to her mother's motto, "There's nothing you can't do if you try hard enough," Lee returned to college as an adult and graduated from the University of North Carolina at Greensboro. Writing thirty-one papers in two years (she counted) rekindled her love of writing, and she set her sights on her other dream—writing romance. When she isn't swinging on her front porch swing or watching another of their four young adult children leave the nest (she swears she isn't pushing them out!) you can find her typing away on her computer with her golden retriever, Harley, destroying something at her feet. Lee is a 2014 Golden Heart® Finalist.
Author Page | Website | Facebook | Twitter
Buy the books being featured:
WORKING IT: amazonkindle, Apple, Google, Kobo, Nook
COULD THIS BE LOVE?: amazonkindle, Apple, Google, Kobo, Nook
NOT SECOND BEST: amazonkindle, Apple, Google, Kobo, Nook
SPOONING DAISY: amazonkindle, Apple, Google, Kobo, Nook