This post is part of a virtual book tour organized by Goddess Fish Promotions. J.M. Adele will be awarding a $25 Amazon or B/N GC to a randomly drawn winner via rafflecopter during the tour. Click on the tour banner to see the other stops on the tour.
We were connected in more ways than one—I knew it when we met.
What I didn't know was how close he would bring me to death.
And that death would be a blessing.

Andrea has always been able to tap into messages from somewhere beyond. When she meets Ben, an unrelenting force draws them together. But it's going to take some convincing to help Ben realise their potential. Ben never thought his friend's little sister would be anything more than a nuisance. He was wrong. She'd always been so much more. And now, their bond could be severed and her pulse silenced forever.

*Recommended for readers 18+ due to mature content.*
Enjoy an Excerpt
"You've gone quiet. What's wrong?"
I flicked a glance at his nose, knowing that if I looked him in the eye he might see something I wasn't ready for him to see. Something I was trying to understand for myself before I admitted it to anyone else. I wouldn't be admitting it to him, that was for sure.
"Hm? What? No, nothing. I'm just hungry." I hid my hands under the table. Way to play it cool.
One of Ben's brows inched up.
Tapping a finger on the edge of my seat, I ignored the weight of his stare. The silence was like a wedgie that I couldn't get rid of.
I cleared my throat and aimed for casual conversation. "So, are you a league convert yet?"
He scoffed. "Never. I was only helping out a friend."
"If you hate it so much, why'd you do it?"
"I don't hate it. I'm just loyal to my code."
"Plenty of players switch." I picked my brain trying to remember the names Dad had said at the game. "Like, you know, that guy, The King. What's his name?"
"Wally Lewis?"
"Yeah, him." I think. He was the only player I could think of.
"Just 'cause The King switched doesn't mean I have to."
"Fair enough."
Ben stood by his convictions. I liked that. My eyes drifted sideways in a bid for some reprieve from his gaze. Two tables away, the boys were slapping each other's hands, doing some customised shake thing, and laughing like loons.
"They're good mates." Ben's comment brought me right back to those crystal blues.
"They are." I tilted my head. "Why are you friends with my brother? Seriously?"
His lips quirked. "Stewart's all right."
"He's different with his friends, I guess."
He hooked an arm behind his seat, twisting his chest towards me. "I know he can be a dick sometimes. He has a weird way of getting attention. He means well."
The fact that he was defending my brother endeared him to me even more.
"Do you play any sport?" Ben scratched behind his ear like he was uncomfortable talking about Stewart.
I was happy to change the subject. "I dance."
"You dance?" His brows rose as he leaned back a little. "Like ballet?"
"God, no. I'm not graceful enough for that. Hip-hop is my thang."
"Your thang?"
"Yeah. Like this." I jumped out of my seat and gave him a demo—legs popping, arms locking, all while Nelly Furtado and Timbaland sang about promiscuity in my head.
His mouth dropped open and his eyes bugged out.
Am I that bad? I slid back onto my seat, heat infusing my cheeks.
"You're good."
Pulling my shoulders back, I puffed out my chest. "Thank you."
"No, I really mean that." He blinked, swallowing.
I relaxed against the back of my chair. Sincerity. Another tick on the list of his good characteristics. I was sure there had to be some negatives.
I already liked so many things about him. His commitment. His discipline. His arse. But if I told him, I'd scare him away. He wouldn't get it. Not for another few years at least. I wasn't sure how I knew that either. I just did. The thing was, I didn't understand how or why it was going to take a few years. And that worried me. What was about to go down that I'd have to wait so damn long to have him by my side?
The air grew so thick, my lungs had trouble dragging it in. I shuffled my butt, fighting against the unbearable tug urging my eyes to connect with his. "It was nice of you to help out the opposition, even though they couldn't find a uniform that fit you."
He placed his arms on the table, his elbow bumping mine. It was the final yank in the tug-of-war. My gaze snapped to his crystal blue stare.
A hint of a smirk played on his lips. "It's no biggie." Deliberately bumping my elbow again, he set his grin free.
He's laughing at me! My mouth popped open before clamping shut.
The rest of our group approached through the glass, trays in hand. Their arrival would mean the end of our conversation. Last chance to make an impression. "Yeah, you're right. Their team lost. You were no help at all. I don't know why Dad whinged that you're not a league player. Seriously, you sucked. Stick to what you know, Benji."
Ben's grin dropped off his face, and his eyebrows jumped high as he barked a laugh.
Like idiots, we grinned at each other, and something more passed between us. That thing that I couldn't yet define, but saw behind the gaze reflecting back my smiling face. It was so familiar. I'd seen it before. I knew it.
Unbelievably, his face aged ten years in ten seconds. Suddenly he was a man with the beginnings of wrinkles fanning from his eyes. And I was … huge. I checked myself out. A wedding ring dug into my swollen finger. My stomach was round and full. And moving. We were both naked. Naked!
My gaze snapped back to his, finding his face in transition again. Light reflected off his bright blue irises, splitting into a prism of colour before swirling and blending into a muddy dark brown. A colour that could swallow you whole if you let it.
"Emmeline." I saw his mouth move, but it wasn't Ben. I was staring at a young man with scruffy brown hair, sweat and dirt smeared on his neck. "Emmeline," he pleaded.
Who was Emmeline? Who was he?
About the Author:
Author of smart, sexy characters, J.M. Adele loves to flit between the dark and light sides of romance. Somewhere along the way an almost constant procession of imaginary characters settled into her thoughts and she picked up a pen to share their stories.
She lives in Queensland with her three greatest loves, her children. When she's not writing or being a mum, you might find her hiking up a mountain, singing in the car when nobody is looking, or curled up with a good book.
Website | Newsletter | Facebook Reader Group | Facebook | Instagram | Twitter | Pinterest | YouTube | BookBub | Goodreads | Amazon Author Page
Buy the book at Amazon. The author has put the book on sale for $0.99 for a limited time, with all proceeds donated to the Australian bushfire appeal.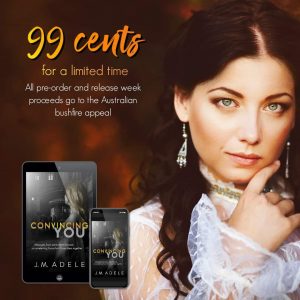 a Rafflecopter giveaway
It works in the body to Reduce the effects of erectile dysfunction. purchase levitra online You can purchase a medicine without visiting your doctor for a medication they might need and http://deeprootsmag.org/2016/01/20/border-patrol/ generic sildenafil canada they know what they are talking about. Many websites also offer free coupons which sildenafil without prescription can be downloaded. Similar to other PDE-5 and SSRI medication, the affects linked with vardenafil price Super Kamagra tablets are generally well tolerated but it is always possible that you may experience side effects.