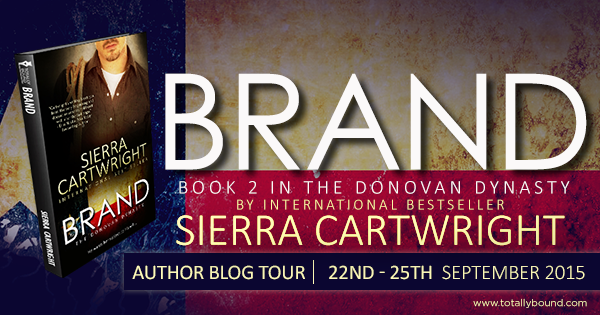 This post is part of a virtual book tour organized by the publisher. Enter the Rafflecopter at the end of the page to win an ebook.
*****
Hello, LASR! You know you're some of my most favorite people on the planet, don't you?  I love you so much, and I am grateful you're hosting me here. You're very much appreciated! Love, Sierra
Confession Time
By Sierra Cartwright
Confession time. I adore Doms. I think about them, fantasize about them, write about them. It's not just their confidence and attention to detail. It's their single-minded focus, their integrity, their need to protect. And when the Dom is also a tall, dark, broad-shouldered cowboy who's equally at home in a tux as a pair of faded jeans, I begin to melt.
I fell in love with Cade the moment I started to brainstorm the various books for the Donovan Dynasty. Since he is his father's love child, he wasn't raised with his siblings. Instead, he grew up on a ranch in South Texas, and that helped him become a man of integrity, someone who takes life seriously, who appreciates the small things.
Not only is Cade tall, he has an amazing body with honed muscles that come from doing the hard manual labor required of a cowboy.
When Sofia McBride meets him for the first time, she's taken aback. His gunmetal gray eyes mesmerize her, and it's as if he looks at her more deeply than any man ever has. Since she's never been the recipient of such intense scrutiny before, Sofia is more than a bit unnerved.
She quickly learns that Cade is a man who knows what he wants and goes after it, including her.
BDSM is a concept she's vaguely familiar with, mostly from a conversation with one of her friends. The first sight of his dungeon unnerves her.
Cade offers her a glimpse of his world, at her own pace. Even though she's nervous, she's intrigued.
He gives her a small taste of a paddle, and sensations overwhelm her, in a good way. But it's not just the paddle that makes her knees weak, it's also Cade's attentions. No matter what they are doing, he watches her, encourages her, makes her the center of his attention.
As she gets to know him and also sees his tender, nurturing side, all of her preconceived notions about his privileged upbringing are shattered, and she catches a glimpse of the torment that he has buried inside.
She knows that loving him, with his edginess and his demons will be the most difficult challenge of her life. And she's not sure her fierce love is enough to save him. But the connection they share, through D/s, gives her the courage to try.
I invite you along for Cade and Sofia's rich, complex, erotic journey to trust and revelation…
He wants her subject to his will. She's scared she may never want to get away.

The first time Sofia McBride meets the strong and determined Cade Donovan, he warns her to keep her distance. She tells herself to heed his words, but she's stunned to realize her depth of attraction to this intimidating man.

She knows she should stay away from him, but try as she might, she's unable to resist him or his sexy, erotic demands. The deeper she becomes ensnared, the more she realizes she may never want to escape.

All his life, enigmatic rancher Cade Donovan has chosen women who don't expect too much from him. But when a storm strands him with Sofia, his lovely, won't-take-no-for-an-answer event planner, all his dominant and protective instincts flare.

Cade wants everything she has to offer, but he soon discovers Sofia's beauty hides a determination he hasn't counted on. Her untamed responses send him on a journey that will banish his demons and change them both forever.

Reader Advisory: This book contains scenes of anal play.
Enjoy an excerpt:
Her gaze was continually drawn toward a pretty pink paddle. It appeared to be sturdy and made of wood. It reminded her of something she'd used when she'd played ping pong. "I don't see how anyone gets pleasure out of that. It looks as if it's meant to hurt someone."
"It certainly can. It doesn't have to be used that way, though. If you'd like to experiment, take it down and give it to me."
His vocal chords were taut, and his tone held no trace of humor.
She hesitated, and she was reminded that, once again, she hadn't said no. Thunder ripped apart the atmosphere but even it didn't drown out the sound of her heartbeat.
Realizing she may not get this chance to be with a Dominant ever again, Sofia put down her things then removed the pink paddle from its hook and offered it to him.
"Very good," he said, thrilling her.
Rather than instructing her to bend over, or at least turn around, as she expected, he mesmerized her by tracing a callused finger down the side of her cheek, then he gently outlined her lips. "Tell me what you want to use as a safe word."
Right now, she had a hard time remembering her own name. "The colors are fine."
"Close your eyes," he said.
For the first few seconds, all she could think about was the fact he towered over her and held an implement of pain.
Then he fisted his hand in her hair. "I've been thinking about this since Saturday night."
He had? The knowledge that she'd affected him melted the last of her resistance. She exhaled a breath she hadn't known she'd been holding.
Cade eased her head back. She could open her eyes, but keeping them closed enhanced her other senses.
He touched her lips with his and she moaned.
"You're beautiful," he said.
Sofia knew she wasn't, but his tone was so serious that for a moment she believed him.
He deepened the kiss and she responded, tasting the freshness of spearmint. He smelled of the elements—rain and wind—and she felt consumed.
He ran two fingers down the column of her throat then paused at the hollow. She'd never felt this gloriously alive.
By slow measures, he pulled back from her then eased his grip on her hair.
"Continue to keep your eyes closed. I'm going to turn you around."
It took some trust, but she gave it.
His grip was light on her shoulders as he turned her. Then he slid his forearm across her chest.
"Stick out your rear a little more for me."
Nerves almost failed her.
"You can say no," he said. From his tone, she knew he wouldn't judge her if she did. "Or yellow. Or red."
"Scared."
He laughed in a gentle way that she found oddly reassuring. She appreciated that he wasn't trying to frighten her.
"That's not one of the acceptable answers, Sofia."
About the Author: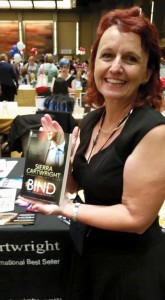 INTERNATIONAL BEST SELLING AUTHOR
Sierra Cartwright was born in Manchester, England and raised in Colorado. Moving to the United States was nothing like her young imagination had concocted. She expected to see cowboys everywhere, and a covered wagon or two would have been really nice!
Now she writes novels as untamed as the Rockies, while spending a fair amount of time in Texas…where, it turns out, the Texas Rangers law officers don't ride horses to roundup the bad guys, or have six-shooters strapped to their sexy thighs as she expected. And she's yet to see a poster that says Wanted: Dead or Alive. (Can you tell she has a vivid imagination?)
Sierra wrote her first book at age nine, a fanfic episode of Star Trek when she was fifteen, and she completed her first romance novel at nineteen. She actually kissed William Shatner (Captain Kirk) on the cheek once, and she says that's her biggest claim to fame. Her adventure through the turmoil of trust has taught her that love is the greatest gift. Like her image of the Old West, her writing is untamed, and nothing is off-limits.
She invites you to take a walk on the wild side…but only if you dare.
Check out Sierra's new Donovan Dynasty website.
You can find Sierra on Facebook, follow her on Twitter, and check out her page on Tumblr.
Buy the book at Totally Bound.
Enter Totally Bound's September blog tour competition for the chance to win an eBook of your choice, not including boxsets or anthologies.