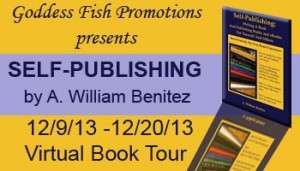 This post is part of a virtual book tour organized by
Goddess Fish Promotions
. The author will be awarding a $5 Amazon GC to a randomly drawn commenter at each stop and a Grand Prize of a $50 Amazon GC at the end of the tour. Click on the tour banner to see the other stops on the tour.
Common Mistakes Authors Make When Self Publishing
by A. William Benitez
Authors write but when deciding to publish it's easy to forget it's an entirely different job and proceed without learning the needed skills. Here are just a few common mistakes authors make when jumping into self publishing.
1. The six authors I helped to self publish all made the same common mistake. It seems they wanted to write and format their book at the same time. Writing and book design are entirely different processes to be handled separately or both may suffer. Even if the author is also going to design and format the book, that process should not begin until the writing is finished. Formatting during writing can negatively impact both tasks. Every author delivered a manuscript replete with unnecessary formatting creating problems for the final layout and formatting. One of the manuscripts was so clogged with confusing formatting I finally copied the entire manuscript and pasted it into Notepad to wipe out all the formatting before beginning the preparation for the final book. Writing is a creative endeavor and demands your full attention instead of being part of multitasking.
2. Lack of planning is another serious mistake. Even though I write how to books based entirely on first-hand experience requiring little if any research, careful planning is essential. A basic outline of all the topics in the book is an excellent guide before writing the first word. This is not carved in granite and if an idea comes up while following the outline, I make a detailed note of it and set it aside so as not to forget and come back to it later. Even a loose outline helps make certain everything is covered. Once I start nothing interrupts the flow until the first draft is complete.
3. Editing as you write is a mistake that slows you down and interrupts the creative juices. Once the outline is complete it's best to follow it and write without stopping to correct mistakes or retype sentences. I prefer to avoid even editing chapters as I go along. Editing and rewriting are best left until the first draft is completed.
4. Another mistake is believing that the tool or application used for writing will influence the quality. For years I've used Word to write my drafts. That's what I call a "so what." Others use OpenOffice, Scrivner, and other applications. A rare few still use pen or pencil on paper pads or notebooks. The best tool or application for writing is the one with which you are most comfortable.
It's a big step from author to self publisher but a skilled person can learn to perform all the tasks or at least enough to hire and monitor competent experts to perform those beyond their ken. Whether doing it all or hiring assistance, avoiding these mistakes definitely helps.
About the Author:
From age twelve I spent my summers and weekends working with my dad, a general contractor, building homes and buildings. I contracted my first home at age nineteen and built my own home by age twenty. For more than 30 years I have operated one-person businesses. Twelve years of my life were spent working for local government managing federally-assisted housing programs. I started as an inspector with a three month assignment and was Director of Community Improvement with 78 employees when I resigned to do writing and consulting.
Writing, Publishing and Consulting
During the 80's I established Rehab Notes Library a publishing company that published a monthly newsletter (Rehab Notes) with subscribers in all 50 states, Canada and England. I also did consulting and public speaking on housing related topics for agencies and organizations in cities across the country and testified before the U.S. Congress on housing issues.
I wrote and published nine guidebooks on the subject of housing rehabilitation. After 1980 when most federal funding was pulled from housing activities, I took advantage of my construction and business experience and started a handyman and woodworking business.
Over Twenty Years of Woodworking
For over twenty years, first in Tampa, Florida and then in Austin, Texas, I built hundreds of small and large cabinet and furniture projects for individuals, companies and government agencies. During these years I began writing books about my woodworking business experiences.
Positive Publishing
In 2007 I established Positive Imaging, LLC, to publish a children's book for my wife and then begin publishing my own books and that of other using methods I call positive publishing. To date we have published twelve paperback books, a half dozen ebooks, and presently have several books in various levels of completion.
Computer Experience
My computer experience dates back more than fifteen years and began in response to poor technical support for our computers. I used home study to acquire A+ and Microsoft Certified Systems Engineer Certifications.
I was born and raised in Tampa, Florida and moved to Austin, Texas in 1986, where I now live with my wife, Barbara Frances. We have three adult children, eight grand-children, and two great grandchildren.
Main Sales/Info Page – http://selfpublishingworkbook.com
Createspace Fulfillment Page – https://www.createspace.com/3851405
Main Positive Imaging, LLC Site – http://positive-imaging.com
Self Publishing Support Blog – http://self-publishing-support.com
PublishingSimplified Blog – http://publishingsimplified.com
Frustration With Traditional Publishers Leads To Self Publishing

In 2007 my wife Barbara completed a wonderful children's chapter book called Lottie's Adventure and begin sending it to traditional publishers. Despite some great preliminary reviews, all she got was rejections and lack of response. This was quite frustrating for her and I wanted to help.

As an IT professional, I had read a lot about print on demand and made up my mind to learn all about it and then publish Lottie's Adventure. It was a lengthy learning curve and I made lots of mistakes including the selection of a POD company that was more expensive than necessary. Nevertheless, we produced a high quality book and in spite of our lack of knowledge we sold quite a few copies of Lottie's Adventure.

After this success I realized that self publishing had potential for some of my own writing and began developing effective, efficient, and lower cost methods to publish the books that I wrote. Since then I have written and published six books and a few ebooks of my own and established a publishing company that has published six books plus several ebooks for other writers.

After consistently producing and marketing quality books worldwide I decided to share these proven methods in a new book covering every step from idea through book creation to worldwide sales. That book is Self Publishing: Writing A Book and Publishing Books and Ebooks For Yourself and Others.