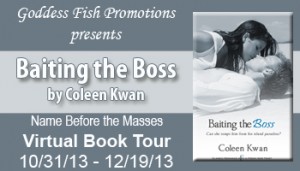 This post is part of a virtual book tour organized by
Goddess Fish Promotions
. Coleen will be awarding a $10 Amazon GC to a randomly drawn commenter during the tour. Click on the tour banner to see the other stops on the tour.
Today, we welcome Coleen Kwan to Long and Short Reviews. Let's all give her a big LASR welcome!
I have some questions for you that are writer specific as well as some fun stuff so that we can really get to know the real you. *grin* Plus we will finish things off with round of Think Fast. Ready to begin?
Writing Specific
Tell us something about yourself that's not in your bio.
I worked in IT for many years and have a degree in Computing Science but in my first year at university I flunked the computing science course! Luckily my grades improved the following year.
What do you like to do when you are not writing?
These days I never seem to have enough time to read. When I read I often feel guilty that I should be writing instead. So reading has become my guilty but necessary pleasure.
How did you choose the genres you write in?
I would say by accident. I haven't planned my writing career at all! I enjoy both contemporary romance and steampunk romance, so that's how I end up writing both.
Is there any particular author or book that has influenced you or your writing?
I love reading Alicia Rasley's advice on writing. She's definitely had an influence on my writing. I try not to think about other authors or books when I'm writing as I'm always striving to find my own voice, and I worry about subconsciously mimicking others.
What has been the toughest criticism given to you as an author? What has been the best compliment?
I had an editor reject a submission with some pretty harsh language. It made me wonder if I should quit writing altogether. Fortunately, I've also had some lovely compliments from readers and reviewers. I love comments like "I had a hard time putting it [the book] down to go to bed" or "the ending gave me goosebumps."
Fun Stuff
If you could have dinner with anyone, past or present, fictional or real, who would it be and why?
I would love to have dinner with the Crawley family from Downton Abbey in their ancestral castle. I'd love to dress up and share one of their elegant meals, though I'm sure I'd commit some shocking social faux pas!
You are going to be stranded on a deserted island and bring 3 luxury items. What would they be?
A hair dryer, because without one my hair is just horrible. An air-conditioner, because I can't sleep without one in the heat. An endless supply of chocolate.
Pick two celebrities to be your parents. Who are they and why?
Paul Newman and Joanne Woodward, a talented and beautiful couple.
What would we find in your refrigerator right now?
Roast chicken, lettuce, tomato, Coke.
If someone wrote a biography about you, what do you think the title should be?
Housework is Overrated.
Think Fast
Summer or Winter?
Winter.
Coffee or Tea?
Tea!
Cake or Pie?
Cake, especially chocolate cake.
Car or Truck?
Car.
Print or Electronic?
Electronic. Quicker, cheaper, smaller.
Thanks for coming by and spending some time with us. Any final words of wisdom to pass along?
Thanks for having me today. My final words: Read a book!
About the Author: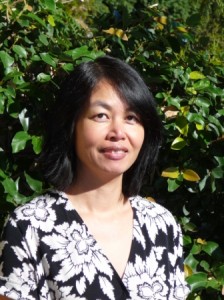 Coleen Kwan has been a bookworm all her life. At school English was her favorite subject, but for some reason she decided on a career in IT. After many years of programming, she wondered what else there was in life — and discovered writing. She loves writing contemporary romance and steampunk romance.
Coleen lives in Sydney, Australia with her partner and two children. When she isn't writing she enjoys avoiding housework, eating chocolate, and watching Criminal Minds.
www.ColeenKwan.com ~ Twitter ~ Facebook ~ Goodreads
For years Grace Owens harbored a secret crush on her boss, Jack Macintyre, the heir to the Macintyre Corporation. But after tragedy upends his life, Jack relocates to a remote tropical island, cutting off all contact with his past. Now Grace's new boss issues an ultimatum: return Jack to the family fold or pack her briefcase and move on.

When Grace turns up at Jack's bungalow, he can't deny his attraction to the fiery woman determined to lure him out of his tropical paradise. He lets her bait him with temptation, but little does she know that returning to his old life is not an option—he's nobody's boss, and he likes it that way. Grace is playing a game she can't win.

Or can she? Will Jack give up his island paradise to help Grace keep her job? If he stays, she'll lose her job. But if he goes, she'll lose her heart.
Buy the book at Amazon or Barnes and Noble.