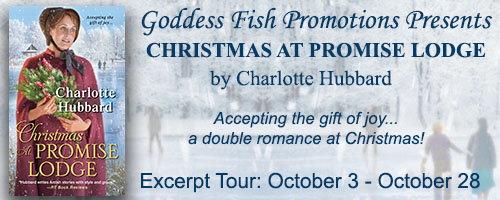 This post is part of a virtual book tour organized by
Goddess Fish Promotions
. Charlotte will be awarding a $15 Amazon or B/N GC to a randomly drawn winner via rafflecopter during the tour. Click on the tour banner to see the other stops on the tour.
Promise Lodge's first wedding is cause for celebration—but the bishop's narrow-minded wedding sermon doesn't sit well with the Bender sisters, especially widowed Mattie Schwartz. She believes marriage and family aren't the only important gifts God gives–even if she suspects her tender feelings for Preacher Amos Troyer run deeper than simple friendship. Amos hasn't given up hope that stubborn, spirited Mattie will change her mind about taking another husband, but when an accident threatens to change his life forever, he wonders if the Lord has sent him a message. He'll need faith, hope, and charity to find the right path—and a Christmas blessing to convince Mattie to walk it with him.
Enjoy an Exclusive Excerpt:
Mattie's heart fluttered. She couldn't seem to stop gazing up at him. "That sounds lovely, Amos," she murmured. "Denki for thinking to do that."
Amos's smile brought his dimples out to play. "It's a rare day when you're not bustling around cooking and serving. I'm glad you've taken some time off, and that you're spending it with me."
Amos has been crazy about you since you were kids—how much more of your life will pass by before you allow him to make you happy? Why spend any longer living in the lodge with the other unattached women when Amos wants you to share his home, his life?
Mattie's thoughts were spinning rapidly. Her resistance to Amos's proposal suddenly seemed silly and irrelevant. "What if I want to spend more than just today with you?" she blurted. Her heart was pounding so hard she wasn't sure she'd get any more words out. "I—I want to accept your offer. I want to be your wife."
The sudden joy on Amos's face stunned her. He glanced around, slipped his arm around her waist, and quickly walked her behind the lodge. "Really?" he whispered as he pulled her close. "You're not saying this because of what Floyd preached—"
"Puh! He'll probably take credit for it," Mattie said with a short laugh, "but no bishop is going to tell me—or you—who or when to marry, Amos."
"Jah, you've got that right. Oh, Mattie!" Ever so gently, Amos took her face between his large, sturdy hands and kissed her. It was a feathery brushing of lips, mere seconds of contact, yet it awakened feelings she'd not known since she'd been an innocent young woman.
About the Author: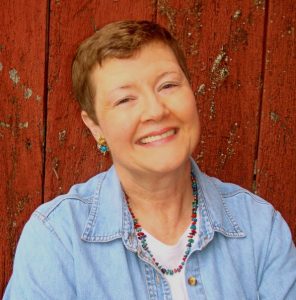 Many moons ago—like, in 1983 while she was still a school librarian—Charlotte Hubbard sold her first story to True Story. This launched her into writing around seventy of those "true confessions" stories over the years, and she's been a slave to her overactive imagination ever since. Over the course of her writing career, she has sold nearly 50 books—most recently, Amish romance series she's written as Charlotte Hubbard or Naomi King.
Charlotte lived in Missouri for most of her life, so her Amish stories are set in imaginary Missouri towns. These days she lives in St. Paul, MN with her husband of 40 years and their Border collie, Ramona.
Website | Facebook
Buy the print book at Amazon, Barnes and Noble, Book Depository, Books-a-Million, Chapters, IndieBound, Powells, or Kensington Books.
Buy the digital book at Amazon, Barnes and Noble, Kobo, iBooks, Google, or Kensington Books.