Long and Short Reviews welcomes Ho Lin who is visiting with us to talk about his recent release China Girl.
"China Girl" in China
by Ho Lin
Where are you from?
America.
But you do not look like an American.
Many conversations I've had with people in China start like this. You can't blame them—my hair, my clothes, and my mannerisms give me away as someone not from around these parts. I must be from Korea or Japan (probably Japan—the Japanese are into goatees, right?). And I'm certainly not your standard brawny, tan Yank with a Pepsodent smile, right? But no, I'm actually American. Or more specifically, Chinese-American; both my parents were born in China, grew up in Taiwan, and settled down in the US. I'm a U.S. citizen, and judging by most of my habits, I'm your typical binge TV-watching, rock-and-roll loving American. On the other hand, my Mandarin is passable if not especially good; I have an ongoing fascination with Chinese culture and cuisine; and my experiences living and working in Asia have informed my writing.
The sense of being both inside and outside China has stuck with me ever since I first stepped foot in the country almost twenty-five years ago. In those more innocent days, the Internet was something one heard vague whispers about, and CNN International was the only TV channel available in English (and even then you had to have access to a hotel room or live in an embassy compound to receive it). The Chinese's knowledge of modern rock only went as far as Dylan in his pre-electric days (pretty much everything post-1966 and the Cultural Revolution was unknown to them at the time). China was only beginning to gain the modern conveniences we take for granted here in the West. Living there was not always easy, or pretty—how can it be when you have over a billion people learning how to grow together as a nation? But to be there was to feel engaged, to recognize and wrestle with our similarities as well as our differences.
Fast forward to the here and now in China, and it's not uncommon to hear hip 80s tunes at the local expat bar (like us, the Chinese have adopted pop music nostalgia), or even up-to-the-second modern rock at the hipper clubs. Even though China's Great Firewall blocks sites such as Google and Facebook, the Chinese have their local equivalent websites and VPN shortcuts to keep in contact with each other. So much has changed, and yet to be in China is still to be in a place with its own ways of thinking, of doing, of living. This leads me to wonder: What does it mean to be Chinese now? With all the newfound wealth and modernization, is China drawing ever closer to the West, save the language differences? Or could it be said that the West, which has absorbed so much from Chinese pop culture in recent years, is growing ever more similar to China?
It's that intersection between East and West that interests me; this is what my short story collection "China Girl" is about. The book is not a straightforward document of what China and Asia are today, nor is it completely fantastical; every far-out tale in this collection contains some grains of reality, and every realistic story features a flight or two of fancy. These stories are about how East and West reflect off each other, how they influence each other, how they regard each other—sometimes with suspicion, sometimes with affection. Most of all, these stories are about people who may have different circumstances than what we're accustomed to, but are searching for the same things we all are: love, connections, escape from regret. All around them, history, ghosts both literal and figurative, and tragedies rise like a wall, and all walls are made to be scaled and broken.
So now when I'm in China and a new acquaintance sees the cover of my book and asks who the China Girl is, or what I think about Chinese girls, I can only half-smile. Given the luxury of a longer explanation, I would say: The China Girl, Chinese girls, even China itself, can't be easily classified. They're keenly aware of the past, present, and future. They have something to say about both East and West, whether the story is about a modern woman in Beijing fighting to be her own person, or a writer in the US trying to make sense of historical atrocities, or even a woman just sitting in a café, hailing from a kingdom that no longer exists. Most of all, they demand to be engaged with. As long as different places and cultures continue to exist in this world, I hope we continue to engage with them, as I have engaged with China over the years.
In its nine tales, China Girl documents the collisions between East and West, the power of myth and the burden of history, and loves lost and almost found. The stories in this collection encompass everything from contemporary vignettes about urban life to fable-like musings on memories and the art of storytelling. Wide-ranging and playful, China Girl is a journey into today's Asia as well as an Asia of the imagination.
About the Author: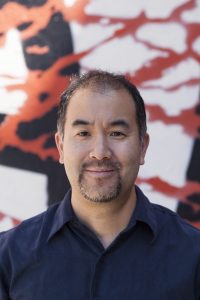 Ho Lin is an author, musician and filmmaker, and the co-editor of the literary journal Caveat Lector. He has degrees from Brown University and Johns Hopkins University, and he currently resides in San Francisco.
Website | Facebook | Twitter | Goodreads
Buy the book at
Amazon
.