Long and Short Reviews welcomes
Thianna Durston
who is visiting with us to celebrate the release of
Becoming Rafe
. Answer the author's question below for a chance to win a copy of the first book in the
Men of Falcon Pointe
series:
959 Brenton Street
.
Thanks for hosting Becoming Rafe today.
As an author, I get pretty tight and personal with my characters. Some of those characters stick with me for years, some I forget practically the moment I pen them. Thankfully those are usually very minor characters. But trying to figure out why a character sticks with me, whether I write them or someone else does, is not as easy.
For instance, Walter Lucas from Heidi Cullinan's Love Lessons series sticks with me. He's strong and has some major hangups, but will go out of his way to help others. He's one of those characters that just stays with me.
Or Logan from Ella Frank's Temptation series. That man leaps off the page from the very beginning and just doesn't let go.
In my books, some of the characters that have leapt out are Blake & Dusty from the Blake/Dusty Chronicles, Logan & Christian from the All They Ever Needed trilogy, and while all the Men of Falcon Pointe bounce around in my head, one of the ones that leapt out the second I began to write him is Santi, a secondary character I introduce in Becoming Rafe. He is larger than life and let me know it before he even came 'on stage'.
So what makes a character memorable? It isn't their looks because those can be forgotten the moment you pick up another book. It's something within their personality that makes them human. And that can mean they have issues they have to deal with like Walter, or that they take the world by storm like Logan. Or in Santi's case, it's the way he just is passionate about everything and doesn't let anything get him down.
These are people who I would love to know in real life, people I could see myself becoming friends with easily. And yes, I'll admit if Falcon Pointe was real, I would want to move there. I would love to count all those men as my friends.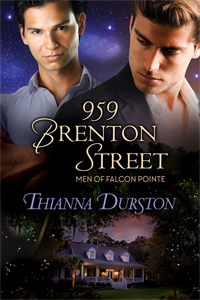 Today I'm giving away an ecopy of the first book in the Men of Falcon Pointe series: 959 Brenton Street to one lucky commenter. So tell me: Who are your favorite characters of all time? What characters would you like to have as a next door neighbor(s)? And yes, what characters are you ga-ga over?
Eighteen-year-old Nephi Norton goes to Falcon Pointe University to find himself. Away from his conservative family, he hopes to discover if his attraction to men is the real deal. Encouraged to be someone a little different, he starts using his middle name. "Rafe" quickly makes friends, some of whom use a paddle to dispense caring discipline, and he lives it up—until midterms hit and he realizes he's flunking statistics class.When Scotland native Éigneachán Jackson Levlin offers to help, Rafe is eager to accept—not only because Levlin is a psychologist, but also because he's out and proud and hot as hell.

As their relationship heats up, Rafe decides to spend one last Christmas with his family before he tells them. When his little sister outs him to his siblings, they turn out to be fully supportive, and he takes heart—until he introduces Levlin to his father, who brutally dismisses both of them. Now Rafe must come to peace with his father's rejection or risk losing Levlin—and all he has become at Falcon Pointe—forever.
About the Author: Thianna Durston is a writer by day and supernova by night. Or at least that's what the faeries tell her. And who is she to deny those pesky *cough* lovely little creatures?
She lives in the Pacific Northwest, though her heart belongs elsewhere. In the meantime, until she can return to the place she calls home, she happily lives in a city that still thinks it's a small town. Thankfully, it has given her muse lots of amusing places to start a story.
Website | Blog | Facebook | Twitter | Google+ | Goodreads | Pinterest
Buy the book at
All Romance eBooks
,
Amazon
,
Barnes and Noble
,
Dreamspinner Press
, or
iBooks
.