This post is part of a virtual book tour organized by Goddess Fish Promotions. Anni will be awarding $25 Amazon or B/N GC to a randomly drawn winner via rafflecopter during the tour. Click on the tour banner to see the other stops on the tour. Read our review of the book here.
CHARACTERS AND CONFLICT
Luke's Redemption
is my debut novel, so when I started to flesh out my characters, I understandably experienced a steep learning curve.
MY HERO AND HEROINE – Luke and Katya
I started by drafting a comprehensive Character Questionnaire, which included lists of questions that went on for pages—what were Luke and Katya's physical attributes? Their likes and dislikes? Where did they go to school? Who were their best friends? I included more complicated questions like how did their friends describe them? What were their most valued possessions? My questions were relentless. And a total waste of time! Because I realized I hadn't asked the most important question of all. In fact, I hadn't asked the only question that mattered—WHO was Luke? WHO was Katya?
My novel was about betrayal—a daughter betrayed by her beloved father, a naïve young woman betrayed by her new lover. The question I found myself asking was WHY? Why would Katya's father betray her? Who was he? Where did he come from? Why did he make such a horrendous decision? The same questions arose when I turned to Luke. Why would Luke betray the woman he fell for at first sight? What could possibly be going on in his life, that it would motivate him to betray her?
I'd slammed into the wonderful world of CONFLICT.
I fast discovered there is no single conflict in a story. On a simple level, there is Outer and Inner Conflict. Outer Conflict is easy. What is physically stopping Luke and Katya from getting it on? Answer—the protagonist. I even added in more than one outer conflict and created an unexpected plot twist.
But Inner Conflict—now that is a whole other story and as far as I'm concerned, the guts of a story that make or break a novel. The more I dug into my characters, the more I found layers and layers of burdensome conflicts. And unraveling them brought me face to face with the inner demons stalking Luke and Katya.
We all carry emotional baggage of one sort or another. And although we might be lucky enough to escape a difficult start in life or a trauma wrought upon us, we rarely escape the damage a trauma burns into our psyche. Luke and Katya's inner conflicts begin years before their love story ignites, and even years before they are born. It starts with their parents and the pain these damaged people inflicted upon themselves, and then upon their children. I built intricate family trees for both Luke and Katya that outlined their intriguing family dynamics. I knew most of what I wrote would not make it into my novel, but without it, the true nature of my characters would never be understood and their stories would lack authenticity and for the reader, would be thin and weak.
I cannot emphasize enough how much this background work enabled me to add fullness and richness to the story of Luke and Katya. My clear understanding of the pain they faced as children and then as adults, dictated every move they made, especially how they responded when under stress. It even extended to my secondary character, Nicu, Katya's father.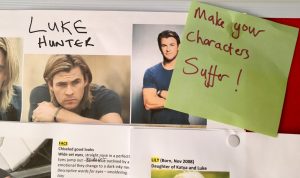 Character development is also tightly interwoven with plot development. One does not proceed successfully without the other. Often, a character's growth arc can take precedence over a broader story arc. I often adapt my story structure to accommodate my character's growth pattern. I loved making Luke and Katya respond to each other in unexpected ways while ensuring their responses never contradicted the true nature of their individual characters. I also discovered I was a sadist. MAKE YOUR CHARACTERS SUFFER. I read this in more than one article and it made so much sense, I wrote it out and stuck it on my wall. I still have it on my character pin-up boards as a constant reminder.
When I started the second book in my King Security Series, Gray's Promise, I adjusted my approach. I kept my Character Questionnaire but tossed out a ton of innocuous questions. I decided that the little things that make us who we are, like—I love pizza but hate green pepper on the topping, or I have a habit of scrunching up my nose, or I cry when I watch Gray's Anatomy—all these kind of little traits I let develop at their own pace during the writing process. It's great fun to experience characters develop weird and wonderful peccadillos I never planned.
Tip: When writing a series, keep track of all your characters' habits, language usage (including the type of curse words), style of inner voice, wardrobe, everything important that stands out as key character indicators. It's vital to keep continuity throughout your series. Being a film editor, I am quick to notice a lapse in continuity and it jars me out of a story. I compare it to when you are watching a film and a microphone drops into the frame. That drives me nuts. (One of my peccadillos!)
I would love to read your thoughts or comments below.
Happy writing.
Chased by her criminal kingpin father, Katya Dalca runs to New Orleans and straight into the arms of Luke Hunter. Sucked into the carnal world of the French Quarter, she succumbs to Luke's potent sexuality. He not only steals her breath, he steals her heart and the only leverage she has against her father. She is left with no choice except to pick up the pieces and rebuild her life alone.

Undercover DEA agent Luke Hunter thought his newest assignment—recover a stolen flash drive to gain the trust of the Russian mob—was like any other. But his target brings him to his knees, and after one taste of her intoxicating beauty, he's in too deep. Doing his job means walking away, leaving his heart behind with nothing but a promise to reunite. It's a promise he can't keep.

When Katya's past reaches out and her world unravels, her only hope is the one man she is most vulnerable to—Luke.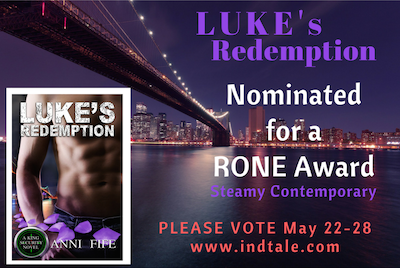 Enjoy an Excerpt
The smell of beignets wafted up and distracted, I lifted the bag and took a deep breath. Whoosh! Fine sugar blew up out of the bag and coated me.
"Shit, honey, you look sweet all over."
Oh, just great.
Blinking sugar out of my eyes I looked up. And up. He was tall, well over six foot. Midnight-blue eyes rimmed by a deeper blue-black smoldered lazily down at me. "You're holding the best beignets in the world. You gonna stand there or you going to take a bite?"
"Umm." Jeez, Katya. Say something.
"Here, let me hold that for you." He took the coffee from my hand. "Go on, babe. Take a bite. It'll be the best thing you'll ever taste."
Still struck dumb, I did what he asked and lifted a beignet out of the bag and took a big bite. Oh! It was like sinking my teeth into a sweet pillow of ambrosia.
"Good huh?"
I nodded and stared back at him. Then, without uttering a word, I stuffed the rest of the beignet into my mouth. He grinned at me, shaking his head. "Want to wash it down with this?" He held out my coffee.
My fingers brushed against his. Yikes! I couldn't stop the slight tremor caused by his touch. I took a gulp of coffee – half rich chicory, half hot milk – and finally found my voice. "Would you like one?" I offered the bag of beignets to him.
"Would be like taking candy from a baby," he grinned. "But don't worry, I've got my own." He dangled a packet like mine in front of me.
Then we both stood there and smiled at each other while we gorged on sugary donuts. He would reach for my coffee to free my hand. Then after I ate some fluffy yumminess, he'd hand it back to me so I could take a sip. We swallowed the last of our beignets and licked our fingers.
I didn't even know his name, yet I was more turned on than I had ever been in my life.
About the Author: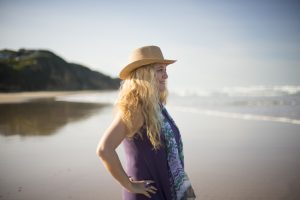 Last year, Anni Fife closed the door on a twenty-year successful career in television production, to fulfill her lifelong passion, writing. In the space of one month, she closed her business, packed up her city life and moved to a small seaside village. 'My writing has always been constrained by client briefs,' Anni says. 'Now, I finally have the opportunity to write to the beat of my own heart.' LUKE's Redemption is Anni's debut novel and she hopes you enjoy it as much as she loved writing it. Anni loves to spend hours walking on the beach searching for pansy shells, more hours drinking red wine with her gal posse, and the most hours writing romance novels filled with women you can relate to and men you love to dream about. She is currently working on her second novel, GRAY's Promise.
Anni is published by The Wild Rose Press.
Join Anni's Posse and get regular updates and Bonus Treats
Website | Facebook | Twitter | Amazon Author Page
EXCITING announcement. New Lower Price for Luke's Redemption. NOW ONLY $2.99!
Buy the book at Amazon, Barnes and Noble, Bookstrand, Kobo, iBooks, or The Wild Rose Press.