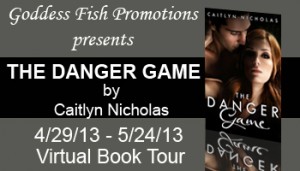 This post is part of a Virtual Book Tour organized by
Goddess Fish Promotions
. Caitlyn will be awarding three prizes: a $25 Amazon GC and Caitlyn Nicholas gift bag to one randomly drawn commenter, and a Caitlyn Nicholas gift bag to two randomly drawn commenters during the tour.(International) The Rafflecopter form is at the end of this post–please click on the tour banner to see the other stops on the tour.
Flick from The Danger Game
Tell us about yourself…
Hi, I'm Flick, and I'm the heroine of The Danger Game. I work at Sydney University, I'm a Professor in Computing… hey, don't look so surprised! Okay so most people in their 20s aren't Professors, but I got an early start. Very early. Anyway, I spend my days teaching first year students about the basics of computing and in my spare time I do research and develop programs. I love it.
So what programs have you been working on lately?
I've been working on a cyber war program, it's so cool! The plan is that we can upload it to any network then take it over. So if you wanted to control the telecommunications networks of a certain country you'd be able to do it! Or the electricity networks, defense networks, or that kind of thing. But don't worry, it's only in its very early stages, though we've just won a million dollar grant to develop it. The government is really interested.
What do you do for fun?
I'm pretty busy. But I love playing pool and hanging out with the guys from the Engineering faculty. They're a bunch of odd-bods, but I like them. I love the beach too. I try to get there whenever I can.
So no boyfriend then?
I tend to scare men away!
What are your career plans?
I'll stick with my job at the University for now. My mum is really sick and my dad doesn't make much money so they need my income to support them. I'd love to go and do something amazing with my skills, make a real difference. There's so much more I could be doing. But for now I'm content working at the University.
What makes you happy?
I just love a perfect algorithm.
Ben from The Danger Game
Tell us about yourself…
Hi I'm Ben and I'm the hero of The Danger Game. I work for ASIO which is the Australian version of the CIA. I love my job. I've travelled all around the world and I'm constantly involved in high risk situations with life or death consequences. A lot of what I do is groundwork though, just observing and putting two and two together. It takes a lot of patience and I used to hate it, but I don't mind it so much these days.
So what have you been working on lately?
Well, I can't talk much about my work. But I've been involved in a project at Sydney University. I'm under cover there, as a security officer. I never did get the opportunity to study, I've been trained by ASIO of course but I'm not sure I've got it in me to sit and study for days and days. Its nice to see what life is like on campus though, they work really hard on their social life these students!
What do you do for fun?
Surf. I love the waves. I love to be outside. During downtime between projects I grab my board, jump in my car and chase good waves for a few weeks.
So no girlfriend then?
In my line of work relationships tend to be complicated, emotionally fraught and short lived. I've got to the point where I avoid them. Maybe I'll consider one when I retire. If I ever do.
What are your career plans?
I just want to keep doing what I'm doing. I wouldn't be good in a desk job, so I reckon I'll be out in the field for as long as they'll let me.
What makes you happy?
A perfect pizza, or saving the world! I get a real kick out of protecting innocent lives, and pizza is the food of the Gods.
About the Author:
I began writing in 2005. Exhausted, pregnant (sure I was going to expire from morning-sickness) and coping with a demanding toddler, I decided the time was right to embark on a writing career. (In hindsight I may have been suffering from a scorching case of sleep-deprivation).
Still, it kinda worked out. My debut novel – and the first manuscript I'd ever written – Running Scared, was published in January 2007. My next book Secret Intentions followed. Then I had a short story published in the Mammoth Book of Special Ops Romance (MBSOR) in 2010 – my story is called "The Grey Man".
In 2012 my novel Drive Me To Distraction was published, and my novella The Danger Game came out just before Christmas. My next book, The Bunker, will be published in July 2013.
You can find me online at: http://www.caitlynnicholas.com
My blog: http://www.caitlynnicholas.blogspot.com
Twitter: http://twitter.com/CaitlynNicholas
Fb: https://www.facebook.com/CaitlynNicholasAuthor
Google plus: https://plus.google.com/u/0/105412279044420141735/
Goodreads: http://www.goodreads.com/author/show/783424.Caitlyn_Nicholas
Flick likes computers. She's good with them, and they do what she tells them, mostly. People, however, are more of a challenge.

But when a terrifyingly dangerous program is stolen, and her mentor killed, Flick finds herself on the run. The police are convinced she's committed murder, and a sinister weapons developer will stop at nothing to force her to work for him.

In Ben's line of work being suspicious keeps you alive. So when Flick turns to him, he quickly realises that she's up to her neck in trouble and hasn't fully grasped the danger she is in.

First he has to keep her safe, and then, together, they have to figure out how to save the world from an epic meltdown.
Buy the Book:
Amazon                          Amazon UK                         Kobo              Nook                         Ibookstore                     Goodreads