An Interview with Petunia Delilah (the New Mom) and Claire (the Aggressively Introverted Sex Phone Worker). – A Discussion of Character.
By Bradley Somer
The other day, I was lucky enough to catch up with a few of the key characters in my new novel Fishbowl. It had been about six months since we last saw each other, when we were fact checking and polishing up their roles in the novel.
Both Claire and Petunia Delilah were passing through town and their layovers happened to overlap by a few hours. So, framed by the planes departing and arriving through the windows of the concourse coffee shop, I clicked record on my tape recorder and caught the following conversation.
Bradley: Great to see you both again. It's been a while since the book… what have you both been up to?
Petunia Delilah: Yeah. To tell you the truth, after what you put me through in the novel, I wasn't sure I wanted to ever see your face again.
Claire: (nods) I'm in the same boat. I agreed to this interview because I thought you'd apologize for that whole thing.
B: Um… Okay. It wasn't that bad was it? I mean everything worked out in the end. Nobody died right?
C: Well, someone did… That guy on the fifteenth floor.
PD: Yes. How could you forget? You're a real heartless sonofab–
At this point I turned the recorder off and we had a quick chat about their experiences in Fishbowl and the inappropriateness of cussing in an interview. I explained that characters had to be challenged in a novel, had to be changed by the final chapter. A reader wants an arc to their character development and there's nothing worse than a stagnant character. Then I apologized for the trials they had to endure through the novel because they didn't buy any of my excuses. Within half an hour off the record, the frosty initial reception thawed a bit and we were able to resume the interview.
Bradley: Okay, great to see you both again. What have you been up to?
Petunia Delilah: Lavender is six months old now. She keeps me pretty busy but Danny has been a great help. We got married a few months ago. The ceremony was wonderful.
Claire: I didn't get an invite.
PD: I wasn't sure you were, you know, out and about. I thought maybe you shut and locked the door. That you went back to your old ways.
C: No. I'm doing much better now. I have a new job. I'm an emergency dispatcher. Jason set me up with an interview and I went really well.
B: Wonderful. I'm glad to hear it.
C: it's what I had to do after you wrote me out of a job and had this one (points at PD) come barging through my door looking for an ice cream sandwich and popping babies out all over my linoleum. I didn't even have any ice cream sandwiches. I would never buy those, yet poof, there they are in my freezer, written in by you, thank you very much.
B: Well, every character needs a motivation, no matter how simple it is. You can't have a character do anything without it.
PD: What… saving my unborn child wasn't enough? I've never craved an ice cream sandwich so much as when you wrote it in the novel. You know, you're a real sadistic sonofab–
Unfortunately, at this point, I had to run. My parking was about to expire and I didn't want to get towed. I thanked Claire and Petunia Delilah for taking the time to chat and their response was… Well, by this point I had turned the recorder off and I wouldn't want to mistakenly misquote their colorful goodbye.
A goldfish named Ian is falling from the 27th-floor balcony on which his fishbowl sits. He's longed for adventure, so when the opportunity arises, he escapes from his bowl, clears the balcony railing and finds himself airborne. Plummeting toward the street below, Ian witnesses the lives of the Seville on Roxy residents.

There's the handsome grad student, his girlfriend, and the other woman; the construction worker who feels trapped by a secret; the building's super who feels invisible and alone; the pregnant woman on bed rest who craves a forbidden ice cream sandwich; the shut-in for whom dirty talk, and quiche, are a way of life; and home-schooled Herman, a boy who thinks he can travel through time. Though they share time and space, they have something even more important in common: each faces a decision that will affect the course of their lives. Within the walls of the Seville are stories of love, new life, and death, of facing the ugly truth of who one has been and the beautiful truth of who one can become.

Sometimes taking a risk is the only way to move forward with our lives. As Ian the goldfish knows, "An entire life devoted to a fishbowl will make one die an old fish with not one adventure had."
About the Author: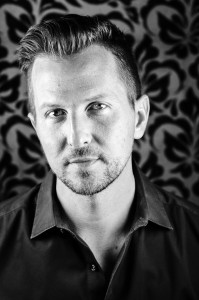 BRADLEY SOMER was born in Sydney, Australia and grew up in Canada and holds degrees in Anthropology and Archaeology. His short fiction has appeared in literary journals, reviews and anthologies. His debut novel, Imperfections, published in Canada, won the 2013 CBC Bookie Award for debut of the year. Bradley currently lives in a little old house in the city of Calgary, Canada, where he works on his writing projects and tries to ignore the wild growth that his backyard has become.
Website | Twitter
Buy the book at