Long and Short Reviews welcomes back Joe Cosentino as the third novel in his Cozzi Cove series, Cozzie Cove: Stepping Out. Enjoy an interview with Tommy Malone, from the series, and check out the giveaway at the end of the post.
Joe: Hi, Tommy. Thank you for joining me in this interview. Since you all can't see Tommy, he is tall, very muscular, bald, with lots of tattoos, and a sweet, kind face.
Tommy: It's great to get out from behind my bar in Cozzi, Joe.
Joe: As a character in all three books of my Cozzi Cove beach series, tell the readers about the magical, romantic, and fascinating place called Cozzi Cove on the New Jersey shore.
Tommy: Cal's great-grandfather built the eight bungalows on the private cove with an amazing view of the bay and lighthouse in the distance. The main beach and boardwalk are only a mile away. Sensing Cal's sexual orientation as a boy, his father opened Cozzi Cove as a gay resort. After he passed on, Cal was proud to carry on the tradition. Cal and I have been friends since grade school. I'll admit, I've always had an unrequited crush on him.
Joe: Tell the readers what is a cove.
Tommy: The bungalows on Cozzi Cove are set on a stretch of cove formed when softer rocks were worn away by the sun and salty water faster than the harder rocks surrounding them. This created a gorgeous bay of turquoise water shielded by large rocks in the distance and smaller rocks near the water's edge.
Joe: After Cozzi Cove: Bouncing Back (TBR Pile Favorite Book of the Month/Rainbow Award Honorable Mention) and Cozzi Cove: Moving Forward released, readers and reviewers praised their romantic, humorous, dramatic, mysterious style, and interwoven captivating stories.
Tommy: They liked us! They really liked us!
Joe: They sure did. So I wrote Cozzi Cove: Stepping Out. As with the first two books, romance is everywhere on Cozzi Cove, and nothing is what it seems. It was like visiting good old friends to further develop the characters like yours in book three. We see a whole new side of you.
Tommy: Thanks for that.
Joe: Tell them the storyline of Cozzi Cove: Stepping Out.
Tommy: Handsome ex-football player Cal Cozzi is now thirty-twoyears old, and still enjoying his role as owner and manager of his family's guest bungalows. His lover of two years, Michael Rodgers, a college photography student, who always works for me at my bar, landed at Cal's doorstep and the two of them have never looked back.
Joe: In this book, Cal and Michael reach a plateau in their relationship.
Tommy: That's Cozzi Cove, just when you think you've figured it out, there's a game changer. On to the next character. Connor, the college student assisting Cal, is still packed with muscles and hormones. He also still revels in Cozzi Cove, and in checking out each resident for a possible fling on the cove—which he occasionally enjoys and thinks Cal doesn't see. In book three, Connor becomes the subject of a handsome young psychologist's study on human sexuality with unexpected results. Then there's me. I meet a beautiful female police officer staying at Cozzi Cove, which leads to a shocking revelation.
Joe: And then there's Cal's younger brother.
Tommy: A man from George's past comes to Cozzi Cove, which leads George on a romantic roller coaster ride. And Cal's sister, Taylor, drops in from Rome, Paris, Wall Street, or Palm Springs as usual. As a type A personality and top one-percenter, the world revolves around her, which makes her hysterically funny. We learn something shocking about Taylor's past in this book, and she goes through some pretty emotional experiences. Lucky for Taylor her best friend, Cozzi restauranteur Carla Mangione, is there for support.
Joe: And Bill, a disbelieving pastor, sees a vision of two sexy male angels on the cove, which leads him to start a new life.
Tommy: As the local bartender, I've heard it all. What secrets, humor, tragedy, mysteries, and passions lie in the magical place called Cozzi Cove?
Joe: What do you think is the moral of the story?
Tommy: I think the moral is that it's important to step out. Take a chance on love.
Joe: Nice job.
Tommy: You wrote the books.
Joe: I also like the message about accepting one's self and others. In particular, that religious freedom means freedom to practice your religion, not to discriminate against others.
Tommy: I have a question for you. Is Cal based on you? Is Michael based on your husband? Taylor on your sister? You have a close male cousin? Am I him?
Joe: A few traits here and there, but we're very different, though my sister is opinionated like Taylor. Harold (An Infatuation), Jonathan (A Shooting Star), and Bobby (A Home for the Holidays) have many of my traits. Stuart (An Infatuation) and Barry (A Shooting Star) are based on my spouse. My cousin keeps asking me to be in my books.
Tommy: Will there be more Cozzi Cove novels?
Joe: Cozzi Cove: New Beginnings releases March 27.
Tommy: Great! I really like the humor, mystery, plot twists and turns, and the surprise endings in the stories They really keep us on our toes.
Joe: I'd like to see Cozzi Cove as a television series. Make me an offer, producers! I want to play Pastor Bill Gayton in this story.
Tommy: Who do you see playing me?
Joe: The Rock.
Tommy: Good choice!
Joe: You get a love life in book three. How do you feel regarding people reading about it?
Tommy: Lovemaking is a part of life, so it makes sense to include love scenes in novels. The love scenes in our books are sweet, sexy, and touching. How do you feel when you read the books?
Joe: I just reread Cozzi Cove: Stepping Out and laughed, cried, gasped, and felt romantic.
Tommy: As a college professor/department head, how do you have the time to write all these great scenes for us?
Joe: I write at night after my spouse has gone to bed. I have a beautiful cherry wood study with a fireplace, huge desk, bookcases, and window seat overlooking the woods. When I complain about my schedule, my mother says, "Just think how hard you would work if you had a real job, like your cousins (lawyers)."
Tommy: The only thing I write are notes on cocktail napkins. How long does it generally take you to write a book for us?
Joe: About three months working evenings and weekends with all of you talking in my head.
Tommy: Tell them about your other gay romance releases, Joe. Even though I'm not in them. Pout.
Joe: In My Heart/An Infatuation & A Shooting Star (Rainbow Award Honorable Mention) published by Dreamspinner Press are loosely based on my high school and college years respectively. They were so popular as individual e-books, Dreamspinner Press published them together in one paperback. I still receive comments from readers that those stories made them laugh, cry, feel romantic, and changed their lives. I am very proud of them. A Home for the Holidays is my popular holiday short novella from Dreamspinner Press about an American law student who, as I did, takes a trip to the romantic and gorgeous island of Capri, Italy, where he embarks on a relationship with his captivating third cousin. The Naked Prince and Other Tales from Fairyland from Dreamspinner Press is my gay take on my favorite beloved fairytales like Cinderella, Goldie Locks and the Three Bears, Pinocchio, Jack and the Beanstalk, and The Snow Queen.
Tommy: You also have two mystery series.
Joe: You should be my press agent. My Nicky and Noah mystery series from Lethe Press are farcical, gay, cozy, who-dun-its. In Drama Queen (Divine Magazine's Readers' Choice Award for Best Mystery, Best Crime, Best Humorous, Best Contemporary novel of 2015) theatre college professors are dropping like stage curtains. With the inept local detective more interested in getting into Nicky's pants than solving the murders, it is up to well-endowed Directing professor, Nicky Abbondanza to use his theatre skills (including playing other people) to solve the case, while he directs a murder mystery onstage. Complicating matters is Nicky's intense crush on Assistant Professor of Acting, gorgeous Noah Oliver. In Drama Muscle (Rainbow Award Honorable Mention) Nicky and Noah have to use their theatre skills to find out why musclemen are dropping like weights in the Physical Education department while Nicky directs the Student Bodybuilding Competition. In Drama Cruise Nicky and Noah go on a cruise to Alaska, and discover why college theatre professors are going overboard like lifeboats while Nicky directs a murder mystery dinner theatre show onboard ship.
In the Jana Lane mysteries (the Wild Rose Press), with straight leading characters and gay supporting characters, Jana Lane was the biggest child star ever until she was attacked on the studio lot at eighteen years old. In Paper Doll Jana at thirty-eight lives with her family in a mansion in picturesque Hudson Valley, New York. Her flashbacks from the past become murder attempts in her future. Jana ventures back to Hollywood, which helps her uncover a web of secrets about everyone she loves. In Porcelain Doll Jana makes a comeback film and uncovers who is being murdered on the set and why. In Satin Doll Jana and family head to Washington, DC, where Jana plays a US senator in a new film, and becomes embroiled in a murder and corruption at the senate chamber. In China Doll Jana heads to New York City to star in a Broadway play, where she is faced with murder on stage and off. In Rag Doll Jana stars in a television mystery series and life imitates art on the set. The novels are full of mystery, romance, humor, and theatricality. Since they take place in the 1980's, Jana's best friends are gay, and Jana is somewhat of a gay activist, the AIDS epidemic is a large part of the novels.
Tommy: Well, it's time for me to get back to my bar at Cozzi. Tell the readers how they can reach me.
Joe: Through me at: http://www.JoeCosentino.weebly.com
Tommy: So grab your Speedos, suntan lotion, and shades and head back to Cozzi Cove. Cal Cozzi has a bungalow waiting just for you.
Joe: I hope to see you all there!
It's time for another summer of sun, sand, suntan lotion, sandals, and Speedos on Cozzi Cove at the New Jersey Shore. Cal Cozzi's seven bungalows are once again open for love. This summer, sexy Cal welcomes back his brother and sister, who are confronted with people from their pasts. Connor, the maid packed with muscle and mayhem, becomes the subject of a handsome young psychologist's study on human sexuality. Tommy, the strapping, bald and tattooed local bartender, is captivated with guest Cory Magnum, a police officer with a secret. Another guest, Bill, a disbelieving pastor, is inspired by a vision of two sexy male angels on the cove. And Cal and Michael reach a plateau in their relationship. What secrets, humor, tragedies, mysteries, and passions lie waiting to unfold in this magical place called Cozzi Cove?
Praise for COZZI COVE: MOVING FORWARD, the second Cozzi Cove novel: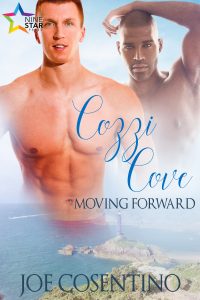 "Cozzi Cove: Moving Forward delivers a strong cast of characters and a few surprising denouements to individual story lines that will bring a smile to your face and perhaps even a heartfelt sigh." GGR Reviews
"Who knew that 7 bungalows set surrounding a beautiful cove, could hold so many secrets, love and intrigue?" "The humour, whether subtle or not-so-subtle was superb, the timing delivered with perfection, Joe Cosentino is a natural comedian and another reason why I love reading his books. He is also very clever, he weaved moral messages throughout the entire storyline," "Great fun entwined with the Cosentino romantic magic that brings his books alive, I loved it." Three Books Over the Rainbow
"visiting Cozzi Cove is like coming home or revisiting a beloved holiday destination. I know everyone, by now, who is a permanent fixture and I sincerely hope that Cosentino continues this series forever. As before, the characters are a hoot. They're a mixture of funny, quirky, sad, lonely individuals who come together to make a riotously brilliant cast." Divine Magazine
"Oh, Cozzi Cove, you are fast becoming a favorite vacation destination with your action and excitement! Joe Cosentino once again wins his way into your heart and soul with this fun, flirtatious romance. Love, laughter and smoldering intimacy await all who dare to venture to the clear blue waters of the Cove." 3 Chicks After Dark
"I absolutely love this series and loved all of the romance that happens at Cozzi Cove. You don't just have one romance you have seven (really eight when you count Cal & Michael)." "I love an author that can inject humor in just the right places. Joe Cosentino is fast becoming a must read author for me." "I can't wait to read more from Cozzi Cove." Inked Rainbow Reads
"Imagine a beautiful getaway where the hot, sexy, and wealthy gay men go…it's a place where there's never a dull moment. Every page of this new title brings readers nothing but excitement, intrigue, and an intensity that will burn away the night's quiet. Most novels offer readers one journey in which readers travel upon, however, readers are brought not one but several journeys that will leave them breathless and hooked. As with all of Joe Cosentino's novels, humor comes in abundance and fits in perfectly with all of this stunning characters." "Joe sweeps his readers into his characters' lives by creating realistic characters with real issues. It's easy to get lost in it all. The book automatically captures your heart from page one and forever holds it. After reading the story, readers will be begging for the next grand adventure. Funny, heart melting, and swoon worthy, readers will finish reading this in one sitting. I loved reading this riveting tale, and I highly recommend it to readers everywhere." Urban Book Reviews
"The beautiful scenery and all around magical quality of Cozzi Cove is hard to resist…This is a fun, often lighthearted story, whose sweet sexy vibe makes for a great escape." Coffeetime Romance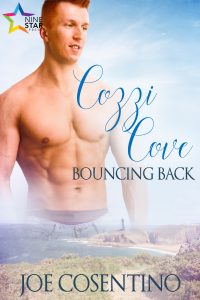 Praise for COZZI COVE: BOUNCING BACK, the first Cozzi Cove novel (Rainbow Award Honorable Mention/TBR Pile Favorite Book of the Month):
"I loved this story. It carries you through the full range of emotions, from joy to sadness, from happiness to anger. The characters are beautifully written." "I look forward to a return visit to the Cove." TBR Pile
"Heartbreaking and heartwarming, sweet beginnings for some, sour endings for others, emotions jumping off the page as you turn eagerly to read more, welcome to Cozzi Cove. The author measured his scales to perfection in delivering the perfect balance of love, laughter and tears in this sexy, fun filled holiday romance entwined with some sadness. Summer magic waved it's wand at all who visited and stayed at Cozzi Cove and I was one of those who wanted to stay." Three Books Over the Rainbow
"In true Joe Cosentino style, this book is packed full of drama! This cast of characters will have you laughing out loud one minute before ripping your heart out the next." Joyfully Jay
"If you like a lot of angst, some humor, love, sadness (be sure to have a couple of boxes of tissue handy), and some hot sensual man-sex, I highly, highly recommend this book. I loved all of the Joe Cosentino's books, but I think this is my favorite to date! I am ready for book 2!" Cathy Brockman Romance & MM Good Book Reviews
"Joe Cosentino has the amazing ability to combine heartwarming, feel good moments with droll, sometimes biting humor, along with insights into the frailties and peccadillos of being human." "Cozzi Cove: Bouncing Back is the very finest in literary fiction with a romance theme, yet it's more than just that—it's about human connections and empathy and finding a way out of the fear and inertia faced by so many. It's also about courage and strength, about respect and coming to terms with all that life has to offer, and it's about letting go. I loved this book and look forward to the next in the series. This is a highly recommended read, well-deserving of Five Stars." GGR Reviews
"readers will meet a variety of characters that creates a soap opera intrigue, unlike any other novel read. This story will definitely keep readers guessing with every page. Only when readers reach the last page does everything become known. It's addictive. Cozzi Cove is a brand new series that will keep Joe Cosentino's readers on their toes and begging for more. I laughed, cried, and fell in love with this latest novel." Urban Book Reviews
Enjoy an Excerpt:
Excerpt of Cozzi Cove: Stepping Out by Joe Cosentino, published by NineStar Press:
A soaring golden orb turned the violet, pink, and tangerine sky into a canvas of blue. Early morning was Cal Cozzi's favorite time. Treading water in the cove that had boasted his family name for generations, Cal felt as if his blood was the bay water, his flesh was the sand, and his soul was the sun. And Michael Rodgers was his heart. Michael swam over to him and wrapped his stocky arms around Cal's neck. Cal cupped Michael's firm bottom and squeezed him in closer. As Michael caressed Cal's muscled back, they shared a salty wet kiss.
Cal looked up at a seagull gliding to the lighthouse in the distance. He pondered having the freedom to fly away from Cozzi Cove, but there was no place he'd rather be than in the confines of his legacy with the man he loved.
Cal's great-grandfather, Calvin Cozzi I, had built everything in the sleepy town on the New Jersey shore, including the eight bungalows on the cove. This beautiful spot was the result of sun and salt water wearing away softer rocks more quickly than the harder rocks surrounding them.
Cal's legacy was passed down to him from his great-grandfather through his grandfather, Calvin Cozzi II, and finally by his father, Calvin Cozzi III. Cal's father, sensing his son's sexual orientation as a boy, had opened Cozzi Cove as a gay resort.
Though Cal had dabbled briefly as a professional football player, and then as a restaurant owner, neither was a good fit. It wasn't until after the unfortunate death of his parents in an automobile accident that he found his true calling: managing Cozzi Cove. The previous summer, Cal had been united with his half-brother, George, an architect, and the two of them had recently completed renovations on the bungalows, expanding them to add modern amenities while maintaining their grandfather's nautical theme.
The tip of his head only reached Cal's chin, so Michael had to stretch up to kiss his nose. Cal's Italian and Scottish heritage had given him height, auburn hair, emerald-green eyes, an olive complexion, a strapping build, and a wide nose, which, as noted, Michael liked to kiss. "Should we be skinny-dipping at the start of a new summer season?"
"Probably not." Cal ran a strong hand through Michael's chestnut hair and gazed into his exotic eyes.
"What if a guest comes early?"
"He can get his own boyfriend." Cal pressed his tongue inside Michael's welcoming mouth. It felt warm, and Cal wanted more. As Michael stroked Cal's broad shoulders and round pectoral muscles, prominent from working out at Cozzi's gym, Cal pressed his nose against Michael's thick neck and enjoyed the scent of vanilla. Michael's African-American and Swedish heritage awarded him smooth golden skin that Cal loved to caress. Cal thought about the eleven-year difference in their ages, how they had met when Michael, still in the closet, tried to gay bash him in an alley, and the year Michael still had left to finish college. It was illogical and improbable for Cal and Michael to be together, yet it felt incredibly right. At that moment, he couldn't be more in love with Michael.
George Valis, wearing a violet polo shirt and white shorts that accentuated his muscular legs, stepped out of Bungalow Seven and met them at the cove. "Hey, my ex back in Maine dumped me, remember? Stop rubbing in your happiness, you two."
"Have breakfast with us." Michael's dimples appeared. "Cal is making a feast."
"And Michael is cleaning up after me."
"As usual." George winked at Michael.
They got out of the water and put on the terrycloth robes they'd left on a rock at the water's edge. Cal smiled at the sight of his brother's height and eye color, which was exactly the same as his own. Cal and George shared the same father, with George being the result of Cal Cozzi II's infidelity. They had met for the first time last summer when George looked Cal up, and Cal couldn't have been happier to have a brother like George. He mussed George's dark hair affectionately. "After breakfast, I'll pack a lunch for your ride back to Maine."
Michael's shoulders slumped. "Do you have to go?"
Cal put his arm around Michael, recalling the brother Michael had lost two summers ago to suicide. "Bungalow Seven is always here for George."
"Good." George grinned like a kid with a secret. "It looks like I'll be staying for a while longer."
"Yeah!" Michael gave George a hug. "Cal will make a special celebration dinner tonight." He kissed Cal's cheek. "My favorite is surf and turf."
"How about I leave my turf and throw you in the surf at the main beach instead?" Cal kissed Michael's neck and then turned to his younger brother. "What's up, bro?"
George looked at them and giggled. "Clearly you two, just before I arrived."
Cal moved in and placed George in a playful headlock. "Look, little brother, the guests will be here soon. If you want breakfast, spill it."
About the Author: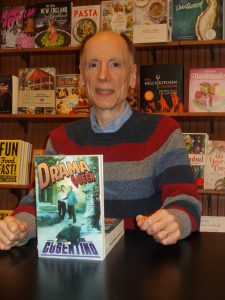 Bestselling author Joe Cosentino wrote Cozzi Cove: Bouncing Back (Rainbow Award Honorable Mention), Cozzi Cove: Moving Forward, Cozzi Cove: Stepping Out, and Cozzi Cove: New Beginnings (NineStar Press); Drama Queen (Divine Magazine Readers' Favorite LGBT Mystery Novel and Humorous Novel), Drama Muscle (Rainbow Award Honorable Mention), Drama Cruise, Drama Luau, Drama Detective Nicky and Noah mysteries (Lethe Press); In My Heart/An Infatuation & A Shooting Star (Rainbow Award Honorable Mention), The Naked Prince and Other Tales from Fairyland (Open Skye Book Reviews Favorite Audiobook of the Month), and A Home for the Holidays (Dreamspinner Press); and Paper Doll, Porcelain Doll, Satin Doll, China Doll, Rag Doll (The Wild Rose Press) Jana Lane mysteries. He has appeared in principal acting roles in film, television, and theatre, opposite stars such as Bruce Willis, Rosie O'Donnell, Nathan Lane, Holland Taylor, and Jason Robards. Joe is currently Head of the Department/Professor at a college in upstate New York, and is happily married. He was voted 2nd Place for Favorite MM Author of the Year in Divine Magazine's Readers' Choice Awards, and his books have received numerous awards.
Website | Facebook | Twitter | Goodreads | Amazon Author Page
Buy the book at Amazon or Barnes and Noble.
Giveaway: Post a comment about why you love the beach, your email address, and your preferred e-book format (PDF, mobi, or e-pub). The one that floats our sailboat the most will win an e-book of Joe Cosentino's Cozzi Cove: Bouncing Back, the first novel in the Cozzi Cove series.