This post is part of a virtual book tour organized by
Goddess Fish Promotions
. D. Lieber will be awarding a handmade bookmark (International Giveaway) to a randomly drawn winner via rafflecopter during the tour. Click on the tour banner to see the other stops on the tour.
Character Interview with Patti Nord
Interviewer: Good morning, Miss Nord. Why don't you tell us a little about yourself?
Patti: Good morning! I'm Patti Nord. I'm from Sweet Water. It's a small town on the Rim of Terrenus. I was recently accepted to Madame Bergot's Finishing School, which I will be leaving for next week.
Interviewer: Congratulations. I understand you're best friends with Kai Stephenson, protagonist of Conjuring Zephyr. Tell us about her.
Patti: Kai and I have been friends since we were quite young. We live close to one another. She's got this crazy idea that she's going to disguise herself as a boy and go to Capital University in order to prove that fire isn't the only element that can be created.
Interviewer: You think it's crazy she thinks that, since it's against accepted magical theories?
Patti: No, I think it's crazy she thinks she can pass herself off as a boy without anyone noticing. I don't have a personal opinion about her quest to create air. I don't know much about that kind of magic. However, she seems confident, so I believe in her.
Interviewer: You think her true identity will be discovered?
Patti: Kai hasn't shown much interest in boys so far. She's always too busy practicing magic with her kooky old neighbor. I don't think she knows how they act. Other than my brother, Dane, she hasn't really even been around boys our age. I, on the other hand, make it my business to observe boys anytime I get the chance… Anyway, I've tried to coach her, and I helped her make school uniforms and such. I just don't think it's going to be as simple as she thinks it will be.
Interviewer: and why not?
Patti: I may be a young and inexperienced maiden, but I know what I'm talking about. I read books, and I've been to parties. There's a chemistry that happens when boys and girls are together. It's anatomy. It can't be helped. Besides, those boys at Capital University are all cooped up without a girl in sight for months at a time. She's going to be living, eating, and studying with them in close quarters. Something's bound to happen.
Interview: You're smiling. It sounds like you hope something happens.
Patti: Well, let's just say that I hope Kai learns more than magic while she's there. She hasn't really been interested in anything but magic since what happened to her brother. I want her to experience life, too. Even though she says she isn't looking for love, I hope it finds her anyway.
Interviewer: And what about you? Are you looking for love?
Patti: Always.
Interview: Oh? And has anyone caught your eye?
Patti: Not yet. While I appreciate all different types of male personalities, I'm looking for someone with a quiet strength, someone considerate and sensitive. Even though I'm going to an all-girls school, I will still be in the city. I'm sure I will have the opportunity to meet my ideal.
Interviewer: Well, good luck in your search and in your first year at Madame Bergot's.
Patti: Thank you for having me. I hope you will all read about Kai's quest. I can't wait to see what's in store for us when we go to Capital.
Retreating underground to escape a devastating ice age, humans build a new society. When magic is discovered and harnessed for survival, the citizens of Terrenus establish theories and principles of how to use it.

Kai Stephenson is determined to prove magical principles aren't set in stone. Having lost her younger brother in a tragic accident, she will ensure such accidents never harm anyone else. She enrolls at the most elite university to gain the knowledge she needs to achieve her goal. Overconfident that living as a boy at an all-boys university will only be a minor inconvenience, Kai is convinced her classmates will never discover that she's a woman. After all, women aren't capable of higher forms of magic, and her boyish figure certainly doesn't hurt her disguise.

Hiding her true identity becomes a problem when her new friends start to awaken her repressed sexuality.
Enjoy an Excerpt
He cleared his throat, and a bored expression slid into place. "I did well in that class. If you really can't figure it out, I can lend my expertise."
I smiled internally at his change in attitude. "I don't know. Leif seems pretty confident. He will be a great tutor."
His boredom shifted to disappointment.
"Still, you've already taken the class. If Leif and I need help, may we ask you?" I asked, not wanting to torment him longer. Smugness warred with boredom. I had to look away so I didn't laugh.
Long fingers gripped my shoulders, and a face appeared close to mine over my left shoulder. A slight turn of my head revealed Des, way too close to me. "Aren't we snuggly," he whispered, breath hot in my ear.
I tried to shrug him off, but he held tight. His face blocked Ryn's from my view. A look to my right showed three pissed off first-years. All three stood slowly; Reid was the one to speak. "You are going to remove your hands," he growled.
"Why would I do that?" Des asked sweetly.
A pitcher of water from the center of the table hovered over to us and slowly poured itself over Des' head. He shrieked and shoved it away. Flynn laughed uproariously, identifying himself as the culprit. Des turned his fury on Flynn, who ran from the room. Des followed in hot pursuit.
About the Author: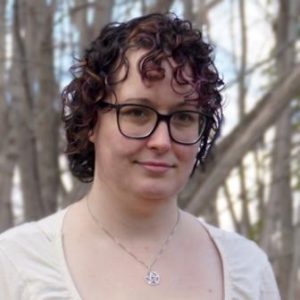 D. writes stories she wants to read. Her love of the worlds of fiction led her to earn a Bachelor's in English from Wright State University.
When she isn't reading or writing, she's probably hiking, crafting, watching anime, Korean television or old movies. She may also be getting her geek on while planning her next steampunk cosplay with friends.
She lives in Wisconsin with her husband (John), retired guide dog (Samwise) and cat (Yin).
Website | Facebook | Goodreads
Buy the book at Amazon, Barnes and Noble, Publisher, or buy a signed copy on Etsy.