Long and Short Reviews welcomes back Joe Cosentino who is here with Nicky and Noah to talk about the 3rd book in the Nicky and Noah series, Drama Cruise.
It is my pleasure to welcome my leading characters, Nicky Abbondanza and Noah Oliver from Drama Cruise, the third Nicky and Noah mystery by Joe Cosentino, published by Lethe Press. Thank you for stopping by to chat with us today Nicky and Noah.
Noah: It's good to leave the books and stretch out.
Nicky: Noah is pretty stretched out already.
Noah: Nicky, in front of everyone?
Nicky and Noah, throughout the Nicky and Noah mysteries (Drama Queen, Drama Muscle, Drama Cruise) we've watched your relationship grow from flirtatious to quite serious.
Nicky: I'm a one-man man, and that man is Noah Oliver.
Noah: Right back at you, Nicky.
Tell us about the Nicky and Noah mysteries.
Nicky: They're funny, theatrical, sexy, wild, and wacky with a solid mystery in each book.
Noah: The first two Nicky and Noah mysteries are set in an Edwardian style university founded originally by a gay couple (Tree and Meadow) whose name the university bears: Treemeadow College. The clues and murders (and laughs) come fast and furious, there are enough plot twists and turns and a surprise ending to keep the pages turning, and at the center is a touching gay romance between Nicky and me.
Nicky: In the first novel, Drama Queen, it is winter, so white snow, cherry wood mantels surrounding blazing fireplaces, and hot chocolate are in abundance. College theatre professors are falling like stage curtains (while I direct the college play production), and Noah and I must figure out whodunit and why.
Noah: In the second book, Drama Muscle, it is fall, so gorgeous leaves of amber, violet, and scarlet blanket the campus. Nicky is directing the college's bodybuilding competition, and bodybuilding students and professors are dropping like barbells. In each book Nicky and I eavesdrop, seduce, role play, and finally trap the murderer, as pandemonium, hilarity, and true love ensue for a happily ever after ending—until the next book.
Was Drama Queen, the first Nicky and Noah mystery, well received?
Nicky: Reviewers called Drama Queen hysterically funny farce, Murder She Wrote meets Hart to Hart meets The Hardy Boys, and a captivating whodunit with a surprise ending. One reviewer wrote it was the funniest book she had ever read.
Noah: Not to mention the readers of Divine Magazine voted it their Favorite Mystery Novel, Favorite Humorous Novel, and Favorite Contemporary Novel of 2015. I always liked that magazine.
Nicky: When the ebook reached eighteen on the Amazon bestsellers list in its category and the paperback and audiobook with all twenty-four roles played by Michael Gilboe sold like tickets to Les Mis after the Tony Awards, it was time for another Nicky and Noah mystery. They liked us! They really liked us!
Did Drama Muscle, the second Nicky and Noah mystery do as well?
Nicky: Readers really liked the bodybuilders. And reviewers said the book packs a laugh a minute, is a romantic romp, and the coziest of cozy mysteries. It won a Rainbow Award Honorable Mention, but I don't have a big head.
Noah: Actually, he does. And one nice thing about the Nicky and Noah series is that each book is a totally contained mystery. So readers don't need to read one before being able to enjoy another.
Tell us about the storyline in Drama Cruise, the third Nicky and Noah mystery.
Nicky: Drama Cruise takes place in summer as Noah and I go on a ten-day cruise from San Francisco to Alaska and back. We must figure out why college theatre professors are dropping like life rafts as I direct a murder mystery dinner theatre show onboard ship starring Noah and other college theatre professors from all over the world.
Noah: Complicating matters are our both sets of parents who want to embark on all the activities on and off the boat with us.
Nicky: Martin Anderson, our department head, and his husband are also along for the rocky ride. As in the first two books, there are a slew of colorful, hysterically funny victims and suspects like the cruise director who talks endlessly about her glory days as a theatre major in college, the ship's doctor who is looking for the secret of life, our porter who wants us to adopt him, and the captain of the boat who insists he has seen the ghost of his former sea captain.
Noah: The theatre professors are equally as colorful, including an alcoholic who believes he has seen a mermaid, a hypochondriac looking for love, a comic with a cat of nine tails in her closet, and a Shakespearian actor who can't keep his hands off his volume of the Bard—or off anyone else.
Nicky: And who is the mysterious Professor Nan Joy Hassahl?
I'll never tell. How was life on the cruise to Alaska?
Nicky: We had amazing meals—
Noah: After amazing meals. And we saw fantastic ocean views of glaciers.
Nicky: We also embarked on land excursions to a tramway over the mountains, a totem pole park, a log climbers show, a frontier habitat, and a Native American village.
Noah: Our cabin sported a private balcony with amazing views.
Nicky: The private view was amazing all right. Ruff!
Noah: Nicky!
Any plans for the Nicky and Noah mysteries to become a television series?
Nicky: Rather than Logo showing reruns of Golden Girls around the clock, and Bravo airing so called reality shows, I would love to see them do the Nicky and Noah mysteries. Can't you see Matt Bomer as me?
Noah: Neil Patrick Harris as me?
I want to play Martin Anderson. Nicky, I described you as having dark hair, green eyes, a Roman nose, a muscular body, and an enormous manhood. Does that help you solve the murders?
Nicky: It doesn't hurt.
Noah: Guess again.
Nicky: Good one, Noah. I have to flirt my way into some places to get certain information. But even more, Noah and I use our theatre skills, including playing other people, to get clues.
Noah: Most of all Nicky uses his smarts, always a fine asset in an amateur detective.
Nicky: And in the third novel I get some help from Noah, our department head Martin, his husband Ruben—
Noah: And my parents who are pretty funny.
There is a great deal of humor in the novels.
Nicky: Since you come from a funny Italian family, Joe, you can't help yourself. Also, we help you think of clever things to write about us.
Noah, what do you like most about Nicky?
Noah: Nicky has such an amazing never say die attitude, wit, smarts, and perseverance in the face of adversity. He is genuinely concerned for others, and he wants to help them.
Nicky, what do you like most about Noah?
Nicky: Noah's gorgeous blond hair and blue eyes, kind heart, sweet disposition, and commitment to me.
Noah, what do you like most about your parents?
Noah: How much they love Nicky.
Nicky: Almost as much as your mom loves her camera.
Who else did you enjoy having on the cruise?
Nicky: I love Martin's sense of theatricality, and his inquiring mind, meaning he's a gossip. I also like how Martin and Ruben throw loving jibes at one another yet are totally in love, and can read each other like a book—no pun intended.
Noah: Jeff, the hypochondriac professor and Neem the ship's doctor were sweet.
Which character do you like the least?
Nicky: Captain James Vessel is quite vocal about his homophobia due to what he calls his, religious freedom. Religious freedom means you are free to practice whatever religion you like, not take away someone else's civil rights. But Vessel is in for a huge surprise as the book commences.
Are you happy to be in a gay-themed series?
Nicky: Obviously gay stories are part of my life. Also, there are still many untold stories about gay people. Go to the mall and look at the movie posters sans any gay characters on them. However, just as your Jana Lane series with its gay supporting characters has huge crossover appeal for gay people, the Nicky and Noah series with its straight supporting characters has a tremendous amount of crossover appeal for straight people. Besides, everybody likes a clever mystery, a sweet romance, and a good laugh.
Since you mentioned it, hint hint, tell everyone about my Jana Lane mystery series.
Nicky: Joe created a heroine who was the biggest child star ever until she was attacked on the studio lot at eighteen years old. In Paper Doll Jana at thirty-eight lives with her family in a mansion in picturesque Hudson Valley, New York. Her flashbacks from the past become murder attempts in her future. Forced to summon up the lost courage she had as a child, Jana ventures back to Hollywood, which helps her uncover a web of secrets about everyone she loves. She also embarks on a romance with the devilishly handsome son of her old producer, Rocco Cavoto. In Porcelain Doll Jana makes a comeback film and uncovers who is being murdered on the set and why. Her heart is set aflutter by her incredibly gorgeous co-star, Jason Apollo. In Satin Doll Jana and family head to Washington, DC, where Jana plays a US senator in a new film, and becomes embroiled in a murder and corruption at the senate chamber. She also embarks on a romance with Chris Bruno, the muscular detective. In China Doll Jana heads to New York City to star in a Broadway play, enchanted by her gorgeous co-star Peter Stevens, and faced with murder on stage and off. In Rag Doll Jana stars in a murder mystery television show, and once again life imitates art. Since the novels take place in the 1980's, Jana's agent and best friend are gay, and Jana is somewhat of a gay activist, the AIDS epidemic is a large part of the novels. Like Nicky and Noah's mysteries, they have interesting characters, a strong plot with lots of twists and turns, and a satisfying but shocking ending.
How about my MM novels and novellas?
Nicky: Noah and I aren't in them. Pout. Your MM romance novellas are published by Dreamspinner Press. They are AN INFATUATION (Divine Magazine Readers' Choice Award 2nd Place for Best MM Romance), A SHOOTING STAR, A HOME FOR THE HOLIDAYS, and THE NAKED PRINCE AND OTHER TALES FROM FAIRYLAND. There is also your MM series COZZI COVE: BOUNCING BACK, COZZI COVE: MOVING FORWARD, and the upcoming COZZI COVE: STEPPING OUT taking place on the Jersey Shore and published by NineStar Press.
Like Drama Queen and Drama Muscle, is Drama Cruise available as an ebook and paperbook?
Nicky: Yup. This gives the reader an option to read it on a Kindle, Nook, or computer, or with book in hand on the train, at work (when nobody's looking), or in bed.
How can your readers get their hands on Drama Cruise, and how can they contact us?
Noah: The purchase links for Drama Cruise are below, as are your contact links, including your web site. Joe loves to hear from readers, everyone, since it gives him a break from hearing from Nicky and me!
Will there be more Nicky and Noah mysteries?
Nicky: You tease. As you know, Drama Luau releases in six months, where Nicky directs a luau show in Hawaii, and muscular hula dancers start dropping like grass skirts. It's a riot. You'll never guess whodunit.
Noah: But you did, Nicky.
Nicky: With your help, Noah.
And mine. Thank you!
Nicky: It is our joy and pleasure to share our stories with you. So take your front row seat. The boat is leaving from port. Lights up and ahoy matey! Alaska here we come!
Theater professors and couple, Nicky Abbondanza and Noah Oliver, are going overboard as usual, but this time on an Alaskan cruise, where dead college theatre professors are popping up everywhere from the swimming pool to the captain's table. Further complicating matters are Nicky's and Noah's parents as surprise cruise passengers, and Nicky's assignment to direct a murder mystery dinner theater show onboard ship. Nicky and Noah will need to use their drama skills to figure out who is bringing the curtain down on vacationing theatre professors before it is lights out for the handsome couple. You will be applauding and shouting Bravo for Joe Cosentino's fast-paced, side-splittingly funny, edge-of-your-seat entertaining third novel in this delightful series. Curtain up and ship ahoy!
Enjoy an Excerpt:
The stunning movie star's long jet-black hair created a silky fan on the cold marble floor. Surrounding her were a crowd of guilt-ridden faces: her possessive husband and producer, her handsome young paramour and co-star, her aggressive agent and female lover, her jealous sister and stand-in, and her makeup man who knew all her secrets (and she knew his). A detective arrived on the scene, took one look at the murdered beauty, and fell in love.
"Nice job, people! Let's take ten."
That was me, Nicky Abbondanza, Professor of Directing at Treemeadow College, a white stone Edwardian-style private college in the quaint and picturesque village of Treemeadow, Vermont. And how did I become the director of a murder mystery dinner theatre show on a ten-night June cruise from San Francisco to Alaska and back? I spotted an online ad seeking theatre professors to present theatrical workshops for passengers on a cruise, culminating in a murder mystery dinner theatre presentation on the last evening. Okay, technically my colleague and fiancé Noah Oliver, Professor of Acting at Treemeadow, spotted the ad in an educational journal, but I applied for my department head and mentor, Martin Anderson (producing the show), my Noah (acting in the show), and me (directing). Martin's husband, Ruben, came along for the ride.
Martin and Ruben are a sweet, elderly couple (don't tell them I said that) who have been together forever and have two grown daughters. For our part, Noah and I are both tall, but the similarity ends there. I have dark hair, long sideburns, a Roman nose, and a pretty pumped body thanks to the gym on campus. Noah has exquisite curly-blond hair, sky blue eyes, a smooth build, and the most loving heart on land and sea. I am just a tad older than Noah—but what's seven years? A lot when you are thirty-six and your lover is twenty-nine.
Oh, there's one other little thing. Actually, it's not so little. I have a thick nine-and-a-quarter inch penis—flaccid. Luckily, Noah is very open (pardon the pun) to my anatomical quirk.
After flying from Vermont to New York to San Francisco and waiting on endless security lines in the airports, the four of us got to the boat, where we waited on a long security line to come onboard. After unpacking in our cabin then getting a quick lunch at the bountiful buffet, Noah and I made our way through the sea of polyester, and somehow remained awake during the life boat drill.
Then we dodged photographers, dollar signs shining in their eyes like paparazzi at a closeted gay movie star's mansion, and headed to our first rehearsal. As the dining room was occupied with guests eating lunch, we rehearsed in a nautical themed lounge onboard ship.
After an hour and a half of rehearsal, it was break time. While the other professors scattered like televangelists near an IRS building, Noah and I sat on a cozy loveseat next to a gas brick fireplace. Noah looked amazing in an aqua polo shirt and white pants, while I was a bit more toned down in yellow slacks and a cranberry hoodie. I took Noah's soft, warm hand in mine, and said adoringly, "I can't believe we're here."
Noah responded, "My first cruise."
"My little virgin." I kissed his cheek.
He looked out of the porthole and kissed the cleft in my chin. "The sky and the water are gorgeous."
"I hope we get to the deck to see them."
"We won't be rehearsing all day, Nicky."
"Don't you need a break, handsome, young paramour character?"
Noah snuggled his shoulder into my chest. "I'd rather wallow away the minutes with my intended."
We shared a warm kiss.
About the Author: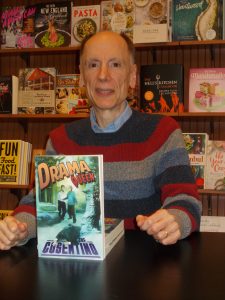 Bestselling author Joe Cosentino was voted Favorite Mystery, Humorous, and Contemporary Author of 2015 by the readers of Divine Magazine for Drama Queen. He also wrote the other novels in the Nicky and Noah mystery series: Drama Muscle and Drama Cruise (Lethe Press); In My Heart/An Infatuation & A Shooting Star, A Home for the Holidays, The Naked Prince and Other Tales from Fairyland (Dreamspinner Press); Cozzi Cove: Bouncing Back, Cozzi Cove: Moving Forward, Cozzi Cove: Stepping Out Cozzi Cove series (NineStar Press); Paper Doll, Porcelain Doll, Satin Doll, China Doll, Rag Doll (The Wild Rose Press) Jana Lane mysteries; and The Nutcracker and the Mouse King (Eldridge Plays and Musicals). He has appeared in principal acting roles in film, television, and theatre, opposite stars such as Bruce Willis, Rosie O'Donnell, Nathan Lane, Holland Taylor, and Jason Robards. Joe is currently Head of the Department/Professor at a college in upstate New York, and is happily married. Joe was voted 2nd Place for Best MM Author of the Year in Divine Magazine's Readers' Choice Awards for 2015, and has won many Rainbow Award Honorable mentions including for Drama Muscle. Upcoming novels are Drama Luau (fourth Nicky and Noah mystery) and Cozzi Cove: New Beginnings (fourth Cozzi Cove beach novel, NineStar Press).
Website | Facebook | Twitter | Goodreads | Amazon Author Page
Buy the book at the publisher, Amazon, Barnes and Noble, or Smashwords.
Praise for DRAMA QUEEN, the first Nicky and Noah mystery by Joe Cosentino from Lethe Press (Divine Magazine's Readers' Choice Award for Best Mystery, Best Crime, Best Humorous, Best Contemporary novel of 2015):
"Without doubt the funniest book I have read this year, maybe ever" "brilliant" Three Books Over the Rainbow
"I cannot stop laughing. Drama Queen is Hardy Boys-meets-Murder She Wrote-meets-Midsummer Murders, with a side of parodic, farcical, satire." "Who-dunits don't come more whodunnity than this." Boy Meets Boy Reviews
"I'm hoping that this is just the start for Nicky and Noah. If Jessica Fletcher could have so many murderers in Cabot Cove, why shouldn't the same hold true for Treemeadow College?" Scattered Thoughts and Rogue Words Reviews
"This fast-paced, hilariously funny, entertaining novel will have you on the edge of your seat as you try to figure out who-dun-it!" Joyfully Jay
"a murder mystery, a comedic romp, an investigative caper, and a love story all rolled up into one nifty little novel" The Novel Approach
"I am not used to reading books that make me snigger out loud, but in Drama Queen Joe Cosentino has struck a great balance between his use of tongue in cheek humour and a compelling mystery which we want to see solved." Divine Magazine
"I love this story, just the right mix, of fun, hilarity and mystery in the mix. The storyline is fresh and well thought out, and the dynamic of the characters is through the roof! Bike Book Reviews
Praise for DRAMA MUSCLE, the second Nicky and Noah mystery by Joe Cosentino from Lethe Press, Rainbow Award Honorable Mention:
"reading these books is like watching a fabulous comedic, murder mystery, action, adventure, romantic film." "I was giggle snorting and laughing so much I had to stop reading. Joe Cosentino's writing is absolutely flawless. He's a master storyteller and will keep you guessing and utterly riveted until Drama Muscle's highly satisfying ending. This is an absolute gem of a book, and series." Divine Magazine
"Book 1, Drama Queen was always going to be a hard act to follow with its belly ache laughter approach but in this "smirkathong" – yes I was smirking throughout the book, my top lip still aches – the author succeeded in delivering another comic classic!" Three Books Over the Rainbow
"a perfect balance of humor and romance into a continuously twisting plot." "Cosentino will keep you entertained and guessing until the very end." 3 Chicks After Dark
"As with the first book, there are laugh out loud, completely funny sections. And enough of the mystery and suspense that keeps me reading" "I look forward to the next story" The TBR Pile
"laugh out loud funny" "Readers will be on the edge of their seats waiting for the killer to be revealed." "As a romance, readers will love seeing Nicky and Noah settling in to living together in their Victorian home." "I highly recommend this series." Joyfully Jay Reviews
"This is a wonderful addition to the series! I fell in love with Nicky in the first book and he just gets better. Filled with humor and action. Noah evolves in this story, his character grows into a more mature yet still adorable sidekick to Nicky. They are perfect together, in detective work and in family situations. I hope that there are more to follow." Crystals Many Reviewers
"This book is a comic romp that simultaneously celebrates and lampoons a mash-up of genres: the bloodless murders (in this case six) of Agatha Christie and her ilk, the screwball movie mysteries of Nick and Norah Charles (it's Nick and Noah here), and the simile-rich voice-overs of film noir– all updated for a gay context." Elisa Rainbow, Rainbow Awards