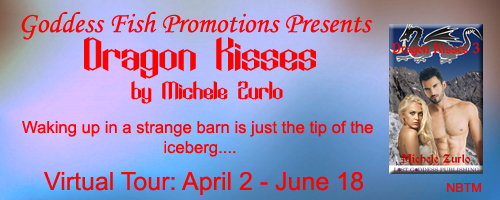 This post is part of a virtual book tour organized by
Goddess Fish Promotions
. Michele will be awarding $10 Amazon or B/N GC to a randomly drawn winner via rafflecopter during the tour. Click on the tour banner to see the other stops on the tour.
Character interview: Illion from Dragon Kisses
I'm here with Illion, a dragon shifter. On Zmaj, when dragons shift into a humaniod form, they appear as aspects, or parts, of one being. Though Illion appears as five separate men—Illion, Aurelio, Beck, Cashel, and Fayne—he considers himself one person. Speaking with one aspect is the same as speaking with all of them. They're telepathically linked, and even when separated, they can function as one. When Cassie, Niall, Arabella, and Laurel first appeared on Zmaj, Illion was the one who found them. As such, he reserved the right to claim whichever one he wanted, and he chose Cassie. In Dragon Kisses, we don't get to hear directly from Illion, but luckily he's agreed to sit down with us today for this interview.
Q: From the start, you seemed quite smitten with Cassie. What went through your mind when you first saw her?
Illion: I noticed the spark in her eyes. She did not seem afraid; rather she seemed intrigued by my appearance. I may have noted her pleasing physical appearance at the same time. She has amazing curves that I find quite attractive.
Q: When Cassie left you, why did you not go after her and demand an explanation?
Illion: Zmaj are raised to view humans as pets, useful for scratching a sexual itch and nothing more. From an early age, I questioned this philosophy. I questioned everything we were taught and all Zmaj customs, which frequently landed me in trouble, but that is another story. My mother was human. She died a few years after my younger brother was born, so my memories of her are few, but the ones I have are powerful. My father treated her as a true mate. She was proud and strong, with a powerful personality that I greatly admired. I recognized those traits in Cassie, and I prized them. When a strong woman comes to you of her own volition, it carries momentous meaning. I wanted her to want me as much as I wanted her.
Q: Jonathan is the biological son of your brother. What kinds of challenges did he present to you?
Illion: Having been raised to fear the Zmaj, Jonathan wanted to reject his dragon when he reached maturity. This would have caused his death. I had to work to earn his trust and help him come to terms with his true nature. I blame myself for that, however. When my brother was killed, I did not notice what happened to Evelyn, his mate. I did not understand the nature of their relationship until Cassie opened my eyes to the concept of love. If I had, I would have kept them close so that Jonathan could have had a Zmaj father figure. Evelyn did the best she could under the circumstances. It seems my brother fell in love with a woman who was strong like our mother.
Q: Your point of view doesn't appear in any of the Dragon Kisses novels. Will future installments feature chapters where you get to tell the story?
Illion: I do not know. My fate is in the hands of that wondrous force who directs all action.
Q: Thank you for hanging out with us today. Is there anything else you'd like to say?
Illion: If a Zmaj somehow appears on your world, please greet them with more kindness than humans are typically shown here. Do not replicate our mistakes. I must go. Cassie awaits.
Dragon Kisses #1 (Cassie and Niall)

Waking up in a strange barn was just the tip of the iceberg. Cassie and Niall find themselves transported to another world, one full of dragon shifters who want to possess them. Cassie is claimed by Illion, an electric blue dragon who shifts into five hulking men, and Niall is claimed by Wynn, a lime green dragon who shifts into two men and two women.

The Zmaj feed from the sexual energy of humans, and finding a cache of five in an abandoned barn is a momentous occasion. Convincing them to stay and protecting them from the Inamanida, their sworn enemy, is another task altogether. And falling in love? Zmaj don't do that.

When Cassie runs away, Illion is forced to confront his prejudices and his brethren in order to save her from a fate worse than death.

Warnings: MMMFF, MMFMMM, light bondage, dominant dragon shifters

Dragon Kisses #2 (Arabella and Jonathan)

Waking with no memory, Arabella finds herself courted by three men claiming to be her mates. Dragon shifters Tobin, Gerrit, and Blakely woo her with sweet words and deeds, convincing her that she's always lived this fairy tale existence. Life is perfect until the Inamanida King decides the experiment has gone on long enough—and Tobin is ordered to turn Arabella over to be tortured and used by the entire clan.

Meanwhile Jonathan is working to help settle the humans in Zmaj's outer city. As the son of a prominent human leader, finds himself thrust into a leadership role and having to liaise with creatures he was raised to fear. Soon he falls for Laurel, a beautiful woman recently arrived from Earth, but as secrets emerge, he faces a stark truth that could cost him everything.

Tobin and Jonathan must risk everything and deal with consequences that could cost them the fragile relationships they've built with the women they love.

Warnings: MFMM, MF

Dragon Kisses #3 (Laurel, Niall, Jonathan)

In the months following Jonathan's transformation, Laurel struggles to come to terms with her feelings for him and the horrific memories of time spent as a dragon's slave. Jonathan struggles to be patient, but Laurel's fear is breaking his heart. Niall and Cassie open a popular bakery and revel in the bliss of love and their new lives. Arabella pines for Tobin's aspects to be reunited, and Nora discovers the secret of creating Zmaj offspring.

Meanwhile all Zmaj braces for the Inamanida attack that Tobin warned them about. When it finally comes, the Zmaj find themselves vastly outnumbered by enemy forces. In the violence that follows, everything changes.
Enjoy an excerpt from Dragon Kisses 1:
Dragon Kisses #1 (Cassie and Niall)
Excerpt 1:
"Cassie." The deep voice calling my name belonged to the dragon man standing next to the one who had watched over us. "Come."
Was it wrong that his commanding tone had me close to coming? Nora's assurance came from, I knew, deep inside my psyche. After all, in a dream all the characters were aspects of myself. Niall was my caution, and Nora was my sense of adventure. I pried myself from Niall's hold. "We'll be fine."
Even facing the weirdest situation and the worst odds, I was an optimist. Before Niall could process what I was doing, I left the safety of the group. Taking those first steps toward a new life was easy when I knew I'd soon wake up in the safety and comfort of my bed, and I figured nothing was to be gained by huddling against a barn. Plus, this would make one hell of a diary entry when I woke up, and it would help keep my mind off Chad, the jerkweasel who'd dumped me yesterday.
Laurel and Oliver followed me. Both of them seemed to be dazed and confused. The blue-haired men morphed into a dragon, and we climbed onto its back. The three of us fit easily. I sat forward of the wings. Oliver situated himself behind me, and Laurel wrapped her arms around his waist.
"Hold onto the scales," Nora shouted.
I slid my hands around the edges of two blue scales. Each was a large as a dinner plate, but they had ridges on the top which were perfect for holding. One leap, and it took off.
Flying on the back of a dragon was unlike anything I'd experienced. My tummy fluttered from the quick ascent—or from that niggling bit of sense that told me I wasn't playing it safe, and wind whipped through my hair. I had the feeling the dragon was flying slower than normal, and I appreciated his restraint. Any faster, and I might have freaked out.
Or not. Who could be afraid of heights or strangers in such a wonderful fantasy?
About the Author:I'm Michele Zurlo, author of over 20 romance novels. During the day, I teach English, and in the evenings, romantic tales flow from my fingertips.
I'm not half as interesting as my characters. My childhood dreams tended to stretch no further than the next book in my to-be-read pile, and I aspired to be a librarian so I could read all day. I'm pretty impulsive when it comes to big decisions, especially when it's something I've never done before. Writing is just one in a long line of impulsive decisions that turned out to showcase my great instincts. Find out more at www.michelezurloauthor.com or @MZurloAuthor.
Blog | Website | Facebook | Twitter
Buy the books at Amazon