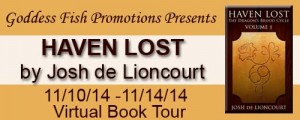 This post is part of a virtual book tour organized by
Goddess Fish Promotions
. Josh will be awarding a $20 Amazon GC to a randomly drawn winner via rafflecopter during the tour. Click on the tour banner to see the other stops on the tour.
Character Interview with Emily Haven
She glides almost effortlessly toward the dasher boards. The arena is totally silent, save for the scrape of her skates on the ice. That sound reverberates hollowly from the rafters far above, the baleful hiss of a snake.
It isn't real, of course. She knows that now—she knows it—but it is so hard to remember that when these visions seem to capture every nuance of the world around her. She can hear her heart thudding in her ears; she can feel the cool air that swirls around her as she picks up speed.
And then, she sees him.
He stands on the other side of the glass, every inch the consummate nerd. He's wearing a t-shirt with the emblem of some superhero Emily doesn't recognize on it. His jeans are faded and just a little too big for him, and, dear God, is that black electricians tape that is holding his glasses together?
It is; of course it is. She remembers him. He's the boy who always covered the games for the school paper.
"Emily," he says perfunctorily, and he smacks his gum between his teeth. "I've got some questions for you."
She stops skating, staring at him through the glass. She wished she could remember his name. She feels a little angry with herself that she cannot. He'd always been sort of an outsider at Lindsey High, the way she was now.
"Are you here for the paper?"
"No," he says, a small, tight smile curving his lips but not touching his eyes at all. "I'm here for LongAndShortReviews.com. And, as I said, I have some questions for you."
"What do you want to know?" she asks, a prickle of unease threading its way through her.
He pulls out a pen from somewhere and holds it expectantly over his notepad. He clears his throat, glancing down at the blank page before him, then back up at Emily. There are fingerprints on his glasses, very visible beneath the harsh lights of the arena.
"What's it like," he asks slowly, "discovering that there's a whole other world out there in the universe? I mean, it wasn't something you were expecting, was it?"
Emily laughs. This is so surreal. The visions have never steered her wrong, though, and so she decides to go with it, come what may.
"No," she says. "I wasn't expecting to find another world. I was just trying to—"
But she breaks off, unable to give voice to the events of that terrible night. She doesn't want to think about that; the pain is still too fresh.
"Would you come back? Surely you don't want to spend the rest of your life running around some alien world with people and customs you don't understand. Surely you have friends to come back to here."
"I don't know," she says, though she's not entirely sure which part of that question she is answering. She thinks of Celine; she sees Michael's face and hears Corbbmacc's voice. These are her friends now, and the world in which she finds herself feels more real than the one she's left behind.
"Your team needs you, you know? Lindsey High hasn't won a game since you disappeared. Why are you doing this?" His voice is rising, becoming belligerent, and his words tear at her heart, reawakening all the guilt and uncertainty she thought she'd already overcome—already left behind, back in that other life.
She turns from him and begins to skate away.
"You can't run from this, Emily!"
But she can, and she does. She keeps skating, her feet moving faster on the ice.
She thinks on all that has happened to her since that last terrible night in Minneapolis. For the first time, she is beginning to believe that her life could be more than simply hiding from the demons that torment her. She has friends with whom she shares a bond that runs deeper than the one she'd had with Casey or her teammates. More, she has a purpose—a goal—that is more than simply surviving another day.
Abruptly, she executes a neat spin on her skates and stares back at the boy. He's still standing there beside the glass, his pen and notepad in hand, and a look of disbelief written across his splotchy face.
"You want something to write about?" she asks, and when he doesn't respond, she goes on. "Tell your readers I say thank you. Thanks for all the times they stood and cheered me on when I scored a goal for them. They were the best part of my life. But that's all over now, and its time for me to walk another path."
She nods to the boy, turns, and skates back into the cloudy, white mists.
Legends never die; they just go into hiding …

Sixteen-year-old Emily Haven, heroine of the girls' hockey team at Lindsey High, has spent her young life keeping two secrets: her rapidly deteriorating home life and the seemingly supernatural power that makes her a star on the ice. When she begins seeing visions of a lost and ragged boy reflected in mirrors and shop windows, a series of events unfolds that tears her from twenty-first century Minneapolis and leaves her stranded in another world with horrors to rival those she has left behind. Lost amidst creatures of fantasy and legend, she is forced to confront the demons of both her past and future to unravel the riddle of the mysterious boy and embark upon a journey to uncover long forgotten histories and the dark, cloaked figure in the shadows behind them all. Caught between opposing forces of a war she does not understand, Emily must find new strength within herself and, above all, the will to remember her friends.
Enjoy an excerpt:
She led the way down the passage, holding her candle high to cast its light as far around her as possible. After a few feet, a reflection caught her eye, and she turned to hold the candle up to the wall on her right.
It was covered with an enormous, intricate mural that seemed to stretch far beyond her small circle of light. Before her, depicted in life-size, was the image of a man with a dark beard, clad in heavy and ornamental plate armor. The forest—or was it a jungle?—looked as though it had come to life round him. Thick green vines bound his hands and feet. The tall stems of white roses had grown up around him, wrapping their thorny stems about his torso and squeezing until a jagged crack ran in a diagonal across his breastplate. In the background, the trees seemed to be leaning over him, wrapping their sturdy branches around his throat. He was clearly trying to scream, and the abject terror captured in his eyes sent a chill up the back of Emily's neck. Suddenly, the mermaid sculpture didn't seem so bad.
"Jaisus!" Celine cried again, stepping up beside Emily and staring at the painting, before words failed her.
"What is that on his chest?" Emily asked, reaching out and running a finger down the crack in the man's armor. It ran through an image of something crimson emblazoned on his breastplate, but it was impossible to tell what it was. Some sort of insignia, perhaps?
"Looks like an animal or somethin'," Celine offered, frowning at it. "God, this place is creepy!" She turned away with a shudder.
About the Author:
Josh de Lioncourt was born and raised in California and enjoys writing projects in a wide variety of fields, including fiction, music, software, blogging, and tech articles. He has written on Apple accessibility for Macworld and Maccessibility, hosts or participates regularly on several podcasts, and writes and records music with Molly, his other half. Josh enjoys the works of Stephen King, the music of George Michael, Masters of the Universe, and Los Angeles Kings hockey. He currently lives in Pennsylvania.
Blog ~ Twitter ~ Goodreads ~ Dragon's Brood Cycle
Buy the book at
Amazon
,
iTunes
,
Barnes and Noble
, or
Kobo
.