This post is part of a virtual book tour organized by
Goddess Fish Promotions
. Jamie Marchant will be awarding a $25 Amazon/BN GC to a randomly drawn winner via rafflecopter during the tour. Click on the tour banner to see the other stops on the tour.
Character Interview with Ahearn from The Ghost in Exile
What is your name?
That's a hard question to answer. My mother named me Ahearn. I had no surname because not even my mother knew who my father was. There were too many choices. When I was seven, my mother kicked me out and sent me to live with my Uncle Barris. I began calling myself Ahearn Barrisstamm after him. But I only kept that name for a few years. Because of an unfortunately affair with the queen, I was exiled at eighteen and became an assassin. I gave up my childhood name because I became a man my uncle would never recognize. My partner named me Darhour, which means Exiled One in his language. Later I earned the nickname The Ghost because I became so good at getting into my victim's rooms, it was believed I could walk through walls. I have also used the names Pandaros, Sigurd, Adrastos, and a host of others. So when you ask me my name, I'm not sure how to answer.
Where were you born? Please describe it to us.
I was born in a decrepit hut in Korth. Korth is the northern of the joined kingdoms of Korthlundia and is mountainous with high cliffs, deep valleys, and incredible waterfalls. It's a truly beautiful land although very cold in the winter. As far as the hut goes, the less said about it the better. I'm not even sure how much of the vileness of that place are my true memories and how much I've added in because of the despair and unhappiness that pervaded it or because of the frequent abuse I suffered at the hands of the various men in my mother's life.
Tell us about your family?
My mother sent me to her brother when I was seven because her latest man demanded she get rid of me. Whether my mother or any of my brothers and sisters are still alive, I don't know. I don't even know how many siblings I have. I went to visit my mother was I was fifteen, and she didn't recognize me. I told her who I was, and she made it clear I wasn't welcome and closed the door in my face. I haven't heard from her since. Still, being sent to my uncle was probably the best thing that ever happened to me. Uncle Barris worked in the royal stables, and he not only took me in with no questions, he treated me like a son and taught me everything I know about horses. I loved him completely. He died when I was fifteen in an epidemic that swept through the capital. I still grieve his death, but I think it fortunately he didn't live to see what I have become. The only relative that matters to me now is my daughter, the result of an affair with the queen, which caused my exile. My daughter is now queen of Korthlundia and has only recently discovered that the king wasn't truly her father. For awhile, I served as the captain of her personal guard, but that couldn't last. She is far too good of a person to be my daughter.
What is your personal "style"? Please describe your appearance.
My daughter stays that I have a look that makes men piss in their pants if I so much as glance in their direction. Part of the fear I inspire is because of the scars that cover my face. When I was in the Saloynan army, I was captured and tortured. My tormentor carved horizontal lines all over my body, starting with my forehead and ending at my feet. But it isn't the scars alone that produce this effect. The man who named me Darhour claimed I had the coldest eyes he'd ever seen.
Who do you most admire (from your world, history, books, etc.)? Why?
Ironically, the man I most admire is the same man who ruined my life, Solar, the king who raised my daughter. As a young man, Solar skillfully ended the civil war between Korth and Lundia and ushered in fifty years of unbroken peace, which allowed his people to thrive. But he found himself an old man without an heir. He knew that if he died without one, the joined kingdoms would descend into chaos, so he decided if he couldn't sire his own heir, he'd get someone to do it for him. He manipulated circumstances in such a way that his young wife was frequently in my company. When the inevitable happened and the queen's pregnancy was confirmed, he had me disposed of. After he exiled me, I hated him with a passion so intense I wanted to carve his heart out, but I've grown to not only understand, but applaud what he did. He understood his duties as king and knew that one life couldn't matter next to the thousands or tens of thousands who would die in the civil war between rival claimants to the throne. He was a great king. But that isn't the only reason I admire him. Even though he knew that Samantha wasn't his own flesh and blood, he loved her as deeply as if she were. He raised her to be strong and taught her everything she needed to know to rule after he travelled beyond the Far Mountain. Because of him, my daughter is a magnificent woman and queen. He was a far better father to her than I ever could have been. That alone earned him my undying loyalty.
Do you believe in god(s)?
How could I not? I accompanied my daughter to Sulis's holy shrine on an island that cannot be found without the goddess's blessing. I knelt there in the presence of Sulis's holy priestess who knew every secret in my soul. My entire being shook with the Holy Mother's presence as the priestess pronounced my daughter the goddess's choice to rule Korthlundia even thought the king isn't truly her father. Oh, yes, Sulis is the Mother of us all. But not even she can forgive what I've done.
What is your greatest fear?
That someone will discover that instead of the king, I am Samantha's father. I deserve anything bad that happens to me, but she must be safe.
What do you think of your author/creator?
She's cruel. But she bettered not treat my daughter in her next book like the way she treated me in this one, or she'll wish I really was a ghost.
The Ghost is going to hell. Not even the goddess can forgive his sins: assassin, oath-breaker, traitor (an affair with the queen earned him that title). No one can ever learn the princess is his daughter. To keep this secret, he flees to the land that turned him from a simple stable groom into an infamous killer.

His mission now? To find evildoers and take them to hell with him. But when an impulsive act of heroism saddles him with a damsel who refuses to be distressed, her resilience forces him to questions why he really ran from his daughter.
Enjoy an Excerpt
"I think you've done enough, you rutting swine," a harsh voice commanded. "Stand up and turn around. Slowly." Certain he was about to die, Ahearn eased himself out of the queen and stood.
He turned to find Lord Caedmon holding the sword on him. Behind Caedmon, Duke Connor, the king's chancellor, approached, accompanied by two vicious dogs. "You should have let him finish, son," Duke Connor said. "It isn't good for a man's health to be left in that condition."
"His health is of little concern now that he's completed his service to his country," Caedmon grunted.
Ahearn didn't understand what they were talking about. He wanted to fall to his knees and beg for mercy. But why humiliate himself when he had no hope for leniency? He licked his lips and looked at Fenella, who'd wrapped the blanket around herself. She looked far more angry than frightened. Maybe she didn't understand the consequences of what they'd just been caught doing. "Don't hurt her, please," he whispered.
Duke Connor laughed. "Hurt Her Majesty? I wouldn't think of it. She is carrying Korthlundia's future—His Majesty's long-awaited heir."
"Like hell I am." Fenella jumped to her feet. "Solar is a wrinkled old man. He hasn't been able to do it in months. This baby,"—she touched her stomach, still smooth and flat—"isn't his."
About the Author: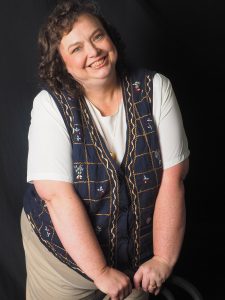 Jamie Marchant is the author of the epic fantasy series, The Kronicles of Korthlundia. Her novels include The Goddess's Choice, The Soul Stone, and The Ghost in Exile. Her short fiction has been published in the anthologies–Urban Fantasy and Of Dragons & Magic: Tales of the Lost Worlds—and in Bards & Sages, The World of Myth, A Writer's Haven, and Short-story.me. She lives in Auburn, Alabama, with her husband and four cats, which (or so she's been told) officially makes her a cat lady. She teaches writing and literature at Auburn University. She is the mother of a grown son.
Website | Blog | Facebook | Twitter | Goodreads | Newletter Sign Up
Buy the book at Amazon.