This post is part of a virtual book tour organized by
Goddess Fish Promotions
. Tracy will be awarding a $10 Amazon or B/N GC to a randomly drawn winner via rafflecopter during the tour. Click on the tour banner to see the other stops on the tour.
CHARACTER INTERVIEW: SEAN PRESCOTT from GENERATIONAL CURSE
Tell us about yourself:
I'm a furniture designer and manufacturer. I grew up in White Plains, New York. My dad has a construction company and that's how learned to work with my hands. Instead of building houses, I wanted to make furniture. I'm a recovering alcoholic and celibate. Am I over sharing? I fell in love with God and completely changed my life. I swore off women, sex and booze. I think giving up sex more difficult than alcohol.
Interesting you mention women. How did you meet Kyla?
I met Kyla when she came into my showroom in Charlotte. If you ask her, she'll say it was in Tribeca. I remember everything about that day. I couldn't take my eyes off of her. She was wearing a beige skirt and a white blouse. I remember she smelled like a spicy garden, then she smiled and I was done. I gave her my card and invited her to my showroom. It was a few months before she stopped by and when she did, I was a nervous wreck. I followed her around like a little puppy.
So you find Kyla attractive?
Uhm…I uhm…man, why did you have to ask me that. I…yes, I find Kyla very attractive. Sometimes it's a little difficult being around her and not being able to…I mean, I find myself thinking about her a lot. I'm not going to lie, the chemistry between us is very strong. Those curves and lips…since we started hanging out, I've taken a lot more cold showers and increased the amount of weight I'm lifting by twenty percent.
Do you think there's a chance you two will be more than friends?
I'm open to it. However, she has a boyfriend. Personally, I don't like him and that's not because I have a thing for her, but because he's a jerk. I'm trying to be polite. There are a lot of other descriptive terms bouncing around in my head. And let's not forget he has a wife.
Apart from the boyfriend, there are other issues. I'm a recovering alcoholic and she likes to unwind with a couple of glasses of wine after a hard day of work. The other major issue, I'm celibate and she's not. As it is, I have a problem being around her as friends, but I don't want to live without her. If we moved our relationship out of the friend zone to something more, I don't know how or if I could handle it. I already had one slip up. I can't afford another one.
What do you do when you're not working?
I box, run, cook, go antiquing and listen jazz. My weekends are spent with family and friends and church.
Tell me about your roommate:
I take it you're talking about Simon. Simon came into my life at the right time. I had just come out of a relationship I thought was going somewhere. Unfortunately, we weren't on the same page. I liked the pace we had, however, she wanted to get married and I wasn't ready. She dumped me and I was a mess. It was my brother who suggested I get a dog. He said the unconditional love and companionship would be good for me. And he was right.
If Kyla were available, would you ask her out?
You really want to put me on the spot? Yes.
Here's my last question. Are you in love with Kyla?
Man you went right for the jugular. Yes.
GENERATIONAL CURSE is the story of what happens when a celibate Christian Man befriends a woman involved with a married man. Will he run in the other direction or continue the relationship? Or will he abandon his Christian beliefs for a taste of the forbidden? Or will she learn that being with a married man isn't the fantasy life the generations of women in her family made it appear?

Sean Prescott and Kyla James are business associates playing a dangerous game of cat and mouse, hoping the other will give in. But in this high stakes game is there really a winner or will both be losers?
Enjoy an excerpt:
"What do I do about Sean?"
"What about him?" Mike asked.
"I think I've fallen in love with him."
"Okay, I know this is a female thing." He started to leave.
"Honey, sit down." DeeDee patted his leg.
"You know I'm no good with the dating stuff," he pleaded with DeeDee.
"I know, but you're his friend."
He took a deep breath. "He's a great guy, but you already know that. And you probably know how much Francesca hurt him. Has he given you any reason to think he may feel the same?"
"Kyla, forgive my husband. Honey, you're right, I'll handle this. Go check on Michelle."
"Thank you." He stood up, "Kyla, I'll see you tomorrow."
"Thank you Mike or is it Pastor?"
"It's still Mike. We're friends, remember." He smiled and walked down the hall.
"Okay, tell me everything," DeeDee urged.
"I can't get him out of my head. He told me he was going on a blind date and I got upset. And after I told him I broke up with my boyfriend and how hurt I was, he came over with ice cream. Well, gelato. It's one of the things we like to do, eat gelato. We meet twice a week for coffee and lunch, and occasionally we go to dinner or brunch. And when I'm not feeling well, he comes over with groceries and rubs my feet and takes care of me and Winnie. Then he drove me to my parents and stayed with us the weekend. He said I needed to be around my family. He and my mother have become friends." She chuckled. "I think they've been conspiring to get me to change."
"I think it's pretty safe to say, he feels the same way."
About the Author: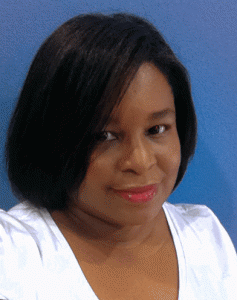 I'm a single Christian Woman who loves God, Fashion and Cute Guys. I live in California, but consider myself a partial New Yorker because of the two and half years I lived there. I own The Pink Duchess, a lingerie site for curvy women. GENERATIONAL CURSE is my debut novel.
Website | Blog | Facebook | Tumblr | Pinterest | Twitter
Buy the book at Amazon, Barnes and Noble, iBooks, All Romance eBooks, or Smashwords.