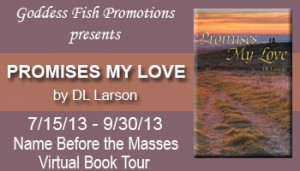 This post is part of a virtual book tour organized by Goddess Fish Promotions. DL will be awarding a copy of one of her previously published books, hardback (US only) or e-book format, to two randomly drawn commenters during the tour.
*****
The Story from Promises To Keep continues with … Promises My Love
a novel
by DL Larson

Francis Frailey fears he might become as abusive as his uncle once was, so he admires his young family from a distance. His plan is lonely, but safe, until his wife Christine sneaks past his staunch decorum. With tender devotion she coaxes him beyond his wretched childhood memories to a place where trust and love grows.

The fragile bond shatters when Francis' family intervenes and he must decide if hate will rule his heart. Christine promises forgiveness will make him whole, but Francis aches for revenge. He's determined to kill his uncle and be done.

Christine's brother, Joe Douglas, has plans of his own that include asking his wife Annie to face her troubled past. But to help Christine, Joe agrees to go after Francis and bring him home. Taking his young son and nephew with him unhinges them all. Joe doesn't know if the love Francis has for his son is stronger than the hate he harbors for his uncle. Or perhaps Francis despises himself most of all. Joe fears the wrong person may end up dead.
An interview with Christine Frailey outside the Dry Goods Store, Shadow Creek, KY
Reporter: Mrs. Frailey, may I have a moment of your time, please.
Christine: Yes, of course. What is it you wished to speak to me about?
Reporter: Your husband, Francis is a very wealthy man, from back east. Will he pursue the family business?
Christine: Family business? No, I don't believe so. He's quite content to be here in our small town.
Reporter: Is it because he doesn't associate with his family? A family dispute, perhaps?
Christine: No. Surely not. My husband corresponds regularly with his father.
Reporter: Anyone else? His mother? Or I believe there is an uncle living with his folks. Does he keep in touch with them?
Christine: No. And really, this is not a topic for discussion.
Reporter: Why ever not?
Christine: I really must go. I've tarried too long. Good day, sir.
Reporter: Is it true your husband has an explosive temper?
Christine: Wherever did you hear such a thing?
Reporter: The saloon. He's a regular there and folks talk. Has he ever hurt you?
Christine: Of course not! What an outrageous thing to say. My husband is loving and kind and … and would never hurt me or my children.
Reporter: I heard you left him once.
Christine: That was years ago. Couples struggle. We made amends and have moved on. Now, I really must go.
Reporter: Do you feel safe with him?
Christine: I refuse to answer such a question. You are poking your nose in my private affairs only to sate your own twisted curiosity.
Reporter: I'm asking you a simple question. Do you feel safe in your husband's company?
Christine: Yes! I trust him with my life. Is that answer, enough? Your prying is rude. I won't tolerate such an intrusion. Good day, sir.
Reporter: Good day. Oh, and Mrs. Frailey? Please be careful.
About the Author: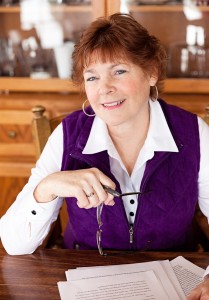 DL Larson always thought she'd be a city girl, but instead, she has spent the last 40 years surrounded by corn fields. She lives in northern Illinois and enjoys the outdoors, especially gardening, boating and bike riding with her family.
Reading is a big part of DL's life, both professionally as a writer and as a Children's Librarian.
She likes being in the know, seeing firsthand what folks like to read. Going back to school as an adult rejuvenated her desire to become a novelist. The writing awards she received lifted her up and reinforced her drive to tell the best story she could. Her second novel, Promises To Keep was a 2008 Reader's Choice Recipient.
DL is a WindyCity member of RWA. She blogs each Thursday at http://acmeauthorslink.blogspot.com/
.
Visit DL Larson at www.dllarson.com or Facebook.
Buy the book at Amazon.