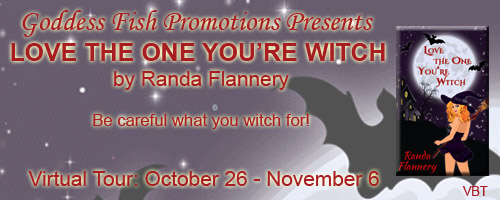 This post is part of a virtual book tour organized by
Goddess Fish Promotions
. Randa Flannery will be awarding a $25 Amazon/BN to a randomly drawn winner via rafflecopter during the tour. Click on the tour banner to see the other stops on the tour.
A CHARACTER INTERVIEW with Ana
Thanks for having me on today. Since the release of
Love the One You're Witch
, I've been talking a lot about myself. Frankly, I've gotten kind of tired of me, so I brought Ana, the heroine from the book, along with me and will be letting her do most of the talking. Hope that's okay.
Ana: Do I get a say in that?
Randa: That depends. Are you going to say it's okay?
Ana: No.
Randa: Then no, you don't get a say. Now behave or in the next book, you'll be working at Madame Lusty's.
Ana: *shudders*
Randa: So, in preparation for this post, I asked some readers what they would like to ask you. Try to keep your answers polite and professional.
Ana: *snorts* Do you know me?
Randa: Do you know what sort of retirement plan they have at Madame Lusty's? Think bargain bin.
Ana: I'll do my best.
Randa: Question one is from Laura. Who don't you mind working with at the firm?
Ana: *shrugs* I don't really mind working with any of them. They don't always seem thrilled to work with me, though. Weird.
Randa: Do you have any favorite coworkers?
Ana: Well, sure. I like Lil, even if she is too good looking and competent for my own good.
Randa: You mean "her" own good?
Ana: Why would she be too good for her own good? That doesn't make any sense. No, I meant what I said.
Randa: Alright, continue.
Ana: Lucy Lyle is always good for a laugh, so easily irritated. It's fun to shock Andi, too. Jazz, on the other hand, while not strictly speaking a coworker, is much more my kind of girl. I think. I don't know much about her, but she has that kiss my middle finger kind of vibe I can relate to.
Randa: I see. Question two is from Amy, who wants to know how you got into the PI business.
Ana: I went to college with Lil who knew about some of my more interesting spell work…my college days were pretty epic. Remembering one spell in particular that allowed us to reenact the dance scene from Thriller, she asked me for some help on a case she was on. Reanimation can be tricky, and her complicated spell skills were rather shaky. Anyway, after the zombie apocalypse ended and I returned home to a psychotic undead room mate, I found myself in need of a quick relocation. She offered to get me a job, and here I am.
Randa: Do you like your job?
Ana: It keeps me and Ollie in marshmallows, so it's good.
Randa: Speaking of Ollie, can you dish a little about him? He has his own little following.
Ana: For Goddess sake, don't tell him that. He's already been bragging lately that he scored higher on his SAT's than I did. But sorry, I can't dish on the hairball. He threatened to eat Lucas if I embarrassed him today.
Randa: How about something not so embarrassing?
Ana: But what would a cat consider not embarrassing? I mean, he licks his butt in public.
Randa: Good point. Something he's proud of?
Ana: Well, I took him to the office yesterday and he marked the werewolves' offices. He was pretty proud of himself for that. Eddie had to have an emergency cleaning crew come try to get it out so Lucy and Ethan wouldn't wolf out and start peeing everywhere. I think they had to replace carpet.
Randa: You couldn't have used your magic to do that?
Ana: *shrugs* It didn't occur to me to try.
Randa: I think I can understand why your coworkers may not enjoy working with you. Next question comes from Angela. Lucas seems pretty protective. Is he okay with you working at the firm?
Ana: *laughs* So far, all he knows about my job is that it took me to Madame Lusty's and he's gotten to sift through the merchandise I brought back for his mother. He's pretty okay with it at the moment.
Randa: And is your job generally pretty safe, or do you encounter a lot of danger?
Ana: I get a good mix of cases. Quite a few are just routine and rather boring after a while. Same thing over and over. Sometimes I think Eddie does that on purpose. I mean, I heard that Lucy just got a case involving male strippers. I've never gotten anything like that. Mine usually involve haunted houses or communicating with spirits.
Randa: Dorothy wants to know what your hardest case or most difficult client are, other than the one in Love the One You're Witch.
Ana: My hardest case was probably piecing together the memory of an amnesia patient. A witch had cast a spell on her that scattered her memories from the last year all around the city. It became a sort of scavenger hunt at first, and then a jigsaw puzzle after that, trying to put it all back together in the right order. I ended up with a couple of extra pieces, as you always do when you're trying to assemble things yourself. I'm sure they weren't important, though…
Randa: Well, that's about all the time we have. Thank you, Ana, for participating. And thank you to Long and Short Reviews for spotlighting Love the One You're Witch.
Sassy and snarky witch Anastasia Gregor does not work with vampires. Unfortunately, she forgot to tell her boss that. Now she's up to her neck (pun intended) in the night walkers as she attempts to help one family fix their love lives.
Enjoy an excerpt:
"Who would do this?" Dryfus persisted, his face dark and angry. "To steal another's mate? What kind of person would do that?"
I shrugged and waved toward Lucas. "That's a question we should probably ask Lucas. It was obviously someone he knows, since the spell was actually intended for him."
The sexiest man alive…or sort of alive…started in surprise. "Me?"
"Well, obviously. It was your CD. It was in your house, among your music. The note was probably meant for you. Erica was just unlucky enough to take it from your room before the caster actually activated the spell." This seemed like it should be common sense to me, but he seemed a little stunned.
The family trained their eyes on Lucas. "Who would do that?" Tanner questioned. "Who wants you, man?"
I snorted a laugh. "Seriously? Again, have you seen him?" Damn. I really need to stop talking. But then I realized that no one else was talking again, so I kind of had to. "Sorry. That was not helpful. So, have you had any girls hanging around the last month and a half?"
The family shook off the surprise brought on by my lack of couth and began to think out loud.
"Brenda," Tanner offered first. "And Lorrie."
"I've seen Candace over a lot lately," Dryfus added. "And the Carlton twins stopped by twice this week."
Moira twisted her mouth in distaste. "Really, Lucas, the twins?" Then she shook her head and added her own. "Hannah, Natalia, and Victoria. And what is that new girl's name? Denise or Delilah?"
"It was Dixie," her mate provided.
Of course it was, I thought sourly. With each name, my stomach sank more until it was finally in the heels of my boots. I told myself it was because it would make my job more difficult. Because it shouldn't have been shocking or upsetting at all to learn that the hot vampire guy with the intense green gaze was a playboy. I couldn't resist a little snark, however, when the list we compiled had reached fifteen.
"Wow. So I guess Wiccans aren't the only ones who have trouble with monogamy."
He cast a dark look around at his family. "I haven't been with all of those girls," he snapped, frustration spiking in his aura. "And the ones I have been with would not have been wrong, since I wasn't part of a mated pair or otherwise in a committed relationship."
I shrugged with a nonchalance I usually didn't have to work at. "Hey, no judging from me. Like I said, I can see the draw." I winked to add a little insult to injury, totally objectifying him even as my stomach twisted.
"I see," he returned in that deep and dangerously smooth tone I liked. "So would you like on the list, Anastasia?"
My name sounded like a caress and I resisted the urge to purr. This guy was too much. "Actually, no. I prefer my partners a little more lively." I snickered at my own pun. I can be pretty funny.
"Was that a joke about us being dead?" Tanner asked with a wary glance around.
"Not all of us," Moira responded wryly. "I'm pretty sure that was aimed specifically at Lucas."
I continued to grin. "Sorry, we Wiccans might do some strange things, but I draw the line at necrophilia."
Another pregnant silence followed, broken only by his growl.
About the Author: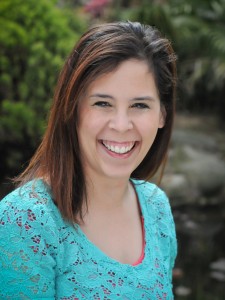 Randa Flannery has an a degree in English and writes a variety of romantic fiction, including suspense, comedy, and urban fantasy. Randa is a member of the Romance Writers of America and lives as an expat with her husband and children in FuYang, China.
Website | Twitter | Facebook
Buy the book at
Amazon
or
Barnes and Noble
.