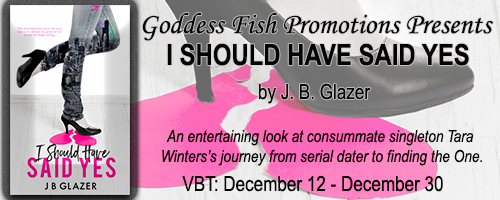 This post is part of a virtual book tour organized by
Goddess Fish Promotions
. J B Glazer will be awarding a $25 Amazon or Barnes and Noble GC to a randomly drawn winner via rafflecopter during the tour. Click on the tour banner to see the other stops on the tour.
J B has stopped by to introduce us to the protagonist from her latest novel, I Should Have Said Yes. Meet Tara Winters: serial dater, blogger, interior designer, master's student, and sometimes screw up. (With all of that on her plate, I guess we can cut the girl some slack)! She's always regretted saying no to love interest D. J. Parker and vowed never to repeat her mistake. So her "yes" dating pact was born. Hence, Tara goes on A LOT of dates. Her followers find her life enviable, but all Tara wants is to settle down. Can the queen of dating disasters find her prince? Let's ask her!
Q: Why a dating pact?
A: I know you're probably thinking, "She's desperate! Who would agree to such a thing?" Here's the deal: when I was in high school I had a crush on someone, and in hindsight I think we had a real shot at a relationship. But I let my pride and, above all, fear, get in the way. So when he wanted to discuss our relationship, instead of telling him how I felt, I said no, he didn't mean anything to me. But what I really wanted to say was yes. I vowed never to make that mistake again. And so my dating pact was born. I guess you could say it came from regret.
Q: What inspired you to start a blog?
A: Well, here I am years later, a serial dater, yet no step closer to finding the One. Hence, I go on a lot of dates. And I love sharing my disastrous experiences with friends and family. Someone should benefit, right? A wise classmate suggested I should start documenting my experiences, so my blog was born. I think she was thinking more along the lines of a book, but I'm not that committed. LOL! I hope that readers will find my stories entertaining. But I also hope that they'll learn something. Knowing me, it will probably be a lesson in what not to do.
Q: What was the worst date you've been on?
A: That's a tough one. There's been a lot of them! I guess it would be my date with Liam. We hit things off and I really thought he had potential. But then he introduced me to his mom on our second date. He invited me to dinner and we were having drinks while waiting for a table. I noticed this cougar watching us from across the bar. It made me uncomfortable so I told Liam. I thought she wanted him! He laughed, motioned her over, and introduced us. He's Canadian so I thought/hoped she was visiting from out of town. Nope! Needless to say I suggested they take our table for two.
Q: Do you believe in happily ever after?
A: Yes! It's what keeps me sane throughout my many disastrous experiences. Trust me, I've kissed a lot of frogs. But if I didn't believe there was a prince out there, I wouldn't bother doing it. Everyone's journey to HEA is different. I've learned a lot about myself and what I want and don't in a partner. So when I finally find him, I'll know! And because my journey wasn't easy, I'll appreciate it that much more.
Q: What's your favorite part of dating?
A: I guess it would be that each date is a new possibility. My book starts with a quote from yours truly that talks about how dating is like bargain shopping. There's the initial thrill of discovery, combing through endless racks in search of that perfect find. Sometimes an item looks right on the hanger, but when you try it on it just doesn't fit. While you may leave empty-handed, the possibility of scoring the ultimate deal keeps you coming back for more. I think that about sums it up.
Q: What do you do to unwind?
A: I make jewelry. Some people do yoga, I string beads. I find it so relaxing. I actually have my own collection called Royal T. It's a play on my name and my fascination with monarchy. I'm not saying that I agree with this type of caste system, but there's something romantic about the notion of kings and queens. Grace Kelly is my fashion icon. But you'll never find me copying her—I love making things my own. I'd describe my style as modern with a vintage influence. I guess you could say I'm a shabby chic kind of girl.
Q: What's the best piece of advice you've ever given to your followers?
A: It would have to be, "Embrace yes." I didn't say yes when I had the chance years ago and I've regretted it ever since. It's a terrible burden that I carry with me. So never be afraid to say what's in your heart. Just go for it and have faith that things will work out as they're supposed to. So often we say no because we are scared of the outcome. Don't let fear rule your decisions. Take a leap of faith. Sometimes things won't work out as you planned, but the unexpected path may just be the right one.
Q: What's next for you?
A: I don't want to give too much away, but let's just say Unattached T (that's my screen name) has got some strings! I know I'm not supposed to reveal the ending, but it's right there in the table of contents before page one. So not much of a spoiler, is it? Anyway, I'm keeping my fingers and all body parts crossed (well, maybe not ALL) that things work out. I'm great at dating, but being someone's girlfriend is another story. So let's hope that I don't screw this up. You'll discover I do that sometimes. Thanks for taking the time to chat with me. Ciao for now! xx
Blogger extraordinaire Tara Winters has always regretted saying no to D. J. Parker. She vowed never to repeat her mistake, and her "yes" dating pact was born. After meeting countless Mr. Wrongs, she's seriously considering her friend Andy's drunken marriage proposal. Then Andy meets Natalie, and Tara finds herself competing for his affection. She must decide if it's love—or a game to win. After each outrageous date Tara shares advice with her followers, but embracing "no" just may be her key to happiness.

Enjoy an Excerpt:

The soft opening of the Gallerie, a restaurant that my firm helped design, was a success. I also met an adorable chef while I was there. OK, he's technically not a chef yet, but he's studying to become one. Right now he's the bartender, and I almost let that dissuade me from giving him a chance. Not that there's anything wrong with that, but I'm at the point where I want to be with someone who has high aspirations, which he does. He made me a delicious drink, so that's also a bonus in my book. If you check out the Gallerie, which you should, ask for the T. W. Twist! I just made it up, but I think it has a nice ring to it, don't you? I'll have to talk to them about that. Anyway, something I've discovered is that I'm attracted to guys who are creative—they don't call it the culinary arts for nothing. I'm more of a freethinker, so I don't mesh well with analytical types. And I like a guy who sets a goal for himself and goes for it. That's an admirable quality and says something about his character. We haven't gone out yet, so I've probably already jinxed myself. But I'm excited about seeing him again and would've said yes on my own accord, not because of some pact. More to come. Ciao for now!

About the Author:J B Glazer developed a love of writing at a young age. She followed that passion to the University of Illinois, where she graduated summa cum laude from the College of Communications. She pursued a career in advertising, a field that provided an outlet to express her creativity. In addition to being a marketer, she's a wife, mom, blogger, chauffer, referee, short-order cook, maid, chocoholic, shopaholic, and multitasker extraordinaire. I Should Have Said Yes is her second novel. Visit her website for random musings and other inspiration. You can also connect with J B in most of the usual places.

Facebook | Website | Twitter | Email

Buy the book at Amazon for only $0.99 for a limited time.