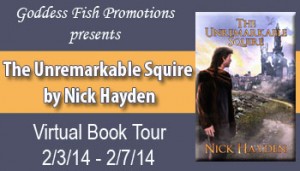 This post is part of a virtual book tour organized by
Goddess Fish Promotions
. Nick will be awarding a Winner's choice of a $10 Starbucks card or a 4-piece box of Moonstruck truffles to a randomly drawn commenter during the tour. In addition, anyone who is interested can go to their website (Barking Rain Press) and get a free 4-chapter sample of the book, plus a coupon for 35% off the price of the print or ebook version of the book.
I thought it would be timely to interview the title character from The Unremarkable Squire, as the book is of some interest (apparently) on certain blogs this week. What follows is my rather fruitless attempt at picking the brain of Obed Kainos, the so-called unremarkable squire.
~~
Nick:
Hello, folks! I'm happy to be visiting this fine blog today. For your reading pleasure, I have invited the title character of The Unremarkable Squire to join me. Hello, Obed!
Obed: Hello.
Nick: Oh, and I see Violet's decided to drop by as well. That's nice.
Violet: Do not waste our time with bland pleasantries. Get on with your questions, if you will.
Nick: Yes, of course. We'll start with the basics, Obed. If you're so unremarkable, as the book claims, how'd you get a book written about you?
Obed: The historians were bored. They needed something to write about. Somehow, I was the best they managed.
Violet: (glaring at Obed) Do not act like you had nothing to do with it. (To Nick) The boy is quite infuriating. This "unremarkable" nonsense is a paper-thin stratagem by some know-it-all with a printer who thinks it will rouse the public's curiosity, that's all.
Obed: I am unremarkable. I only did what anyone would do, given the circumstances.
Violet: Really? Do you say that with a straight face? Anyone would risk his life in the Thieves' Den? Twice? Anyone would let that fool of a man, Lance Valentino, harangue him and still do what the man says? Anyone would rescue a beautiful damsel in distress such as myself?
Obed: Not if he knew better.
Violet: I am much too refined to rise to that insult.
Obed: At least while Nick's here.
Violet: (to Nick) He is a stubborn, recalcitrant, obnoxious boy, is he not?
Nick: Moving on…. So, Obed, you're a squire. Where's your knight? What's he up to?
Violet: I'll tell you where that grinning, puffed-up–
Obed: Sir Lance Valentino does not always tell me where he is going.
[Enter Bulwin]
Bulwin: Gutsy! There you are! Thickwit whispered I'd be findin' you doing a talk-and-teeth jibber-jabber over here. (to Nick) Name's Bulwin, as sure as my papa lost his right eye when I was five. Gutsy here's quite the trifle, let me tell you.
Nick: Yes, I've been told. If you'd let me ask a few more questions, we could let everyone hear of his exploits and his feats of courage.
Obed: I didn't really do anything special. I was just doing my job.
Bulwin: You need to be stuffin' your ears, Nick! Don't go listenin' to a word of it. I'm honest–Gutsy here's a real storybook, a fable-man, a minstrel's paycheck, if you catch what I'm sayin'.
Violet: No one "catches" what you are saying, Bulwin. They merely suffer it.
Bulwin: Hips here is jealous 'cause Gutsy and I are tight as blood. Aren't we, Gutsy?
[Enter the Hamlet Guard – Leader, Emmitt, Mouse, and Farmboy.]
Violet: Oh, for goodness' sakes, why are you here?
Leader: [flustered] We were just…it's our job…and she…
Farmboy: Lanna's escaped again.
Emmitt: [to Leader] I don't think she's here, sir.
Leader: No, no, it doesn't seem like it. We should probably be off.
Violet: Yes, I daresay you should be.
Farmboy: Lanna twitched his chin hairs yesterday. He's scared of her.
Leader: No! I'm not scared. Not exactly. Cautious. Yes, just cautious. As any respectable man should be. She has that spear. And that look in her eyes….
Mouse: He's scared stiff.
Obed: (to Nick) It's not my fault.
Nick: What isn't?
Obed: Lanna wanting to kill me.
Nick: Kill you? Why? I'm so confused.
Emmitt: That's pretty normal around here.
Leader: Come on, men! We're the Guard of Hamlet! We're the law. We've no reason to be afraid. None whatsoever. Absolutely not.
Obed: I'll come with you.
Nick: Wait! The interview! I hardly know anything about you or your adventures!
Obed: Adventures? I–Once, I would have called it duty, but that's not quite right. Duty's what led me to the Fall…. I don't like to talk about it.
Violet: He will not even tell me about that particular incident.
Obed: But I've seen dragons and mages and thieves and knights, things hidden in darkness and things in holy light. It may interest a few people, I suppose.
Bulwin: Gutsy's the most laid-low, honest-to-goodness, shy-eyes a man'll ever meet. Ain't he, Hips?
Violet: Rather too modest for his own good, if you ask me.
Obed: But you asked why I was so unremarkable. Look around–do you see all these people? Around them, who wouldn't be unremarkable? [He heads for the door.] Come on, Leader, we'll find her.
[Obed exits, followed by everyone but Violet and Nick.]
Violet: Perhaps you would like to interview a beautiful lady who has been on many of the same adventures?
Nick: Are you in the title?
Violet: Not as such but–
Nick: Then no.
~~
And that, dear readers, is all I managed to discover. I suspect going straight to the source is the surest way to make heads or tails of the whole disastrous interview. Unless, of course, you want to wrangle with such a band of misfits. Just leave me out of it.
About the Author: Nick Hayden is the author of the fantasy novels Trouble on the Horizon and The Remnant of Dreams. He has penned a number of short story collections, including Dreams & Visions, and the novella "The Isle of Gold". Hayden co-hosts a story-telling podcast, Derailed Trains of Thought, about once a month and also helps run the Children of the Wells web serial. Nick describes himself as a mild-mannered bookkeeper by day, a mild-mannered (albeit tortured) writer by night, a writing teacher three times a week, a youth leader on weekends, and a podcaster every month or so. He has a wife and two kids, who do a fine job of putting up with him.

Website ~ Link to Story Page ~ Author Website ~ Facebook ~ Twitter: @nick_hayden
A squire's oath is to be of service… but to whom?

In the kingdom of Basileon, an unremarkable and emotionally detached young man named Obed Kainos is about to stumble into adventure—quite against his will. When the knights of the realm gather in a quest to search for the lost Armor of Arkelon, Obed is chosen at random to replace the recently deceased squire of Sir Lance Valentino. While trying to perform his menial tasks faithfully, the young squire becomes entangled in the plots of mages, thieves, and kings.

And that's just his first week on the job.

Unfortunately for Obed, his indifference cannot save him from his new oath. For despite his enigmatic personality (or perhaps because of it), he manages to attract a band of misfits to his cause— the ugly, the arrogant, the clumsy, and the cowardly—putting the legendary armor within the grasp of one who never wanted anything at all.
What people are saying:
"A remarkable tour de force set in a medieval world where magic is as common as muck, misunderstandings are ten a penny, and everyone but the hero has a remarkably good opinion of themselves. Nick Hayden mixes humor with fantasy to delight the inner eye and ear of the reader."
— Adele Abbot, author, Postponing Armageddon
"Dazzling damsels in distress, a magical suit of armor, mayhem and danger at every turn, a host of unique characters and plenty of laughs make this novel worth reading. Mr. Hayden tells a worthy tale well!"
—Phillip Tomasso, author, Sounds of Silence
Buy the book at Amazon or Barnes and Noble.