Long and Short Reviews welcomes Michelle Somers, author of the serial novel, Lethal in Love, which was released in six parts.  She's here to talk with us a bit about:
CHARACTER DEVELOPMENT AND SURPRISING PARTNERSHIPS
Among the numerous questions I get asked about writing, many tend to be around my characters.
Are they real people? Do you base them on anyone you know? How do you come up with them?
These are all great questions, so I thought I'd jump in today and give you some answers, while giving you a little more insight into Lethal in Love's lead character, Jayda Thomasz.
Jayda is a homicide detective based in Melbourne, Australia. Tough, sassy, driven. A coffee snob. Slow to trust. Deeply loyal. Wary of men. Hates reporters. But soft and sweet inside, if only you can negotiate through the bristles. The proverbial prickly-pear.
Her job is her everything and falls second only to her family. Potential relationships are measured against the perfection of her parents'. Her career path deliberately follows that of her father's – a highly decorated detective and her number one hero. And if asked, she'd say her best friend is her little sister, Bec.
Is Jayda real? Absolutely. All my characters are real… in my imagination. Yes, I know that sounds weird, and no, I don't see dead people (or imaginary people, come to that).
For me to write a believable character, I have to believe in them.
So, yes, Jayda is real. She has real parents, a real sister and a real life.
I started with a photo. Then, slowly, brick by brick, experience by experience, I built what was a two-dimensional image into the multi-dimensional character that became Jayda Thomasz.
I filled her childhood with the normal mix of childhood stuff; climbing trees; scraping her knee, constantly; playing cops and robbers with Bec the Burglar (yes, Jayda was always the cop); getting into mischief and being grounded, way too many times to count.
Jayda's first kiss was behind the old Community Centre with Benjamin Carmichael when she was ten. Curiosity led her to do it. Plus, he knew a heap of cool cop stuff, more than any of the other boys at school. But after that one kiss, and Ben hanging around more than Jayda would have liked, she decided kissing and boys just weren't worth the bother.
Adulthood brought its own plethora of experiences that spanned three distinct phases in her life – pre, during and post her stint in the police academy.
Over time, the character who was to be the heroine in Lethal in Love began to take shape.
As I began to write and delve deeper into Jayda's psyche, there were many sides to her character that came to light. For example, being a detective, she works long and irregular hours leaving no time for a pet. But if she were to have one, it would be a cat.
So as I continued to write, I introduced a cat into Lethal in Love – Tumbles – an odd little feline who happens to be a neighbour's pet.
At this point I'm going to allow you inside my mind, into a little of the reasoning around Jayda and Tumbles and why I decided to bring the two together. It all hinges on quantum physics. Yes, that wonderful theory, 'like attracts like'.
Tumbles was abandoned as a kitten; a stray tabby with unusual markings that make him distinctive and very recognisable. To draw a parallel, Jayda has deep auburn hair and rainforest green eyes, a combination that sets her apart from her adoptive family, all of whom are blonde with blue eyes.
Jayda's left leg bears a large scar from the day her parents died in a house-fire when she was two. Tumbles also, is scarred, both physically and emotionally. As a kitten, an incident left his leg so badly damaged that he limps. And it is this incident that defines him. He is skittish, distrusting of strangers, not a clingy sort of pet to have around, but once you win him over, he's yours forever. Loyal until the end. Are you picking the parallels?
Once you delve between the lines, it's easy to see why Jayda shares a kinship with Tumbles that she doesn't with anyone else in the book.
I hope you've enjoyed this very brief insight into Jayda's character. And more, I hope that you enjoy reading her story, Lethal in Love.
I'd love to hear your thoughts, either before or after you read Jayda and Seth's story. Please come and say 'hi' on Facebook, Twitter or Google+, or visit me at www.michelle-somers.com
Happy reading!

Lethal in Love is a steamy romantic suspense about an instinct-driven detective and a sexy, scoop-hungry reporter, both on the hunt for a sadistic killer.

Jayda Thomasz is a sassy homicide detective who never lets her emotions get in the way of a case. So when a serial killer re-emerges after 25 years, the last thing she expects is to catch herself fantasising over the hot, smooth-talking stranger who crosses the path of her investigation.

Seth Friedin is a reporter chasing the story that'll make his career. When he enters the world of swinging for research, he never imagines he'll be distracted by a hard-talking female detective whose kiss plagues his mind long after she's gone.

Past experience has shown Jayda that reporters are ruthless and unscrupulous. But when the murders get personal, will she make a deal with the devil to catch the killer? How far will she and Seth have to go? And do you ever really know who you can trust?
About the Author: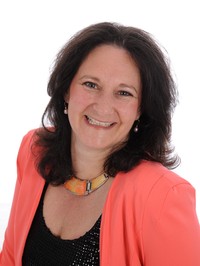 Michelle Somers is a bookworm from way back. An ex-Kiwi who now calls Australia home, she's a professional killer and matchmaker, a storyteller and a romantic.
Words are her power and her passion. Her heroes and heroines always get their happy ever after, but she'll put them through one hell of a journey to get there.
Michelle lives in Melbourne, Australia with her real life hero and three little heroes in the making.
Website | Goodreads | Facebook | Twitter