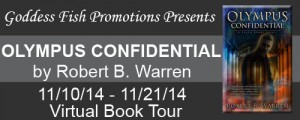 This post is part of a virtual book tour organized by
Goddess Fish Promotions
. One commenter will win a $50 Amazon GC plus print or digital copy of book 1 or book 2 in the series. 15 other winners will receive an ebook of either book 1 or book 2 (winner's choice). Click on the tour banner to see the other stops on the tour.
Character Creation
When writing Murder on Olympus, I had a clear idea of what I wanted the main protagonist to be. I felt that a world ruled by the gods would have more impact if viewed through the eyes of a regular Joe. Plato is the type of guy you'd see at your local sports bar, grocery store, gas station, etc. He's your neighbor, your drinking buddy, your confidant, the guy who can always bring levity to a serious situation. He's a nice guy…most of the time.
Plato's job as a private investigator often forces him to shed this friendly persona and become whatever the situation demands him to be. This is when his skills as an ex-secret agent come into play–the escapist fantasy portion of his character. Even so, there are still lines he refuses to cross. I think that's one of the most important aspects of a main protagonist. Morality is what separates a hero from a villain—unless your protagonist happens to be a villain, that is. Plato's sense of right and wrong is reflected in his unwillingness to take a life unless he absolutely has to, as well as his tendency to end physical confrontations as quickly as possible, while keeping damage to his opponent at a minimum. In a way, restraint is his superpower.
Now we come to Plato's personal life. I knew from the very beginning that I wanted him to have a slew of flaws and unresolved issues, to lend another layer of realism to the character. His divorce is the most prominent. It has an effect on everything he does, from his drinking to the amount of time he spends in his own head. Even his wisecracks are a means of coping with the idea of the person he loved being with someone else—they also help him deal with all the strange and terrifying sights he comes across while on assignments. But I didn't want his frustrations to be so overwhelming that he buckled under them, or lashed out at others. That doesn't, in my opinion, make for a compelling character, one that you can root for. As an author, I root for Plato because he's my creation. As a reader, I root for him because he's the common man dealing with life as it comes. I think we can all relate to that on some level.
When a band of super-powered humans stirs up trouble in New Olympia, Zeus knows just who to call.

Wisecracking private investigator Plato Jones is used to cleaning up the gods' messes. But this might be his most dangerous case yet, placing him deep behind enemy lines, in Tartarus Maximum Security Penitentiary. After infiltrating the enemy's organization, Plato inches closer to the truth. But he learns a hard lesson along the way: to defeat a villain, he might have to become one himself.

Olympus Confidential skillfully weaves humor and Greek mythology into this fast-paced fantasy. Whether new or returning to the Plato Jones series, fans of thrillers, contemporary fantasy, and Greek mythology will have a tough time putting this one down.
Enjoy an excerpt:
"Have you heard about the recent bank heist?" Hermes asked.
I had. According to reports, four robbers, all resembling humans, used godlike abilities to murder two security guards, injure a dozen police officers, and cause extensive property damage. Three of them had been captured but no longer displayed superhuman powers. The fourth escaped by flying away, taking the entire haul with him—over a million stolen credits.
"Yeah," I said.
"Then you know how important it is for us to handle this before it becomes a bigger issue," Hermes said.
"What's the matter? You and Daddy Dearest afraid of being overthrown by a few puny humans?"
Anger flashed in Hermes's eyes. I was still too hung over to care.
"Excuse me?" he said.
"You heard me. Humans have been pushed around by the Gods from the very beginning. And it's not just us; it's other races too. Minotaurs, satyrs, giants, anything that walks, crawls, swims, or takes a dump. We've all had enough of your crap."
Hermes grinned unexpectedly. "That's borderline heresy, Mr. Jones. But considering what you've been through, I'll give you a pass, this time."
About the Author: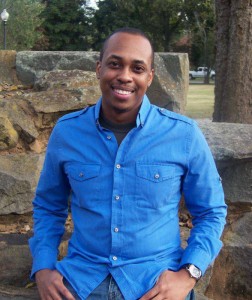 A fan of thrillers, fantasy, and science fiction, Robert B. Warren has been writing stories ever since he could hold a pencil. In 2009, he received a Bachelor of Arts degree in English and creative writing from the University of Alabama. He currently lives in the south.
Facebook ~ Twitter ~ Goodreads
Buy the book at Amazon.