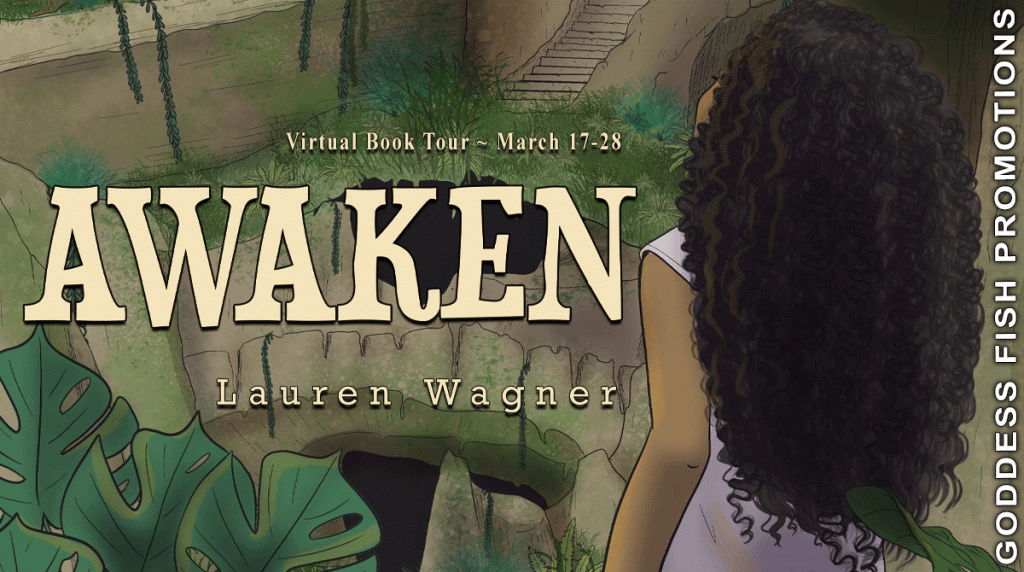 This post is part of a virtual book tour organized by Goddess Fish Promotions. Lauren Wagner will be awarding a $10 Amazon or Barnes and Noble GC to a randomly drawn winner via rafflecopter during the tour. Click on the tour banner to see the other stops on the tour.
Character creation
Dragons. Who doesn't love dragons? Dragons play a crucial role in Awaken. At the start of the story. Natalia refers to the dragon as her "keeper." He was her protector of sorts while also her captor. The dragon needed to be large enough to prevent her from escaping the caverns of Argentina and magical enough to make a lasting effect on the story. At the time, my mind had placed Natalia in the cavern, knowing I wanted a "sleeping beauty" type of scenario. The dragon needed to be on her side, but in ways that she couldn't yet comprehend. Therefore, the dragon couldn't talk or communicate very clearly with Natalia. But he did need to share with her somehow, so his body language became important. To try and understand how dragons move, I spent a lot of time analyzing how lizards moved. I also needed something "magical" to put Natalia into a deep sleep. Their scales became the obvious choice. The dragon disappears when it is safe enough for Natalia to wake up but leaves with no sign or indication of how he left. I needed to keep the dragon as mysterious as possible.
Natalia has embraced the choice of her people. She is honored to have been chosen as their human sacrifice and will surrender her life to the Gods. She awaits the call of her people for that final moment, living a life of solitude until it's time. But then her death is stolen from her—she is kidnapped by her own guards and forced into an eternal slumber.

Hundreds of years later—now—Natalia is woken in a world that's completely unfamiliar. The archaeological team was not looking for her. They were looking for Estancia, the lost city of gold, and Natalia agrees to guide them.

While they journey through the treacherous jungles of Argentina, Natalia stumbles upon the alarming truth of her past. Her life's prophecy must be fulfilled to restore balance to her people, but only she can decide whether that balance is worth her death.
Enjoy an Excerpt
They groomed me as a child. They taught me how to look, how to listen, and even how to die. They prepared me to live entirely for others. Die for others. I am destined to be the queen of Estancia, to live in a noble house filled with my own personal court and guards sworn to protect me at all costs, right until the moment of my death. Even as they tear me from my bed in the dark of night, I must remember this is their purpose, just as much as it is mine.
"May I say goodbye to my father?" The confidence in my voice covers the fear trembling in my gut.
"No, milady. There is no time."
The guard throws a musty cloak over my soft linen nightclothes. The stale smell overpowers the eucalyptus of the lotions on my skin, making my eyes water in disgust. I feel no better than a horse being led by the reigns.
I grip my golden slippers and run out of the house. My bare feet touch the wood of the floor and memorize the soft pitter-patter that vibrates in response. The same guard places me on top of the nearest horse. Black as midnight, silky as the hidden clothes under my cloak. My hands fumble for the reins as I lean forward and fight for my balance. I am not accustomed to riding horses.
About the Author:
Lauren Wagner's love for reading started as a young adult after discovering her town's public library. After carrying out piles of books at a time, and re-reading them over and over again, she discovered her love for writing. She writes fantasy and science fiction as well as post-it notes about her future stories. Awaken is her debut novel.
She grew up in the western suburbs of Chicago where she presently resides with her husband and two children. She currently teaches upper elementary students to love and obsess over written works of art.
Author Page | Twitter
Buy the book at Amazon.