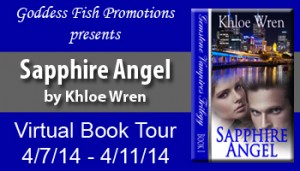 This guest post is part of a virtual book tour organized by
Goddess Fish Promotions
. Khloe will be awarding four prizes: a Handcrafted leadlight blue heart shaped window hanger/wind-chime and a signed A5 Cover to a randomly drawn commenter during the tour; a Charm Bracelet and a signed A5 Cover will be awarded to a randomly drawn commenter during the tour; a Phone charm and a signed A5 Cover will be awarded to another randomly drawn commenter; and lastly, a Key ring and a signed A5 Cover will be awarded to another randomly drawn commenter during the tour. Click on the tour banner to see the other stops on the tour.
Character Creation
When creating a new character I'll often start with the basics: Gender, name, country of origin.
I'm a visual person so the next step is to find an image. Then I'll give them eye and hair color, height, build. Maybe their occupation and dress style. Once I have all of that I'm normally at a point where I can start writing. I keep my character profiles in a separate document so I can easily go back to them as I write. This is especially useful when writing a series. I'm constantly adding to them as I write. I'll include things like what they call their lover (baby, sweetheart), habits (eye twitch when nervous) and if relevant names of parents, children & pets.
Characters are interesting creatures. As the author you create them, but once that initial creation is completed they generally run off on their own. Much like your children, you have limited control. To a non-author that may sound strange but once created a character truly comes alive. They get in your head and start making demands. They will completely change what you originally planned to write. I've had them change the order of books in a series too. They can be VERY insistent.
Of course, as the author it's up to us whether we listen to them. I have discovered it is best to follow your characters' lead. When you don't, you often get stuck. The story just won't flow and nothing sounds right. So no matter how much I sometimes don't want to go where my characters go – I always do. It makes for a much fuller story and takes both me and my readers to places new and unexpected.
Xo
Khloe
Vampires are real… as is the fact they will only ever take one women. Their Eternal Bride.

When Angelo sees Darcy he knows she is his Bride. Her sapphire blue eyes match his exactly. But he must wait to claim her. He fears he has lost her forever when she disappears.

Five years pass before he finds her again. Just when things start heating up between them, Darcy is taken by their enemies. Angelo must fight to free his one true love. Will he be in time?
Enjoy the book video:
About the Author: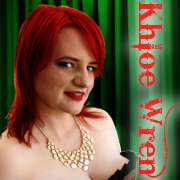 Khloe Wren started writing her first novel in high school, until it mysteriously disappeared from the family computer (her older brother was the lead suspect but nothing was ever proved). She didn't put pen to paper again after that for a number of years but she did keep reading. Khloe has always loved all things paranormal: sexy vampires and sultry shifters have always been her favourites. So when she picked up writing again, it seemed only natural she would write paranormal romance.
Khloe grew up in the Adelaide Hills before her parents moved the family to country South Australia when she was a teen. As a young adult Khloe moved to Melbourne. After a few years she missed the fresh air and space of country living so moved back. Khloe currently lives in the Murraylands, South Australia with her incredibly patient husband and two young daughters. When she's not sitting at her laptop writing, she's spending time with family or friends, kicking butt at karate or feeding her addictions of reading, eating chocolate and drinking Coke.
Khloe loves to hear from her fans, please feel free to contact her at any of the following:
Website: www.khloewren.com
Email: khloe@khloewren.com
Facebook: www.facebook.com/authorkhloewren
Twitter: www.twitter.com/AuthorKhloeWren
Pinterest: www.pinterest.com/khloewren
Buy the book at Amazon, Barnes and Noble, and Rogue Phoenix Press.
a Rafflecopter giveaway