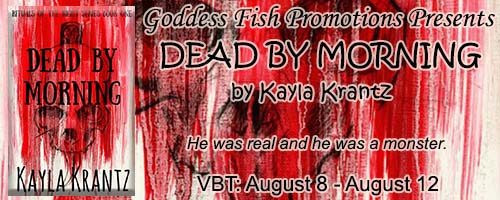 This post is part of a virtual book tour organized by
Goddess Fish Promotions
. Kayla Krantz will be awarding to a randomly drawn winner, via rafflecopter during the tour, one of the following: a paperback copy of Dead by Morning OR a ebook copy of Dead by Morning and a second RRPI ebook. Click on the tour banner to see the other stops on the tour.
Character Creation
Creating the characters in Dead by Morning was a fun process from beginning to end. A handful of them, Max, Violet, and Amy, were based on real people, but Luna and Chance were created completely out of thin air. The interesting thing about my protagonist and antagonist is that they were made to be two halves of one mind.
Luna, my protagonist, loves to study and do her thing. She isn't worried what others think of her, and she likes to follow the guides and rules set up by those around her to be a model citizen because she wants to be respected by her peers. Chance, the antagonist, is the complete opposite. He's a rebel, destructive, and carefree. He's manipulative, and gets what he wants only because he has nerve enough to break all the rules Luna spends her life carefully sticking to. He does what he can to not be alone, because deep down, he fears what his life will be.
While Luna is innocent, Chance is evil.
Together, Luna and Chance not only form two halves of a whole, they show the confliction of the need for good and bad that occurs inside everyone—protagonist and antagonist alike. They were created in this manner to show that not all people have black and white thinking. Good people have evil thoughts and those who are deemed evil may have good thoughts. Dead by Morning shows that who a person truly is depends solely on the voice that they choose to follow.
Obsession is deadly. No one learns that better than Luna Ketz, a pessimistic high school senior. She wishes more than anything to graduate but things don't always go as planned. Luna quickly finds herself trapped in a web of lies and murders, spun by the least suspected person in her hometown. It's not long before she realizes she's being targeted by the person she despises most in the world. When Luna figures out who is behind the killings, things make a turn for the bizarre when she is contacted by a friend she has not heard from in years. It is then Luna realizes she is very much in danger, but although she can avoid the killer in reality, she cannot avoid him in her dreams.
Enjoy an Excerpt:
There had to be something in the house that would better explain him. If there was, she would find it. She walked over to the beginning of the hall and set her hand against the wall. Once she reached the bathroom, she peeked over her shoulder to make sure Chance wasn't paying attention. After a brief pause, she continued down the hallway.
All the doors along it were closed.
When she reached the end of the hallway, she turned to walk back toward the living room, checking the doors as she did so. They were all locked, until she pushed on one of them, and it swung open quietly on its hinges. Luna opened the door the rest of the way and stepped inside the room. Like the living room, candles lit the small space. Her eyes focused on two blood-red candles which sat in golden candle holders on the floor. At the base of the holders sat random bones which she guessed had belonged to the animals Chance had hunted.
The candles were lit—wax ran down them to drip onto the gold, looking like blood.
The two candles illuminated the wall above them, and Luna stared at it in horror; a five- pointed star had been drawn on the wall in bright red.
About the Author: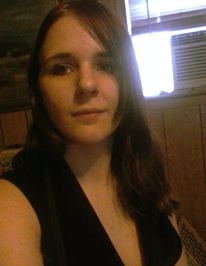 22-year-old Kayla Krantz was raised in Michigan but moved to Texas and has experienced the best and worst of both. Since a young age she has be spinning tales. Kayla has interests in the dark and macabre. She enjoys '80's music and movies. When she has the chance, she loves to read books by Stephen King who inspired her to write. She was always interested in horror as they held a certain realism that fairytales lacked. While writing, she found herself drifting more toward Thriller which surprised her. Kayla describes the day she discovered that she would become a published author like so: "It's hard to describe. I spent so many years climbing toward my goal, and when it finally happened, it was like all the burdens of stress and agony and uncertainty were just gone. I felt light, like I could run for the rest of my life off of the energy it gave me."
Website | Facebook | Twitter | Tumblr | Goodreads | Instagram
Buy the book at Amazon.