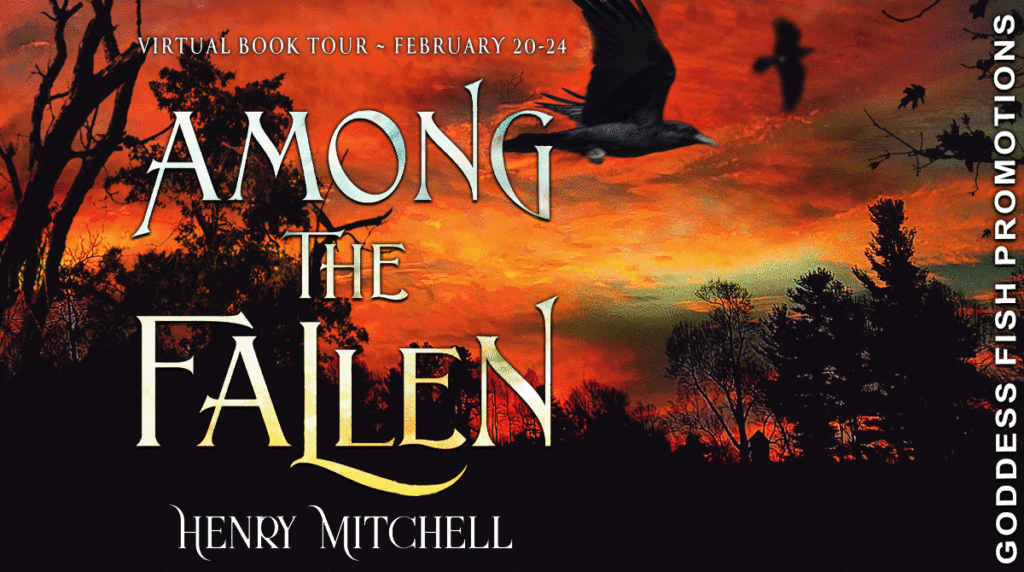 This post is part of a virtual book tour organized by Goddess Fish Promotions. Henry Mitchell will be awarding a $10 Amazon or Barnes and Noble GC to a randomly drawn winner via rafflecopter during the tour. Click on the tour banner to see the other stops on the tour.
Character Creation
I don't feel that I create characters. When I meet them in the process of writing a tale, they seem to have previous histories, as if they were real and fully-formed long before the author came on their scene. Writing a story around them is an excuse to get to know and appreciate them as unique, even eccentric individuals.
My novels are place-driven. I try to understand the setting of the novel early on, for the place shapes the character. If I write out of places I know, then I have an idea of what sort of characters I might expect to inhabit them. Even so, often I am surprised. Once a character gains their footing, they take off on their own agenda. The best an author can do then is to follow along, try to keep up and write it all down. It is the author's job to write true to the characters, not to try to force them into motivations and situations contrary to their individual natures. They will tell their own story if their writer pays attention and listens to what they want readers to know. If they are free to surprise, mystify and delight the writer, they will do the same for readers.
Of course, this means that my stories seldom turn out the way I expect when I start writing them.
I wouldn't dare try to write an outline before the story is finished. I tend to agree with Stephen King when he says that plot is the last refuge of a bad writer.
The places I write about resemble places I know. It follows then that the characters I write might resemble people I know in the outer world. If you could find your way around Saluda, North Carolina, where I live, you could navigate Drovers Gap, the town that provides the setting for my novel, Among the Fallen. They are not the same place, not at all, but there is a resonance between them. One informs the other.
The same with characters in my tales. Some of them might remind you of my neighbors and family in Saluda, but it would be a mistake to regard them as copies. They live their own lives, quite different and distinct from ours. When The Summer Boy, my first novel, came out, I gave a copy to my Aunt Mary, who was in her nineties at the time. I went to visit after she read it, and asked her how she liked it. There was a character in it named Mary, several decades younger than her.
"You didn't tell me you were going to put me in your damned book," she said.
"That wasn't you, Aunt Mary, I said. "She just looked like you."
Not everything is what it seems.

Drovers Gap, population 703, appears to the tourists passing through as one more sleepy Appalachian village, just off the interstate, on the way to someplace spectacular and important. But there are simmering tensions and unspoken malice behind the seemingly placid facades, and a spark from afar will ignite an explosive and insatiable evil that hungers to devour the town and everyone in it.
Enjoy an Excerpt
Wendl was reading the story aloud. It was an old story. He knew it by heart. After a while, lost in the flow of his remembrance, he no longer even glanced at the ReadPad. Mid-way through the tale, he felt something wet and warm and viscous in his palm. Wendl stared down at the ReadPad. A thick red liquid oozed out of it, dripping off his fingers. He raised his hand to his face and inhaled. Wendl had been in the War, a long time ago when he was still young. There was no mistaking. He had never forgotten the smell of blood.
"Are you alright, Grampa?" said the child sitting beside him. There were two of them, a boy and a girl. The boy had spoken.
"I'm sorry, children," Wendl smiled down at them, "I must have dozed off."
"You were talking funny," said the girl.
"It was the Old Tongue," Wendl said, "as we spoke it among the Fallen."
"But the Old Tongue is not allowed," said the boy. His voice tremored with fright.
"We should report you, Grampa," the girl admonished, looking suddenly very serious and grown-up.
"Are you going to report me, children?" asked Wendl, chuckling, as if they were sharing a joke.
"Oh, no, Grampa," the boy said, shaking his head, vigorously, "They would cut out your tongue."
"Then how would you tell us stories?" asked the girl, wild-eyed and giggling.
About the Author: Henry Mitchell reads and writes in the Blue Ridge Mountains of North Carolina.
He has written five novels and two collections of short stories.
Amazon Author Page | Website | Blog
Buy the book at Amazon.