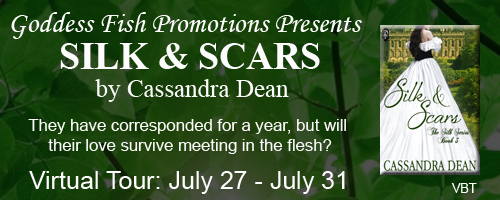 This post is part of a virtual book tour organized by
Goddess Fish Promotions
. Cassandra Dean will be awarding an ebook copy of either Silk & Scandal or Silk & Scorn, a signed Silk & Scars postcard and Silk & Scars magnet (International giveaway) to a randomly drawn winner via rafflecopter during the tour. Click on the tour banner to see the other stops on the tour.
Character creation
It's always a bit strange when you sit down to write the first draft of a story. You're not quite sure what direction it's going to take, or even who you're writing about. You can have a plan in your head, relatively clear, but end up with something so far from it, you'd never know you started with something different. This happened with SILK & SCARS.
I struggled with the characters in SILK & SCARS. I knew I wanted it to be loosely based on Beauty and the Beast, my FAVOURITE fairy tale, and that I wanted the hero to be a growly man full of bluster and arrogance. I wasn't too sure who I wanted the heroine to be, but I figured it would come to me.
Yeah. Big mistake.
I really struggled with the characters of SILK & SCARS. For the longest time, I had no clue what motivated Gwen. I knew she wanted to be a lawyer, but the strictures of the time wouldn't allow for someone of her gender to practice. I knew she worked in a law chambers as a scribe, employment that hung by the barest sliver of a thread. Beyond that, though…I was pretty sure her hair was brown.
As for Edward…Oh, Edward. You were supposed to be growly. Arrogant. Someone who bludgeoned through life with little thought for consequence. You were supposed to wear your scars with a 'frak you' attitude, and basically demand Gwen fall in love with you. Man. What happened?
Gwen, I eventually discovered, was a sweet person who was quietly bull-headed, effecting change with a quiet, sure manner. She loved her parents and her friends, especially her dearest friend Etta, and took immense joy in her accidental correspondence with her beloved new friend, Edward.
Edward…well, he became a sensitive, shy, introverted man who loved Gothic novels and wandering the moors. He treasured his correspondence with Gwen, and wished he could converse in person as he did on the page.
As you can see, the characters were vastly different from what I initially envisioned! However, I'm really pleased with how they turned out and now can't imagine SILK & SCARS any other way.
I hope you enjoy!
Cassandra
For over a year, Miss Gwendolyn Parkes and the Duke of Sowrith have corresponded. At first an error, the letters quickly became something much more, a friendship forged on like minds and perhaps the hope of something more…

When Gwen is compelled by her employer to attend the duke at his Dartmoor estate, she is devastated to find her beloved friend cold and imperious, even if he is the most handsome man she's ever seen – despite his scars.

Edward, Duke of Sowrith, has longed to meet Gwen. Arranging her passage to his estate, he is tongue-tied when confronted with her quiet beauty. All too aware of the twisted ruin of his face, he allows fear to hold him silent…until Gwen's safety is threatened.

Finally together, they grow closer until it seems they can never again be apart – but can a commoner and a duke find a happily ever after?

Enjoy an excerpt:

"Edward." Her hand slid up his lapel. Turning, he found her gray gaze upon him, a faint crease between her brows. "What is different?"

He stared into her eyes. She met his monocular gaze, no part of her expression revolted by the eye patch, the scars. He glanced at her hand, stroking his chest almost absently, her attention fully and totally on him. "When I received your letter, the one meant for Etta, it was like a ray of light, a beacon through relentless gray. So I responded and you sent your next letter and they….You were so full of joy, it bubbled out from the page and made me think perhaps I could experience it, if only a little. You had Etta, and your parents, and your employment, and though all three annoyed you on occasion, you had such…illumination." His finger began a mad rhythm against his leg. "I've never had any of that. I've been here alone since the accident. I didn't go to Eton. I was too ill. By the time I was old enough to attend university, I was so far behind there was no point. I went to London for the Season, but…. That did not turn out well." Memories of horrified stares assaulted him, the whispers and notoriety that had come with his foray into society. Forcing the memories away, he said, "So I came home, and stayed.

"Then you sent me a letter. A bright, shining thing, and we corresponded and I…I wanted to meet you. So I arranged it that Beecham brought you to Sowrith, but I never thought he would not tell you, that I—" He grimaced. "You know what happened.

"Then you arrived, you were here, and I couldn't…. There were no words. So I stood like a fool and watched you, and I wished I had the words that came so easily by pen. You were just like your letters—bright and gold and glittering, with your smile and your lightness, even when you frowned. And that was amazing to me. You are amazing to me. I wish I could…I wish I could tell you…" Finally, he looked at her.

Eyes wide, she regarded him, her chest rising and falling rapidly.

Shifting his weight, he averted his gaze. "I'm sorry, I shouldn't have said those things. I—"

A gentle finger against his lips stilled his words, and he remained silent as her hand slipped to cup his cheek. The ruined one. Emotion shuddered through him as he absorbed her touch.

"See? You say such things and I can't…" Her thumb tracing his cheekbone, her other hand slid up his chest to crumple his lapel as she pulled. Following her direction, he leaned down.

Tentatively, her lips brushed his.

Hardly daring to breath, he stood stock still as she hesitantly explored the shape of his mouth, her lips molding to his with small stops and starts. Her tongue darted against his lips and he shuddered, the sensation exquisite and overwhelming.

Wrapping his good arm around her, he urged her close. She came, her arms slipping about his neck as her lips opened under his. The wind tore at his hair and howled in his ears, his heart thundering in his chest. Her mouth was warm and eager, tasting of honey and gold. Of Gwen.

About the Author: Cassandra Dean is a best-selling, multi-published author of historical and fantasy romance. Her latest novel, SLUMBER, is part of Decadent Publishing's Beyond Fairytales and features Cassandra's take on Sleeping Beauty. Her next novel, SILK & SCARS, is part of her popular Silk Series, featuring Victorian Era lawyers and their happily ever after.

Cassandra is proud to call South Australia her home, where she regularly cheers on her AFL football team and creates her next tale.

Website | Mailing List | Facebook | Twitter | Email Me | Pinterest | Google+ | Amazon Author Page | Goodreads | Authorgraph