This post is part of a virtual book tour organized by
Goddess Fish Promotions
. Sally J. Smith & Jean Steffens will be awarding a $25 Amazon or Barnes and Noble GC to a randomly drawn winner via rafflecopter during the tour. Click on the tour banner to see the other stops on the tour.
Character Creation and Setting
SALLY AND JEAN write mysteries. That's what we do for a living. For fun, we watch movies and television and read books by other authors, oh, and travel—we love to travel. So we find ourselves carried away vicariously to great places we've visited ourselves, places we've seen in movies or read about, or places we've fabricated out of a clear blue sky (or the murkiness of our minds)—places full of great characters pieced together with bits of people we know, bits of people we've barely met, and of course bits of people with traits we make up.
DIGBY SLOAN? We saw him in a movie once—we're sure you all remember the manly yet sweet countenance of Heath Ledger—and then we thought of what traits a good Aussie man would have: smarts, strength, honesty, loyalty (to friends and family), ethics, and—OMG, can't forget—humor, lots and lots of humor.
And since there's nothing to hamstring a hero quite like being a fish out of water, we picked up our hero and flew him to London, catching him in the middle between society's titled well-heeled lords and ladies and always suspicious and stick-to-business-please police force.
And then we gave him a sidekick to bounce things off, a sidekick who's every bit as useless as Wilson from Cast Away and as fun as Ron Weasley.
LONDON? Well, why not choose a location for our first Digby Sloan Mystery every bit as cosmopolitan, diverse, and steeped in tradition as London? The place is an awesome, yet confusing combination of old ways and new ways, a perfect location for a traditional art museum, and a great place for us to populate with a delicious cast of colorful characters. London, its architecture, traffic, cuisine, and unpredictable weather are as much an element of Kangaroo Dreaming as Digby himself.
Digby Sloan, Aussie private eye, loves his mum, and is loyal as a Queensland Heeler. Now he's in London handcuffed to a kangaroo.

Kangaroo Dreaming, a valuable aboriginal totem, must make it safely to a London museum for exhibition, and Digby is the one in charge. But within hours of his arrival, the roo is stolen and the curator is murdered.

His bosses blame Digby for the theft and insist he stay to help London Metropolitan recover Kangaroo Dreaming. That's all well and good, except the lead cop keeps getting in Digby's way. The case puts everyone in peril, including Digby Sloan, who might not make it back alive to the Land Down Under to find out if he even still has a job.
Enjoy an Excerpt
Collins handed Sharkfella a couple of lethal- looking darts. "There you go, little Aussie."
Sharkfela took them and looked at them a long time. He shook his head. "Better if you go first, Sydney."
"Nah." I waved him away. "Give her a shot. I'll go later."
He squinted and looked at the target. "All right."
Collins moved over by the board, put his hands on his hips, and turned to face the target. "All right, Sharkfella, let's see what you gents from Down Under can do. Let her fly."
Sharkfella aimed, aimed again, then let her fly he did.
The dart sailed straight, fast and sure—right into one of the fleshy cheeks of Collins's enormous bum, where it stuck, quivering.
Collins shrieked and grabbed at the mini missile impaling his backside.
Sharkfella's eyes were huge. A look of pained disbelief spread across his face, the same look I figured was on mine.
"Oops," Sharkfella said. There was genuine regret in his voice, but that didn't make it any more of an understatement. "Sorry."
Collins rounded. His big face was all scrunched up and red as Ayers Rock. "You meant to do that, you scraggy little wanker. I'm gonna freaking kill you."
About the Authors: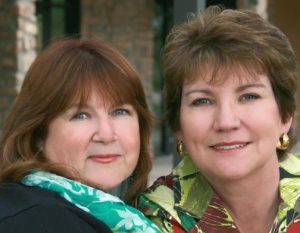 Sally J. Smith and Jean Steffens, are partners in crime—crime writing, that is. They live in the Valley of the Sun in Arizona, awesome for eight months out of the year, an inferno the other four. They write bloody murder, flirty romance, and wicked humor all in one package.
Website | Email | Facebook | Twitter | Jean's Amazon Page | Sally's Amazon Page
Buy the book for only $0.99 at
Amazon
or
Barnes and Noble
.