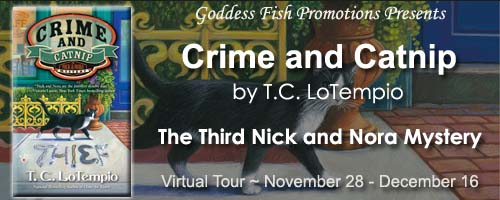 This post is part of a virtual book tour organized by
Goddess Fish Promotions
. T. C. Lotempio will be awarding a $25 Amazon or Barnes and Noble GC to a randomly drawn winner via rafflecopter during the tour. Click on the tour banner to see the other stops on the tour.
Channeling your inner Jess Fletcher
T. C. Lotempio
If you're a fan of mystery series, and MURDER SHE WROTE in particular, you might have heard of something called "Cabot Cove Syndrome". Which is a term for a locale or a person whom death and mystery seems to stalk – ad nauseum!
Not a funny thing when you're a writer of said mysteries! Plotting a mystery, particularly a murder mystery, is hard enough work! How many bodies can one stumble on before you get a "body magnet" label attached to you, as Nora Charles in my Nick and Nora series has! (although sometimes it's hard to tell whether she or her cat, Nick, is the body magnet).
Becoming a BM could be construed as a problem when writing a cozy series. How does one avoid boring the reader? Well, one way is to alternate the murder weapon – this time, a gun; next time, a knife, the time after that, poison—and so on. Alternate the mode of discovery as well. And even though the Nick and Nora series always starts out with a murder in its prolog, sometimes it's good to wait a bit to have a murder occur in the body of the story until readers become invested in your characters! If they build up a rapport with your sleuth, they might be a tad more forgiving as to why so many folks come up dead in his/her balliwick!
Expand your character's horizons, if at all possible. If you can send your sleuth on a trip to stumble across dead bodies, all the better! To quote Wikipedia:
— From a statistical perspective, coincidences are inevitable and often less remarkable than they may appear intuitively –
In short, where murders occur – and why – are just one of those things you can't explain, one of life's little mysteries. Which is my response when cynical readers remark on Nora's penchant for coming across a dead body – or two, or three.
Sit back and enjoy the ride, and if you have to, channel your inner Jessica. You might end up solving the crime right along with our sleuth!
While catering a gala for the Cruz Museum, Nora Charles agrees to look into the disappearance of director Violet Crenshaw's niece, a case previously undertaken by her frisky feline friend Nick's former owner, a private eye whose whereabouts are also currently unknown.

As Nora and her curious cat Nick pull at the string of clues, they begin to unravel a twisted tale of coded messages, theft, false identities, murder, and international espionage. Nora dares to hope that the labyrinth of leads will not only help them locate the missing young woman, but also solve the disappearance of the detective. That's if Nora can stay alive long enough to find him…
Enjoy an Excerpt:
"Yes, so you needn't worry about anything, Nora, other than preparing your excellent food," Nan remarked and then added with a twinkle in her eye, "unless you think the grimoire and its history might make a good story for that magazine you write for."
"NOIR. It might. I'll ask Louis." Louis Blondell, the owner and editor of the online true crime magazine I wrote part time for, was always eager for any article that smacked of mystery – plus I owed him two articles already. I tucked the tip about previous theft attempts away, determined to do a bit of research on my own regardless of whether or not he'd be interested – although knowing Louis, I was sure he would be. "I can name some of the sandwiches and main dishes after the more popular characters in Arthurian mythology. I'll just need to do some research on them – and I know just the person to help me."
"Splendid!" Nan clasped her hands in front of her. "And several food critics will be there – they're patrons of the museum – so it will be a wonderful opportunity for your shop, Nora. Why, you might generate more business than you can handle."
"An increase in business is not a bad thing." Violet glanced at her watch and rose. "We'd best get going. The exhibit manager is waiting for us back at the museum. Apparently there are many cases to unload. At this rate we may have to move the exhibit the Red Room."
Nan shrugged into her fleece jacket. "We'll give you a key to the kitchen, so you can just stop in anytime to look it over or whatever. You can pick it up later, and do let me know if there's anything you'll need."
Nan bustled out the door, Violet trailing at a slower pace. She paused to lay her hand on my shoulder. "I hear you've become quite the sleuth. I heard what you did for your sister, and I read the account of the Grainger case. Very impressive. Like that sort of work, do you?"
"I do. Then again, I enjoyed tracking down leads when I was a true crime reporter so I guess it's really not that much of a stretch."
She nodded. "Well, then, when you've got a bit of time to spare, stop by my office. There's a matter I'd like to discuss with you that the sleuth in you should find quite a challenge." She looked at me, and I caught a glimmer of a twinkle in her eye. "It involves a disappearance, and there's even the possibility it might also involve…a murder."
About the Author: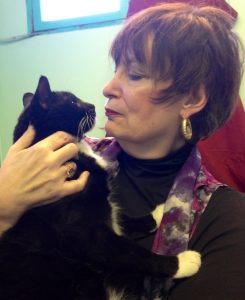 While Toni Lotempio does not commit – or solve – murders in real life, she has no trouble doing it on paper. Her lifelong love of mysteries began early on when she was introduced to her first Nancy Drew mystery at age 10 – The Secret in the Old Attic. She (and ROCCO, albeit he's uncredited) pen the Nick and Nora mystery series from Berkley Prime Crime – the first volume, MEOW IF ITS MURDER, debuted Dec. 2, 2014. Followed by #2, CLAWS FOR ALARM. #3, CRIME AND CATNIP, is out this December. She, Rocco and Maxx make their home in Clifton, New Jersey, just twenty minutes from the Big Apple – New York.
Rocco's Blog | Website | Amazon Author Page | Facebook
Buy the book at Amazon.