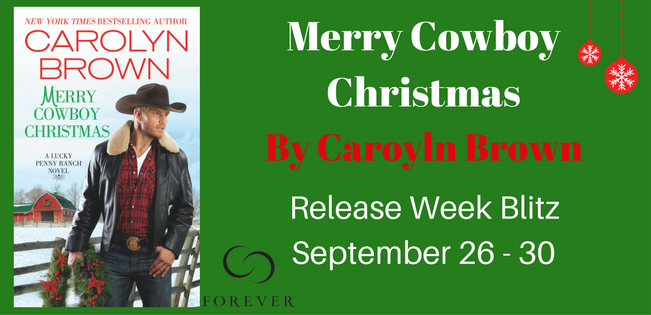 This post is part of a virtual book tour organized by the publisher to celebrate the release of Carolyn Brown's latest release,
Merry Cowboy Christmas
. Enter the Rafflecopter at the end of the post for a chance to win a copy of the book.
Top 5 favorite Christmas memories
1. Fiona's favorite memory is bringing down all the decorations from the attic and decorating the tree and house. I have to agree with her on that because as a child, my mama took her three kids out to the country where we cut down a tree and dragged it home to decorate.
2. Another of my favorite memories is ribbon candy. Mama always had a bowl full on the television in the living room during the holiday season.
3. Chicken and corn bread dressing for Christmas dinner. My first attempt at making it after I was married was a disaster. I've gotten a little better with age.
4. Family. That's what Fiona finds out in Merry Cowboy Christmas. She might not be ready to have her wings clipped but she vows she'll always come home for Christmas from then on.
5. Every memory that Mr. B and I make together when we spend Christmas at the beach, whether it's with part or all of the family or alone. I want to grasp each one as tightly as Fiona and Jud did their new memories in Merry Cowboy Christmas.
THIS CHRISTMAS, SANTA'S WEARING A STETSON

'Tis the night before Christmas and all through the house is the presence of one wickedly hot cowboy who's come to stay for the holiday. Fiona Logan is downright shocked to return to her childhood home and find that the tall blond stranger who came to her rescue on an icy road will be sleeping just across the hall from her bedroom. Talk about temptation . . .

Jud Dawson never believed the Lucky Penny Ranch would live up to its name until now. Fiona is gorgeous, smart, funny, and everything he thought he'd never find. Now all he has to do is convince her to stick around town instead of hightailing it back to Houston. But with wild weather, nosy neighbors, and a new baby in the family, getting her to admit that she's falling in love might just take a Christmas miracle.
About the Author:
New York Times and USA Today bestselling romance author and RITA® Finalist, Carolyn Brown, has published more than seventy-five books. She presently writes both women's fiction and cowboy romance. She has also written historical single title, historical series, contemporary single title and contemporary series. She lives in southern Oklahoma with her husband, a former English teacher, who is not allowed to read her books until they are published. They have three children and enough grandchildren to keep them young.
Website | Facebook | Goodreads
Buy the book at Walmart, Amazon, Barnes & Noble, Books-A-Million, Google Play, iBooks, Indiebound, or Kobo