This post is part of a virtual book tour organized by the publisher. Enter the Rafflecopter at the end of the post for a chance to win a copy of
Sinfully Yours
by Cara Elliott, who joins us for a Q&A.
Tell us something about your newest release that is NOT in the blurb.
Anna's hero, the "Devil" Davenport has a very unusual and unexpected hobby for a rakish rogue. And it comes into play in the last dramatic scenes of the book! (Nope, I'm not going to tell you what it is—you'll just have to read the book!)
Are you working on anything at the present you would like to tell us about?
I'm polishing up a proposal for a new trilogy featuring three dashing debonair heroes and three boldly bad-girl heroines. Sparks are going to fly . . . but you'll have to wait for all the details until later!
What are you reading now?
Oh, you don't want to see my TBR pile! I'm a voracious reader and always have a few books going in different genres. Right now I'm into The Splendour Falls by Susanna Kearsley and As You Wish, the delightful memoir by Cary Elwes on the making of The Princess Bride.
What books or authors have most influenced your own writing?
Growing up, I adored a variety of the classics, from the swashbuckling stories about Three Muskateers by Alexandre Dumas to all of novels by Jane Austen and Charlotte Bronte. They featured such compelling elements—richly nuanced characters, adventure, friendship, honor, love. Most of all they showed me the power and the magic of great storytelling, no matter the genre. So I'm always striving to write a book that for a few fun hours will whisk a reader into the wonderful world of imagination.
How do you come up with the titles to your books?
It's usually a collaboration between me and my wonderful editor. We toss around ideas—some of them pretty zany, so we laugh a lot in the process! But in the end we always manage to come up with something we both think works.
After an eventful Season, Anna Sloane longs for some peace and quiet to pursue her writing. Though her plots might be full of harrowing adventure and heated passion, she'd much prefer to leave such exploits on the page rather than experience them in real life. Or so she thinks until she encounters the darkly dissolute-and gorgeously charming-Marquess of Davenport.

Davenport has a reputation as a notorious rake whose only forte is wanton seduction. However the real reason he's a guest at the same remote Scottish castle has nothing to do with Anna . . . until a series of mysterious threats leave him no choice but to turn to her for help in stopping a dangerous conspiracy. As desire erupts between them, Davenport soon learns he's not the only one using a carefully crafted image to hide his true talents. And he's more than ready to show Anna that sometimes reality can be even better than her wildest imaginings . . .
Enjoy an excerpt:
"It was getting devilishly dull out here with only my own thoughts for company."
Speak of the Devil!
Anna whirled around. "That's not surprising, sir, when one's mind is filled with nothing but thoughts of drinking, wenching, and gaming. Titillating as those pursuits might be, I would assume they grow tiresome with constant repetition."
"A dangerous assumption, Miss Sloane." Devlin Greville, the Marquess of Davenport—better known as the Devil Davenport—tossed down his cheroot and ground out the glowing tip beneath his heel. Sparks flared for an instant, red-gold against the slate tiles, before fading away to darkness. "I thought you a more sensible creature than to venture an opinion on things about which you know nothing."
Anna watched warily as he took one . . . two . . . three sauntering steps closer. Quelling the urge to retreat, she stood her ground. The Devil might be a dissolute rake, a rapacious rogue, but she would not give him the satisfaction of seeing her flinch.
"Sense has nothing to do with it," she countered coolly. "Given the rather detailed—and lurid—gossip that fills the drawing rooms of Mayfair each morning, I know a great deal about your exploits."
"Another dangerous assumption." His voice was low and a little rough, like the purr of a stalking panther.
Anna felt the tiny hairs on the nape of her neck stand on end.
He laughed, and the sound turned even softer. "I also thought you a more sensible creature than to listen to wild speculation."
"Indeed?" Feigning nonchalance, she slid sideways and leaned back against the stone railing. Which was, she realized a tactical mistake. The marquess mirrored her movements, leaving her no way to escape.
"I—I don't know why you would think that," she went on. "You know absolutely nothing about me."
"On the contrary. I, too, listen to the whispers that circulate through the ton."
"Don't be absurd." She steadied her voice. "I am quite positive that there's not an ill word spoken about me. I am exceedingly careful that not a whiff of impropriety sullies my reputation."
"Which in itself says a great deal," he drawled.
"You're an idiot."
"Am I?" He came closer, close enough that her nostrils were suddenly filled with a swirl of masculine scents. Bay rum cologne. Spiced smoke. French brandy. A hint of male musk.
Her pulse began to pound, her breath began to quicken.
Good Lord, it's me who is an idiot. I'm acting like Emmalina!
Shaking off the horrid novel histrionics, Anna scowled. "You're not only an idiot, Lord Davenport, you are an annoying idiot. I'm well aware that you take perverse pleasure in trying to . . ."
Cocking his head, he waited.
"To annoy me," she finished lamely.
Another laugh. "Clearly I am having some success, so I can't be all that bumbling."
To give the Devil his due, he had a quick wit. Biting back an involuntary smile, Anna turned her head to look out over the shadowed gardens. Flames from the torchieres on the main terrace danced in the breeze, their glow gilding the silvery moonlight as it dappled over the thick ivy vines that covered the perimeter walls.
She shouldn't find him amusing. And yet like a moth drawn to an open fire . . .
"What? No clever retort?" said Devlin.
Anna willed herself not to respond.
"I see." Somehow he found a way to inch even closer. His trousers were now touching her skirts. "You mean to ignore me."
"If you were a gentleman, you would go away and spare me the effort."
"Allow me to point out two things, Miss Sloane. Number one—I was here first."
The marquess had a point.
"And number two. . ." His hand touched her cheek. He wasn't wearing gloves and the heat of his bare fingers seemed to scorch her skin. "We both know I'm no gentleman."
About the Author: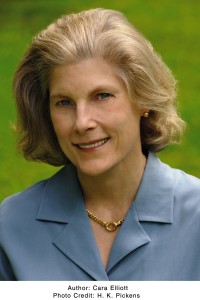 Cara Elliott started writing Western novels at the age of five. Later she changed her genre to Regency romance after reading Pride and Prejudice. She graduated from Yale University, and she now lives and works in New York City.
Website | Facebook | Twitter | Goodreads
Buy the book at Amazon, B&N, iBooks, GooglePlay, Kobo, or BAM