This post is part of a virtual book tour organized by
Goddess Fish Promotions
. Tawny will be awarding a $25 Amazon or B/N GC to a randomly drawn winner via rafflecopter during the tour. Click on the tour banner to see the other stops on the tour.
"No man left behind" is inscribed in the DNA of every SEAL and Lieutenant Diego Torres is no exception. But with a team member killed—and the body missing— Diego's honor is sorely tested. Now his career and reputation are on the line, and a traitor is hiding among them. Diego wants answers…and only one woman has them.

Single mom Harper Maclean has two priorities—raising her son Nathan and starting a new life. Her mysterious new neighbor may be impossibly charming, but Diego asks too many questions about her past—and about the father of her child. Questions she fears will reveal her burning attraction for Diego, and ultimately put them all in danger's path.
Enjoy an Exclusive Excerpt:
DAMN IT ALL TO HELL.
She'd had to push the trust button? Diego wanted to groan his frustration. Why'd she go and do that? Hadn't sexy temptation been enough?
Now, even as Harper's fingers took a teasing walk down his chest, Diego was walking along the edge of danger zone.
He'd walked it often enough in various guises to know the signs. His senses were on full alert. His body tense, adrenaline surging in a dozen directions. His mind blank, clear, waiting to assess the risks, to develop the best strategy to get through the situation with minimal damage.
He wasn't a spy. Special ops weren't maneuvered between the sheets.
But he had his orders.
Stay on her good side, make nice and get as much information as possible.
And he had his body's orders.
Go for the pleasure today because chances were, tomorrow would bring pain.
His mind screamed at him to make his excuses and leave. Every second he stayed played to the odds of him giving in to need, going for pleasure.
Diego fought the internal struggle between those orders, his own clamoring needs and his mind's warnings. Maybe there was some third-date rule that he could invoke here, something that would keep his pants on.
"I want you." Harper's words were a quiet caress that slid under his skin. Her fingers traced a silken path down his bicep, so light they almost tickled his forearm before she meshed them over his. "You can tell me that you don't want me. We can write this off as a nice evening and go back to being temporary neighbors."
Her shrug said she'd be fine with that.
But the look in her eyes, the depths of the vulnerability he saw there, said different.
Diego gave up playing the gentleman. It wasn't a familiar role and definitely didn't fit. He'd always been better at being bad.
About the Author: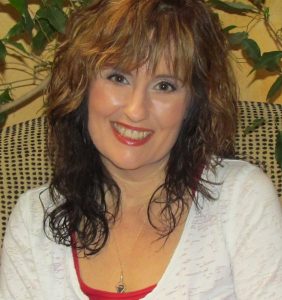 New York Times and USA TODAY Bestselling author of more than forty books, Tawny Weber loves writing about sexy heroes, most notably her popular Navy SEALs series. Her sassy, emotional romances are filled with men dedicated to being the best—and women determined to have the best. Tawny credits her ex-military alpha husband for inspiration in her writing, and in her life. The recipient of numerous writing accolades, including Romantic Times Reviewers Choice and in addition to the NY Times and USA Today bestseller lists, Tawny has also hit the number one spot on Amazon and Barnes & Noble.
A homeschooling mom, Tawny enjoys scrapbooking, gardening and spending time with her family and dogs in her Northern California home.
Website | Facebook | Twitter | Pinterest | Goodreads
Buy the book at
Amazon
,
Barnes and Noble
,
iBooks
,
Kobo
, or
Harlequin
.