The post is part of the release day blitz for Serena Gilley's newest release
By the Magic of Starlight
which was released yesterday. The publisher is giving away ten digital copies of the book tourwide via Rafflecopter.
Beyond the limits of sight, magical beings live in the Forbidden Realm. The two worlds were once connected, but the desires of man forced their separation. Now, desire may bring them back together . . .

Raea is a fairy with a secret. Beneath a veil of moonlight and mist, she did the unthinkable: shared a night of exquisite passion with Kyne, the fairy-human hybrid whose touch makes her tremble. Now she can't forget the feel of his hard body and hot kiss against her skin. Their connection is undeniable-and forbidden.

Kyne's hunger for Raea is insatiable. As a fairy, he should be beyond the lure of lust, but as a man he can't resist the pleasure only she can provide. Yet if the Fairy Council is correct, their love will unleash a secret with the power to destroy the Realm forever . . .
Enjoy an excerpt:
"Listen," Raea said, her voice close behind him as he fluttered down from the tree. "Can you hear that sound?"
He listened. Yes, there was a sound. It was low, an indistinct hum that he had initially ignored as the usual buzz of a forest at night. But she was right, this was something slightly different. It droned on in too even a tone to be insects or rustling leaves.
"It's coming from there, where those rocks jut up from the earth," he said, pointing.
It was a useless gesture, of course, but she must have found the spot on her own. The brush of her wings began moving in that direction.
"It is. There's a dry creek bed just through these shrubs. It looks like we're in a valley at the base of a hill. The rocks seem to be covering something."
He followed her voice and the droning hum got louder as he approached. Whatever was making the noise clearly was hidden under the rocks. Without some sort of magic, there was no way they were going to get under them to investigate further. He laid his hand on the largest of the rocks and found it to be warm. Too warm to have been hidden here under the forest canopy all day.
"What's making it so hot?" Raea asked.
"I don't know."
He moved to the next rock. It was warm, too. How could that be? They seemed to be standard rocks, the same material as any other rocks he might expect to find in this area. What would make them hot to the touch? Were they heated from below?
He moved to another rock and put his hand on it. But this one was soft. And it had breasts.
"Um, that's not a rock," Raea said.
"No. I like this much better than a rock."
He jolted when he felt her hand unexpectedly reach for his groin. She made contact and must have intended for that. She giggled, but did not remove her hand.
"This feels something like a rock."
"And you know why that is," he said. "It's because of you, Raea. Even invisible you make me want you so badly."
"I know. I feel it, too," she whispered, stroking him slowly. "The protection from the dust must be wearing off. I know we're in danger and don't have any Sizing Dust, but I can't seem to think about anything except you, Kyne."
He traced the form of her body, her breasts, the curve at the small of her back, the heated juncture between her legs. He moaned when she pressed herself against him, fisting his cock as if she would drag him to release right here and now. She was up against the warm rock; its weathered, flat surface provided perfect leverage for him to explore every inch of her. He found her lips and he kissed them. Then her neck, then her shoulders, then lower to tease her invisible nipples.
"I think I'm on fire, Kyne. You've got to do something, please. Come inside me; I need you."
"You know I can't do that. But by the Skies, I can do this."
He slid down her, his hands skimming her hips and her thighs until his mouth was positioned just right where he wanted to be. He nuzzled her there, burying himself in her scent. Her legs parted and he tasted her core. She groaned in surprised pleasure.
"I can totally do this," he repeated.
About the Author: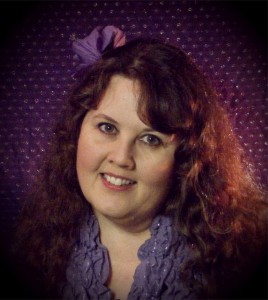 Serena Gilley grew up reading fantasy and fairy tales, and believing there was a distinct possibility that both of them were real. Somewhere. Even all these years later, Serena's belief in magic and mystery hasn't diminished. In fact, She is living out her own happily-ever-after with a handsome prince in a beautiful castle, taming dragons and granting wishes every day. Okay, so the prince is a regular guy, the dragons are really just teenagers, and the wishes she grants are as spectacular as frozen pizza on Friday night, but it's a fantasy world just the same.
Website ~ Facebook ~ Twitter ~ Goodreads
Buy the book at B&N, BAM!, Kobo, iBooks, Amazon, Google Play