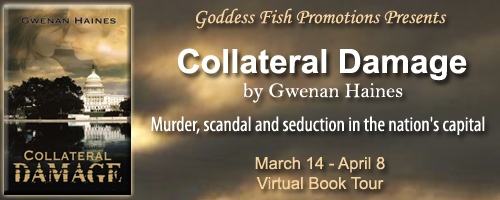 This post is part of a virtual book tour organized by
Goddess Fish Promotions
Gwenan Haines will be awarding a $25 Amazon/BN GC to a randomly drawn winner via rafflecopter during the tour. Click on the tour banner to see the other stops on the tour.
Broken Heroes
When I was a kid I was always a sucker for wounded animals. The girl who brings home the bird with the broken wing, the one who begs her parents to adopt the stray cat that's wandered into the yard and cries because she can't adopt all the puppies at the animal shelter. I still am, though I like to think I'm at least a little more practical these days. At least that's what I tell myself.
I guess it's not too surprising that I prefer broken heroes. Okay, maybe not actually broken—I don't want my men hurt beyond repair. But I'll admit there's something irresistible about a man who's suffered. I still think back to Indiana Jones, the first broken hero I fell for, and the scene in Raiders of the Lost Ark where Marion tries to find a single undamaged spot on his beat-up body to kiss. From that point on, I've always loved men who suffered, especially if the "suffering" includes emotional damage. Think Bradley Cooper in Silver Linings Playbook. Or Bruce Wayne in Dark Knight. Superman? Forget about him. There's a part of me that can't resist the impulse to heal these scarred men—or to watch the women they love do it for me by proxy.
Maybe this is just another way of saying that despite my cynical exterior I'm an optimist at heart. I want to believe that no matter how much pain a man's been through there's always a chance for him to find his happy ending. So when I started writing Collateral Damage the idea of damage was my starting point. Both Dalton Ross and Laura Drake have been through some incredibly tough times. Both believe love is beyond their reach because of the horrible things that have happened to them. Laura's hidden her pain so deep inside her that it takes another person's suffering to give her the courage to finally open up. The same is true of Dalton. After a failed marriage to a woman who betrayed him again and again, he's given up on women. His ability to trust any woman enough to begin a relationship has been all but destroyed and because of the nature of his ex-wife's betrayal even friendship is hard for him.
Which brings me to another reason I'm drawn to damaged heroes: I love the strength they gain from the hell they've been through. When Ernest Hemingway wrote "the world breaks everyone and afterward many are strong in the broken places" he was spot on. The same can be said for my characters. As Laura and Dalton find themselves caught up in a world even darker than they could have imagined, pain is the fuel that pushes them forward. It gives them the courage to fight for what they believe in—and for each other.
For three years Laura Drake has watched Senator Pete Worthington promote a series of gorgeous women while she sits in a forgotten corner answering constituent letters on an outdated computer. When Worthington asks her to find an elusive file one Friday night he sets off a series of events that brands her as a killer and puts her life in jeopardy. The path she sets out on forces her to confront not only the nature of evil but the ghosts from her past that have never been set to rest.FBI Agent Dalton Ross transferred from Chicago to Washington to escape his own ghosts. When his investigation leads him to Laura he's torn between his desire to keep her safe and the need to protect his own heart. As the mystery that surrounds them deepens, Laura and Dalton race to save themselves and the nation from someone willing to sacrifice anything to protect a secret.
Enjoy an excerpt:
Dalton checked his gun and opened the driver's side door as quietly as possible. "Appearances can be deceiving."
She opened her door too. "You leave me here, I'm gone when you get back." She flashed an object in front of his face. "And I've got the key."
"Do you have a death wish or something?" How had she managed to get hold of the key? He was sure he'd put it in his wallet, which was tucked away in the glove compartment. He would have remembered it if she'd opened it. "I thought you said you were dull."
"I am." She deposited the key down the front of her dress. "But I'm kinda getting the hang of this adventure thing." A grin tugged at the corner of his mouth, but he suppressed it. She was charming, no doubt about that. And damn mysterious, too. As she stood there smiling with cat-like satisfaction, he had to resist the urge to take her in his arms and kiss her. Just the idea of pressing his lips to hers was making him hard. The trouble was Laura had no idea what she was up against. She thought of all this as an exciting change from her ordinary life. But this was real life, and real life was full of people whose sole purpose was to inflict as much pain as they possibly could. It was all too easy to go about one's business without ever seeing the dark side of things—he'd done it for years, and in a way, he wished he could go back to being that twenty-year-old kid who signed up for an interview with the FBI mostly to impress his buddies. But after more than a decade spent hunting killers he knew that like all fairy-tales, the happily-ever-after of suburbia had its monsters.
In real life, people died.
About the Author: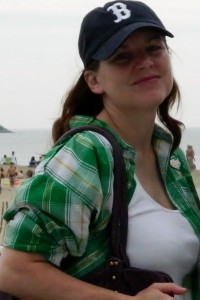 I live in an old Cape house with my daughter, too many books, and a red-and-white Siberian husky born on Halloween. After working in Washington, D.C. for several years and traveling to Russia, Europe and Pakistan, I moved back to New England. I'm the author of the romantic suspense novel Vertigo, which is available as an E-book from Amazon Encore and in paperback from Wild Rose Press. Collateral Risk, the follow-up novel to Collateral Damage (which features Dalton's boss Nick Doyle and scientist Mia Lindgren), is forthcoming from Wild Rose Press. When I'm not working on fiction, I write poetry, teach literature and am still trying to learn how to cook.
Blog | Amazon Author Page | Facebook | Goodreads
Buy the book at
Amazon
.