This post is part of a virtual book tour organized by the publisher.
Boy Midflight
by
Charlie David
Hi all! I'm Charlie David and I'm happy to stop by here at Long and Short Reviews. It's been such an exciting Spring for me as I've had my books published by Dreamspinner Press – first Mulligans, Shadowlands, and now Boy Midflight.
Boy Midflight is largely constructed from my teenage journals. The inherent nerves, fragility, and occasional brazenness embodied in the main character of Ashley are all aspects of me as a teenager. This is a coming out story set in the 1990s and it's fun to reflect on what has stayed timeless in the teenage experience and how other things have progressed at lightning speed. The biggest change of course is technology and how it's affected so many parts of our lives – for better of worse.
In the 90's as a kid who felt different it was a monumental challenge to find a community to gel with. Internet chat rooms existed of course but geo-location based apps did not. This meant that even if you were lucky enough to forge a connection in an AOL or Yahoo chat room – it was more likely than not that your cyber person of interest was geographically far from you. As a teenager even if they were in the same state – it may as well have been on Mars.
Due to this isolation, sexual experiences and loss of queer virginity did not generally happen in hyper-speed as they do with many young people today. Reflecting on how I met my first boyfriends in the 90's and the path of how our relationships blossomed in a more organic and in some ways traditional way left me feeling nostalgic. Meeting guys who liked to kiss guys was certainly not as easy as it is today but somewhere in that greater challenge lived a little magic.
If you enjoy a main character who is quirky, ambitious and in love with falling in love – then Boy Midflight might just put a smile on your face.
In the comments section, please share what you've personally experienced as the biggest changes in dating from within different decades of your life. I'd love to hear your perspective!
At eighteen, Ashley seems to have everything: looks, talent, and even a girlfriend. What more could a young man want? Yet something is missing, and he has to come to terms with his sexuality and the possible implications for his career in the public eye. He begins dating Chris but isn't sure he's head over heels in love. It's not the knight-in-shining-armor feeling he always imagined.

When Ashley is offered a big modeling job, he leaves his university in small-town Canada for a very different life in sunny Los Angeles, California. There he meets a slightly older man who makes him feel like he's in a storybook romance. But is Ashley ready for real love, or is it just infatuation? The world is spread out before him, at once limitless and daunting, full of endless possibilities one moment and opportunities cut short the next.

Ashley floats between certainty and confusion as he tries to unravel new feelings, deal with past pain, and decide what he wants from life—and who he wants beside him during the journey.
Enjoy an Excerpt:
I fully appreciate and respect sex between man/woman, man/man, or woman/woman, but to me it only makes sense that same-sex coupling would generally be amazing. When you've spent a lot of time baking in your own kitchen, you know just what temperature your oven cooks best at. You know which drawers have the whisks, the beaters, and the strainers. You've noticed the effect of eggs beat too furiously and recall how much yeast it takes for the bread to rise.
So when you are invited as a celebrity chef in another kitchen, you can find your way around pretty well. Sometimes you reach for the wooden spoon in the first drawer like at home but soon realize it is actually stored one shelf down. All in all, you are very comfortable in the kitchen being a chef as well. The soufflés you serve very rarely fall, and you are complimented on your adeptness.
The next week you find yourself in your apron and floured hat in a mechanic's garage. The head mechanic wants a variable-venturi carburetor changed. You don't know how to spell it, let alone what it is. The comfort of the kitchen is far behind, and you find yourself trying to grease nipples, cock pistons, and rotate wheels. Just saying these things will get you excited. Say them again in a low sexy voice to yourself. Go ahead, try it.
Grease nipples… cock pistons… rotate wheels.
Ooooh! Yeah. Sounds good, but trying to do these things is a far cry from lightly toasting coconut and basting a turkey. Without knowledge of equipment and tools, you may never get that engine running, let alone revving.
I return from my tangent, back to sex with friends. After this one night nothing was the same between Justin and I. Hanging out was awkward, and there was always the eminent but never asked question of "Are we just hanging out, or is this like a date?" So eventually I deleted Justin's numbers from my phone. I just couldn't handle it anymore. So with that friendship, sex busted it. My comment to Justin while instructing him in the ways of a good lover, "Watch the teeth!" reminds me of another friendship with a very different ending…
About the Author: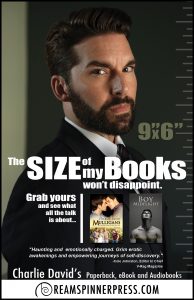 Charlie has been a host for E! Television, NBC, OutTV, LOGO, here! TV, Pink TV, EGO, Fine Living and Slice Networks on such shows as FYE!, SpyTV, Crash Test Mommy and his travel series Bump which shot over 100 episodes around the world and garnered a Hugo Television award. He has appeared as musical guest on VH1, BBC, CBS's The Early Show, and dozens of radio shows.
In 2005 Out Magazine recognized Charlie in the 'Out 100' at their gala in New York. In 2007 the Philadelphia Film Society awarded Charlie with their Rising Star Award. In 2008 the Festival del Sol in Gran Canaria awarded their Best Male Actor Award to Charlie and the male cast of A Four Letter Word. Formerly in a rock band… okay, actually it was a boy band, Charlie opened for Destiny's Child, Pink, Snoop Dogg, Rick Springfield and Black Eyed Peas.
A love of storytelling led Charlie to start Border2Border Entertainment Inc., a production company whose film and television credits include Mulligans, Judas Kiss, I'm a Stripper (series), Studlebrity, Balls, I'm a Porn Star, I'm a Porn Star: Gay4Pay and Positive Youth. Border2Border Entertainment's films have been licensed to Showtime, Super Channel, HBO Canada, MTV/LOGO, Sundance Channel, Discovery Networks, The Movie Network, Movie Central, Hollywood Suite, hereTV, Encore Avenue, and OutTV in North America as well as finding a worldwide audience through international distribution partners.
He is a graduate of the Canadian College of Performing Arts and his current passions include travel, encounters with wildlife, SCUBA diving, mosaic tiling and podcasts. He resides in Toronto and Montréal, Canada when he's not living out of a suitcase.
You can explore Charlie's films and TV shows on his website or become a part of his social media network.
YouTube | Facebook< | Twitter | Vimeo | Audible | Goodreads | Dreamspinner | Pinterest
Buy the book at Dreamspinner Press, Amazon, Audible, Barnes and Noble, iBooks, or All Romance eBooks.