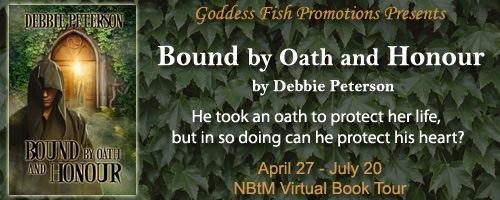 This post is part of a virtual book tour organized by
Goddess Fish Promotions
. Debbie Peterson will be awarding a $15 Amazon/BN GC to a randomly drawn winner via rafflecopter during the tour. Click on the tour banner to see the other stops on the tour.
Welcome to Long and Short Reviews, Debbie! How do you come up with the titles of your books?
More often than not, after a whole lot of thought, headaches, and hand wringing, I'll come up with three or four different titles. I'll try out those titles on my family and critique partners. After I get their input, I'll choose the one I like best anyway! (Thankfully, most of the time said family members and critique partners choose my favorite as well.)
What does your writing space look like?
We have a library/office in my home that my husband and I share. My desk is usually cluttered with the research books I need for my current WIP. Right now the wall in front my desk is decorated with two pictures from the Civil War. A Confederate hat is hung beneath one while a Union hat is hung beneath the other. (This commemorates my novel, Spirit of the Rebellion.) On the opposite wall I have the painting, Prayer at Valley Forge, a powder horn, and a flintlock pistol symbolizing Spirit of the Revolution. On the third wall I have the portrait Shandra Kay did for Spirit of the Knight, entitled Prayer for the Fallen, as well as the painting of The Accolade. Inspiration abounds on all sides!
What do you enjoy doing when you're not writing?
I love being outside (except when the temperatures go over 105 degrees or below, say 40 degrees or so), immersing myself in family history, and playing with my all too adorable grandchildren!
What is your favorite color?
Every shade of purple.
What is your favorite pleasure food?
Is cinnamon bears considered a food? Because if they are…ahem. If you want me to say something healthy than I'll have to choose fresh fruit—especially summer fruit.
What is your favorite season?
I love them all!
What is your favorite television show?
Let's see…right now I', kind of enjoying Blindspot and Blacklist.
What is your favorite movie?
No favorites really, but those high on my list are Princess Bride, Lord of the Rings Trilogy, the Harry Potter Series, and anything with a fantasy or paranormal flavor.
Who is your favorite actor?
I think James Spader is awesome and I suppose we should also give Chris Hemsworth a mention, right?
What is your favorite song?
I LOVE music! I have well over 500 CD's in several different genres and time frames, so naming a favorite song is nigh on impossible. Now, if you were to ask me a favorite from a specific artist, I "might" be able to narrow it down.
What is your favorite comfort clothing attire?
Pajamas…
What books might we find on your bedside table?
Because I write paranormal and fantasy romance, you'll find a variety of books dealing with near-death-experiences, books from the Enchanted World Series, and books on Mythology.
Describe yourself in three words.
In the spirit of consistency… Curious, Introspective, and Optimistic.
Thank you so much for inviting me over for an interview—it's been really fun!
Fresh from her photo shoot in Northern England, wildlife photographer Tala Westbrook makes a promised stop at the family manor in Staffordshire, desperately in need of renovation. Though she didn't plan to stay longer than it took to find a contractor, she is caught up in an ancient paranormal war. Despite the danger all around, she finds herself falling for the handsome, enigmatic man assigned to protect her.

Micah Berrington, elite guardian from the realm of the Bewitan Fierd, is used to protecting men of strength in the greatest of peril, not a female looking for someone to repair her home. Yet the assignment is far more than it seems and so is the beautiful woman destined to capture his heart, regardless of the cost.
Enjoy an excerpt:
"I'm not leaving until you tell me whatever it is you don't want me to know." She set her heels, and placed a hand on her hip.
His anger flared. "Is that right? A little while ago you couldn't wait to leave this place."
Tala gave her head a snooty little toss. "A lot has changed since then, wouldn't you agree?"
He brushed the barb aside. "Then let me get you a pillow and blanket. You can make yourself comfortable on my sofa."
Indignation filled her lovely eyes. "That's it? That's all you're going to say? Really?"
Micah met her gaze without a flinch. "Really."
"Whatever." She gave him a curt nod and stormed toward the door.
He had fallen into the deep, dark abyss of the feminine whatever. Nonetheless, he stepped in front of the entryway blocking her path. "Where are you going, Tala?"
"Back inside the forest, not that it's any of your business."
"Why would you do something as foolish as that?"
"To find some answers, since you're unwilling to share what you know." She gritted her teeth. "Now, get out of my way."
He held his ground while disregarding the directive. "Just what do you expect to find out there?"
She shrugged away the question. "I'm not sure. However, I do know those creatures left tracks. I'm quite adept at finding and following them to wherever they might lead. Trust me."
"Regardless of the danger?"
"I can take care of myself."
About the Author: Debbie is an author of paranormal and fantasy romance because she has a soft spot for fairy tales, the joy of falling in love, making an impossible love possible, and happily ever after endings. She loves animals of every persuasion, music, art, beautiful sunrises, sunsets, the smell of rain, and thunder storms.
When she is not busy conjuring her latest novel, Debbie spends time with the members of her very large family in the lovely, arid deserts of southern Nevada, where some of those spectacular sunsets occur. She also pursues her interests in genealogy—which she also teaches—mythology, and history.
Website | Blog | Twitter | Facebook | Amazon Author Page | Pinterest | Goodreads
Buy the book at Amazon or The Wild Rose Press.