This post is part of a virtual book tour organized by
Goddess Fish Promotions
. Gabrielle Mathieu will be awarding a $20 Amazon/BN GC to a randomly drawn winner via rafflecopter during the tour. Click on the tour banner to see the other stops on the tour.
Botanical Toxins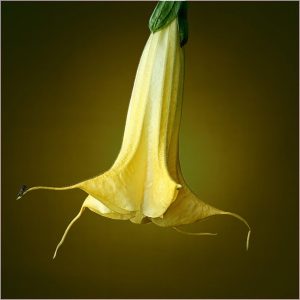 What is it about botanical toxins that make them so alluring, so intoxicating? There's something appealing about the tendrils of mycelium insinuating themselves into your thoughts, enmeshing with your psyche, even if you wouldn't actually sample that stunning red amanita mushroom with the white polka dots. (You'd be wise not to.) Perhaps not alluring for everyone. For those who want their truth uncomplicated, their experience unfiltered by symbiosis with a plant, aching for a transcendent experience is a pointless quest.
Even in the annals of poisonous plants, nightshades have a certain glamour. A nightshade: something so dark, it's blacker than night. Her beauty is enticing, but Brugmansia, pictured above, is a dangerous member of the Nightshade family. Belladonna, another nightshade, earned her name because Italian noble ladies ingested it to dilate their pupils. Large pupils are a sign of arousal; even in the conservative societies of that day, women who looked as if they desired a liason fared better. Plus who knows what handsome heroes they hallucinated while coupling with a wealthy, but elderly or unattractive, noble.
As Peppa and her godfather, renowned Swiss chemist Alex Kaufmann, find out in the first book, the hallucinogenic Compound T is made from a nightshade. Its creator, a devious scientist, calls it a Compound, but it's only a simple extract. A bit of deceptive advertisement.
The existence of a Compound T is a bit of creative fiction, but nightshades are firmly established in occult tradition. Nightshades, in Latin, the genus Solanaceae includes plants we eat, like tomatoes (though they were formerly believed to be poisonous.) Henbane, Belladonna, and various Angel Trumpets (Brugmansia) are examples of the more dangerous nightshades, ones that induce delirium. Pharmacological chemist and expert on psychoactive plants, Dr. Dennis McKenna explains the difference between hallucinations and delirium. During a hallucination you see and hear things that aren't ordinarily present, but still are somewhat grounded in every-day life. During a delirium, the bond with consensual reality breaks, which makes a delirium a type of psychotic break.
McKenna admits to an unfortunate experience with Jimson weed, during which he was incapacitated. Jimson weed, a type of Datura, is a close relative of the Angel Trumpet, species Brugmansia. I had already finished my novel when I read McKenna's reflections on the two closely allied plants. He writes "I believe that accidental or deliberate encounters with the shadowy Datura spaces are the basis for the belief, in many cultures, in a land of the dead."
Interesting corroboration to the decision to feature the beautiful Brugmansia as a toxic hallucinogen.
As the sun rises on a quiet Swiss mountain village in 1957, runaway Peppa Mueller wakes up naked and stranded on the roof of her employer's manor, with no idea how she got there. As she waits for help, she struggles to piece together fragmented memories of the previous night. Did she really witness the brutal massacre of a local family? Did she kill them? Her fear of sinister house guest Dr. Unruh fuels her panic—as do electrifying flashes of a furious falcon, trapped inside her.

Wanted for murder, Peppa flees the police, intent on finding out if there's a scientific explanation or if she's just going mad. Her godfather, world-renowned chemist Dr. Kaufmann, risks his career to help her. In the meantime, Peppa fights her attraction to the handsome priest from India who offers her shelter. With their help, she not only finds Dr. Unruh but places herself at his mercy. His experiments may be the reason Peppa now shares her body with a bloodthirsty bird of prey—but the revenge she plans could kill them both.

NOTE: The book will be on sale for only $0.99 during the tour.
Enjoy an Excerpt
I thought talking would be a relief, but it wasn't. When I finally stopped, exhausted by the effort of reliving that dreadful night, I had a knot in the pit of my stomach.
Da and I wanted to help troubled people with Paxarbital. Now I'd become one of them, a murderer suffering under hallucinations.
I raised my face to meet Stefan's clear blue eyes. I saw no condemnation. "I told you I killed Hans Wäspi. Isn't confession supposed to be good for the soul? I don't feel any better."
"Only God can forgive your sins. I can't."
Three dead. At least. "What about the woman who brought us our drinks?"
"Anita Eugster? No one's seen her. They're looking through the ruins of the kitchen for her bones."
Despair descended over me, and I had to fight an urge to scream. I splashed my face with cold water, biting my lip to fight the pain inside.
"They found me on the roof this morning." My voice sounded hollow. "Did you hear?"
Stefan moved away from me a bit, rubbing his hands as if he was cold. I understood. I'd like to get away from myself too, if I only could.
I dug my nails in my palm. I would not be weak. "We really were poisoned. I could prove it."
"I saw your wings, Patrizia."
"My name is Peppa."
"You turned into an angel."
I rubbed my eyes. What I needed was a lab.
About the Author: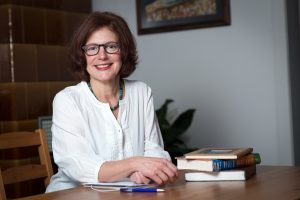 Gabrielle Mathieu lived on three continents by the age of eight. She'd experienced the bustling bazaars of Pakistan, the serenity of Swiss mountain lakes, and the chaos of the immigration desk at the JFK airport. Perhaps that's why she developed an appetite for the unusual and disorienting. Her fantasy books are grounded in her experience of different cultures and interest in altered states of consciousness (mostly white wine and yoga these days). The Falcon Flies Alone is her debut novel.
Website | Blog | Facebook | Twitter
Buy the book at
Amazon
.