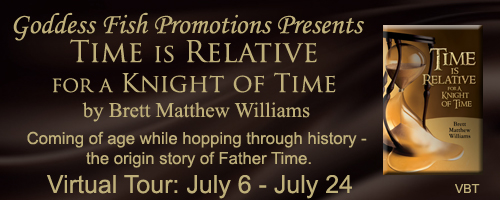 This post is part of a virtual book tour organized by
Goddess Fish Promotions
. Brett Matthew Williams will be awarding a $50 Amazon or Barnes and Noble GC to a randomly drawn winner via rafflecopter during the tour. Click on the tour banner to see the other stops on the tour.
BMW's Excellent Adventure
Time travel is a double edged sword of awesomeness and disaster. The idea of stepping outside of it, while tempting on the outside, would be nothing but a miserably (if not gooey) inside of bad decisions and wrong turns. Much like life, the notion presents its good and its bad, the yin and the yang, of how to prioritize the responsibility and wants of such a vast undertaking. I have often dreamed of taming a pair of velociraptors to keep as pets, but the actual idea of doing that is so ridiculous it isn't even workable. Call me a skeptic but until recently I have always thought of time travel as best left to fiction authors. But then I started doing this tour, and when (inevitably) every interview question ended up being 'What time would YOU travel to?' I actually gave the matter some thought to surprising results.
It has always bothered me that we as a civilization lost what came before written recorded history. Scientists estimate that human beings in our current form have been walking the Earth for near 100,000 years, yet we have but 6,000 years of recorded history to our wall of fame. Notice any discrepancy here? Most historians will give you the dull, dry answer that before written history, we as human beings were nomadic, or simply told stories and lessons via oral traditions. This leaves a wide berth for speculation.
How many empires were built, to what extend did they reach, and how did they each fall? Were there legendary heroes, long forgotten to time due to the passing of all whom whispered their names? What of villains, or warlords, or conspiring kings, queens, or whatever the leadership called themselves; how did they solve issues that we as a species still struggle with in the 21st century, like monogamy, crime, or religion. And speaking of religion, how many have been lost to the ages? Gilgamesh gave scholars so much to dote upon that few have bothered to ask what possibly could have been its competition. It's been suggested to me that I'm not writing correctly unless at least ten percent of those who read it absolutely hate what I create. So, by that theory ten percent of ancient Sumerians were looking elsewhere for entertainment than the Epic of Gilgamesh. But where?!
I have received my share of correspondence with those who disagree with my quest on religious grounds. While I respect your right to practice your religion in its own space, I will fight tooth and nail to deter the ignorant, fear based culture that certain individuals champion behind the banner of 'religion'. Too often the price of progress is paid with the suffrage of those who go against the grain of widely held, yet little verified public thought.
That being said, it would be amazing to walk, all alone, within the confines of a time before mankind inhabited the Earth, or visit the Library of Alexandria before it burnt down. Regardless of the when, the ultimate dream for any historian is to catalogue the unknown in an attempt to make amends with the fragmented pieces of mankind's past so that it may better understand its shared history moving forward. It's not always pleasant, but it is necessary, and I fear in our 21st century world of science and technology taking precedent above all else, an often overlooked subject.
Meet Rolland Wright – a seventeen year old orphan living out of his car in rural Woodland Hills, California. Aside from grappling with the fact of being abandoned by his drunken father two years previous following his mothers mysterious murder, his life mostly revolves around finding a warm place to sleep at night. When one day he is attacked by men claiming to have killed his father, Rolland discovers a strange ability to slow the flow of time around him, beginning a journey that takes him to places outside of time, space, and eventually to the early 19th century to fight the sinister General Andrew Jackson. With the help of a rag-tag group of historical and mythical figures with various supernatural abilities of their own (Joan of Arc, Jesse James, etc) known as the Knights of Time, Rolland solves the mystery behind his mother's murder, falls in love, battles the evil Edward Vilthe – reaper of souls, and finds a home of his own in the paradise known as Eden.

The Time is Relative series chronicles the origin story of the mythical figure Father Time, beginning with the award winning first novel, Time is Relative for a Knight of Time. All dates and events are historically accurate. The participants… maybe not.
Enjoy an excerpt:
It was a muggy, humid morning when U.S. General Andrew Jackson woke to the sound of tribal horns. Immediately identifying their purpose, he quickly gathered both his wits and his pants, grabbing his sword and sidearm as he left his tent.
Known to be tough as hickory, Andrew Jackson was a moderately tall man for his time, standing at six feet, one inch. In this and in his military rank he was often compared to George Washington among elite society in Boston, Washington, and New York, despite his humble beginnings.
Jackson's rigid demeanor was only matched by his sharp attention to detail. His crisply, pressed uniform was such that it demanded the attention of all the company's men. Each stood at full attention, showing perfect respect for their commanding officer as Jackson made his way through the columns slowly, careful to catch each and every pair of eyes.
"Today we fight like dogs, and live like kings!" Jackson roared to his men, who cheered loudly in response. Their gusto and appreciation for their General's bravery in the face of danger was not unnoticed by his adversaries on and off the battlefield.
A slave, brought directly from Africa on Jackson's orders, walked Jackson's horse to him around the hustle and bustle of preparing for the day's campaign. A light rain began to fall on the heads and shoulders of every soul under the barely visible sun, uniting them in nature. They all felt the soft droplets as they landed on both white and brown skin alike. Lightning struck diagonally across the gray sky, followed shortly by an attention-stealing clap of thunder that rocked the previously dry Florida landscape.
About the Author: Brett Matthew grew up with a passion for both film and history. He began his career fresh out of high school as a Production Assistant/ football player on NBC Universal's television series Friday Night Lights (of which he can often be seen in the first two seasons as a member of the championship team – Go Panthers!). He quickly moved on to serve as an Original Series intern with the USA Network in Studio City, California. Following work on shows like Monk, Psych, and Burn Notice, Brett returned home to Texas to continue his education, graduating with his degree in History from Texas State University. A proud Master Freemason, Brett thoroughly enjoys fantasy fiction, watching Netflix, running, baseball, Shakespeare, and spending time with his family and critters.
Website | Twitter | Blog
Buy the book at Amazon.