This post is part of a virtual book tour organized by
the publisher
.
 *******
When my marketing coordinator at Totally Bound gave me a blog tour list I imagined all the witty bits of literary brilliance that would spill across the page. Yeah, you can stop shaking your head at me any minute now. Frankly writing a story is easier than writing a blog. In a story the characters get to tell you what to say.
My latest story Elijah's Ghost continues the storyline of the Wizard's Touch series. Eli is a weak wizard who has a crush on Devlin one of three identical triplets.
Elijah was a particularly interesting because he doesn't start out knowing he has much magic at all. To watch a character grow in a book is extremely satisfying. Elijah has to learn how to control his new abilities and not let it take over his life. Being magical and having that magic be the driving force of his life is hard to deal with add to that the pressures of college, weird teachers and hot fellow student and you have the recipe for stress.
Devlin has always been the more easy going of the triplets, the first to crack a joke and ease the tension of any situation. Unfortunately when things get bad they go there fast. Even his good friend Jaynell doesn't have the magic to pull him out of this bind.
When old foes come back to cause trouble Elijah will have to pay the ultimate price and use his newly discovered magic to rescue the man he loves.
Writing about magic, ghosts and shifters with a slice of romance is my passion. I love strong characters and if they happen to shoot lightning bolts, talk to ghosts or change into dragons so much the better. In the Wizard's Touch series I use magic, and magical beings to convey a world not that much different than our own but much more exciting.
Excerpt:
Their sitting area was enough for the four men living there, but it suddenly seemed too small. Devin dragged in a deep breath. The smell of something rich and dark filled his nose. He stepped closer.
"What are you doing?"
"You smell amazing." How had he never noticed Eli's scent before? He now understood the wolves' compulsion to sniff at their mate. Not that he considered Eli his mate, but he definitely was someone he'd like to see more of.
"Um, thanks. Listen, would you like to go out sometime? To grab coffee or a movie or something?"
Devin stepped closer. He hadn't been certain Eli was gay despite the fact that his brothers claimed Eli watched him with a hungry gaze. Dan and Dean had both transferred to a different class after two sessions with Professor Kalvin. Devin had stayed because he hadn't wanted to leave Eli. He had to admit he enjoyed the younger man's attention. Although he didn't suffer from a lack of dates, Eli's gaze had a soft, wistful quality Devin couldn't resist. However, he'd been unable to go over and talk to the redhead before now.
"I would love to have coffee or something." Naked mud wrestling, dozens of body shots, anything at all. He sniffed at Eli again, trying to be discreet, but from the puzzled look he received, he doubted he'd done a good job.
"Really?" Eli seemed to have run out of steam now that Devin had actually agreed to go out with him.
Devin clenched his fists to resist reaching out and grabbing Eli. "I think we should kiss to make sure we're compatible before we waste time going out, don't you?"
"You think?"
"Absolutely."
"Well, if it will save time." Eli's eyes widened with fake innocence as he watched Devin.
"That's what I was thinking." Devin took Eli's right hand and led him to the couch. "Sit and get comfortable. It might take a while."
Eli laughed. "I see. Is it going to be a long experiment?"
"Possibly, or I'm being optimistic."
"I appreciate optimism."
Blurb for Elijah's Ghost: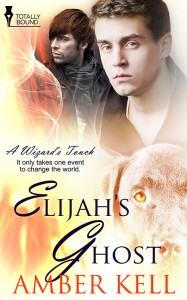 It only takes one event to change the world.
 Elijah Trenton had always been considered a weak wizard. With little magic and an overpowering father he'd expected to spend his life teaching. When an accident reveals his ability to talk to the dead, new possibilities open up.
Devin Stewartson had been eyeing Elijah for months. The shy redhead drew his eye from that first day, and only the thought of a relationship had him shying away. When Elijah saves Devin's life, Devin decides that some things are worth a chance.
Old enemies and new adversaries try to tear the two men apart, but love can withstand most anything and even death can't part two men fated to be together.
Like the sound of Elijah's Ghost? Buy it here: https://www.totallybound.com/elijahs-ghost?utm_source=longandshortreviews&utm_medium=blogtour&utm_campaign=elijahsghostblogtour
Author Bio for Amber Kell:
Amber Kell has made a career out of daydreaming. It has been a lifelong habit she practices diligently as shown by her complete lack of focus on anything not related to her fantasy world building.
When she told her husband what she wanted to do with her life he told her to go have fun.
During those seconds she isn't writing she remembers she has children who humor her with games of 'what if' and let her drag them to foreign lands to gather inspiration. Her youngest confided in her that he wants to write because he longs for a website and an author name—two things apparently necessary to be a proper writer.
Despite her husband's insistence she doesn't drink enough to be a true literary genius she continues to spin stories of people falling happily in love and staying that way.
She is thwarted during the day by a traffic jam of cats on the stairway and a puppy who insists on walks, but she bravely perseveres.