This post is part of a virtual book tour organized by the publisher.
Aspects of Personality
By: Talia Carmichael
Creating a character's personality takes getting to know them very intimately. I have to dig deep within them and know them as well as I know myself. To do this I think beyond what is happening during their story. I go back to what shaped them and made them who they are. I create many parts of their personality and bring it to the page. Each character I create stays with me. Each of the characters have aspects of my own personality.
In my latest release, Best Laid Intentions (Impressions #6) it is the same. I've been told by my friends who have read the book I'm like Savage as I'm a musician. When I was younger I was in bands and loved playing music. I still do and I loved the camaraderie of my bandmates. We were there for each other and built our own family. Another aspect of Savage's personality is his willingness to give up his time for others and never expecting anything from it. For Taylor my love of music and sharing it with others is what I do. I've been known to talk music when I meet someone and it leads to my finding new music and sharing with others. As well as new friends. 🙂
Another thing the characters from Best Laid Intentions (Impressions #6) has in common with me is I'm close to my family (those by blood and by choice—friends) and value friends. I believe in family and friendships. I also believe in love and finding the one who will get you and become your other half. Having a wacky sense of humor and quirks myself, I want to be with someone who will get it. That is sexier than anything else. Someone who I will have a meeting of minds with and understand completely. We can laugh and joke and just get each other. That is something my characters have. That understanding of each other.
The aspects of my personality present in Best Laid Intentions (Impressions #6) makes me smile. When I write I don't plan to make parts of my characters personalities like mine, it just happens. When I finish any book I think of the characters. And I miss them and can't wait to see them again. Best Laid Intentions (Impressions #6) is part of a series so there are glimpses of Savage and Taylor to come in future books. I'm already looking forward to writing my next book and seeing what aspects of personality will become part of the story.
About Talia Carmichael:
Talia Carmichael is a romantic who believes that family, no matter if it is by blood or those you choose as family, is integral to who you are. She is an author who writes sexy stories in a variety of genres. She believes in creating stories that encompass all that falling in love or lust entails, from the highs of that first blush of attraction to the lows of not knowing if you can make your coming together as a couple work, and then finally to the acceptance of the reality of making a life together. It's all about the journey.
Among her books you'll find contemporary, futuristic, fantasy, and paranormal settings with M/M themes that will have a happily-ever-after. Her books are passionate, intense, and real… to fill the craving. Check out more about Talia at http://taliacarmichael.com or http://taliacarmichael.com/blog. Contact her at http://taliacarmichael.com/blog/contact
or check her out on facebook –https://www.facebook.com/pages/Talia-Carmichael/247134751977720. Twitter: @taliacarmichael
Blurb for Best Laid Intentions:
This is book six in the Impressions series, see the full series listing here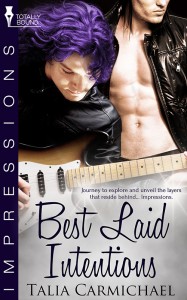 Taking a risk and going after what he wants leads a man to the most pleasurable of results…
Taylor Noble decides to take a chance on pursuing Savage. Savage makes him crave but Taylor knows that anything beyond the physical would be foolish. He has too much on his plate for a relationship. But he can have a good time… After all, there's no way Savage would want more. And Taylor certainly doesn't either… Yet, as he gets to know Savage, Taylor finds himself questioning his plans for fun with no strings.
From their very first meeting, Savage Griffin is drawn to Taylor. There's something Savage cannot define that's so different when he sees, thinks or talks to Taylor. Knowing Taylor is interested gives him the opportunity to explore more about this man who has captured his attention. Savage plans to take advantage of it. Each and every moment—sexual and platonic—brings him closer to Taylor, who captures all his senses. Now it's just a matter of convincing Taylor that what they share goes way past the physical to the emotional. Yes, emotions are messy but Savage is ready, willing and able to get Taylor to change his best laid intentions and make some new plans.
Reader Advisory: This book is best read in sequence as part of a series.
Like the sound of Best Laid Intentions? Buy it here: https://www.totallybound.com/best-laid-intentions?utm_source=lasreviews&utm_medium=blogtour&utm_campaign=bestlaidintentionsblogtour